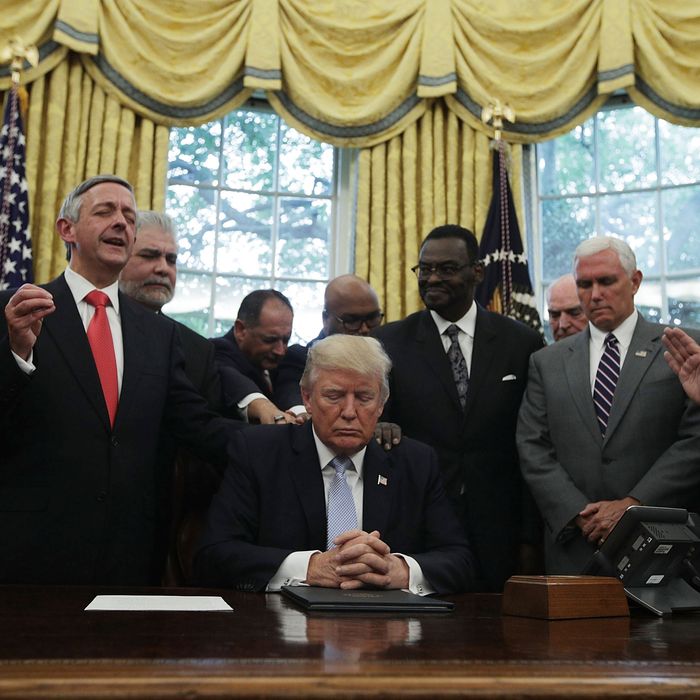 Pence with Trump and the president's faith advisers in the Oval Office.
Photo: Alex Wong/Getty Images
Mike Pence spoke recently at the off-the-record Gridiron Club dinner in Washington, where he took a disgusting shot at Transportation secretary Pete Buttigieg and his family; since then, Pence's other jabs have slowly dribbled out. Just now we are learning that along with his sick burns aimed at Donald Trump, he also took a couple of shots at the 45th president's devotion to Christianity, per the Washington Post:
"I once invited President Trump to Bible study," Pence said in his speech. "He really liked the passages about the smiting and perishing of thine enemies. As he put it, 'Ya know, Mike, there's some really good stuff in here.'"




The former vice president continued in that vein as he turned to the scandal over Trump's refusal to return classified documents he wasn't legally allowed to keep: "I read that some of those classified documents they found at Mar-a-Lago were actually stuck in the president's Bible … which proves he had absolutely no idea they were there."
Now, theses snarks are not equal in sternness of judgment to Pence's earlier disclosed (by AP) remarks accusing Trump of grave misconduct on January 6: "I had no right to overturn the election. And his reckless words endangered my family and everyone at the Capitol that day, and I know history will hold Donald Trump accountable." But in sheer chutzpah, Pence slagging Trump for lack of religiosity is a bit like Mike Lindell foreswearing MyPillow.
It was universally observed from the moment Trump lifted Pence from the jaws of a likely reelection defeat as Indiana's governor to the 2016 presidential ticket that the Hoosier's primary service to Trump was to reassure conservative Evangelicals that the mogul's heathenish character would not infect a Republican White House. And once Trump and Pence were in office, the vice-president's most regular duty was to act as the liaison between the White House and Trump's fans of faith, guiding the president's feet onto the paths of righteousness despite his rather unorthodox habits and belief system. As I noted in reviewing a 2018 book on Trump's alleged "spiritual biography," Pence was treated as "the star witness for Trump's inner transformation," who "constantly attests to the president's reliance on both prayer and the prayer warriors (like Trump's all-Evangelical Faith Advisory Committee) for whom Pence runs interference."
So if anyone was misled about Trump's lack of sincere religious interest or commitment, it was Pence himself, or Pence who was deceiving others about it. Either way, it doesn't speak well for the churchy former veep that he's just getting around to telling us about it now, when he no longer has or even needs the ex-president's appreciation for his many years of faithful sycophancy.