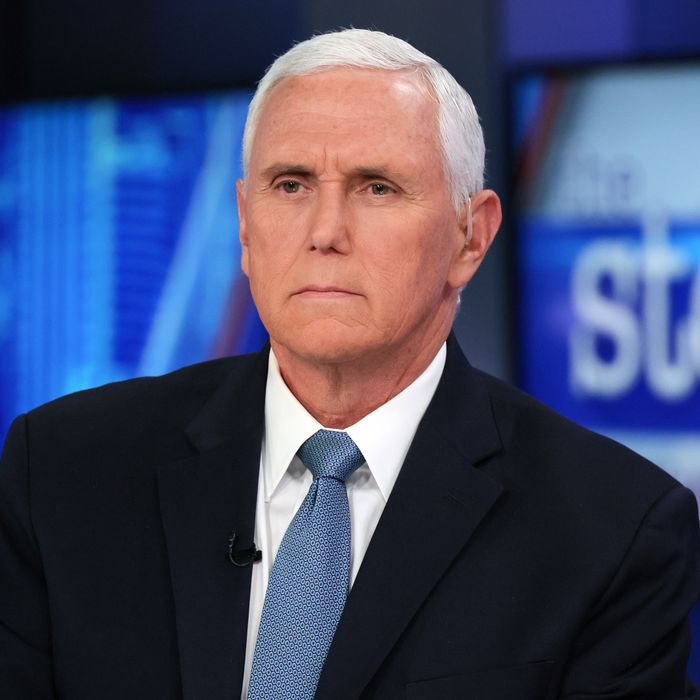 If you were Mike Pence, you'd be bummed too.
Photo: Dia Dipasupil/Getty Images
As the 2024 Republican presidential field takes shape, there are presently two candidates (one declared, one almost certain to do so) with a plausible path to the nomination: Donald Trump and Ron DeSantis. You can argue all day long about which of these two men has the best shot at the White House, but they are separated from the rest of the field by a huge gap according to every poll or common-sense assessment of the situation. In the RealClearPolitics polling averages, Trump (at 43.9 percent) and DeSantis (at 28 percent) gobble up nearly three-fourths of the vote.
And then there's former vice-president Mike Pence, who's stolidly moving toward candidacy along with a few other distant dark horses. His four years as Donald Trump's vice-president and conservative Evangelical street cred have given him just enough name ID to run roughly even with the much less well-known Nikki Haley in the early polls; they are each at 6.3 percent in the RCP averages, which puts them third and fourth behind Trump and DeSantis. For Pence, that polling status may be even worse than it seems. McKay Coppins recently sat in on some Republican focus groups around the country, and the findings were devastating, as he writes in The Atlantic:
"He has alienated every Republican and Democrat … It's over. It's retirement time."




"He's only gonna get the vote from his family, and I'm not even sure if they like him."




"He just needs to go away."




It went on and on like that across four different focus groups. Of the 34 Republicans who participated, I heard only four people say they'd consider Pence for president — and two of them immediately started talking themselves out of it after indicating interest.
As Coppins sees it, Pence's polling numbers reflect a "following" that's basically low-information voters who are tired of Trump and can't think of any other names:
What to make of that 6 to 7 percent he gets in the primary polls? "I imagine there's a cohort of GOP voters who are not particularly engaged who don't want Trump again, and Pence is the only other name they really know," [political consultant Sarah Longwell] speculated. That, or "they're all from Indiana," the state where Pence served as governor. A second Republican pollster, who requested anonymity to offer his candid view, told me, "Seven percent is a weak showing for the immediate former VP."
Balance this tepid-at-best support with the anger directed at Pence from two sides of the Republican Party. MAGA folk mostly agree with Trump's assessment that Pence should have stopped Congress from confirming Joe Biden's election on January 6. And anti-Trump Republicans are looking for a champion who wasn't one of Trump's most ridiculously craven toadies prior to January 6. It's easy to see why his candidacy is doomed.
Pence has only one strategy left: He can go live among the conservative Evangelicals of Iowa for the next year and try to emulate the caucus wins there by Mike Huckabee in 2008, Rick Santorum in 2012, and Ted Cruz in 2016. Perhaps if he slavishly endorses every wild Christian right cultural position in sight and the other candidates bash each other into mush, the former veep can eke out at least a better-than-expected outcome in the first 2024 contest, with its unique demographics and its caucus rules that limit turnout. A giant Caucus Night blizzard could help, too. Even if that all transpires, though, there's little visible path beyond Iowa for Pence unless the rest of the field collectively self-immolates.
So if, for whatever reason, you sympathize with Mike Pence and are the praying type, you might want to say a prayer on his behalf to St. Jude, the patron of lost causes. At this point he seems to be running for president out of lack of anything better to do.