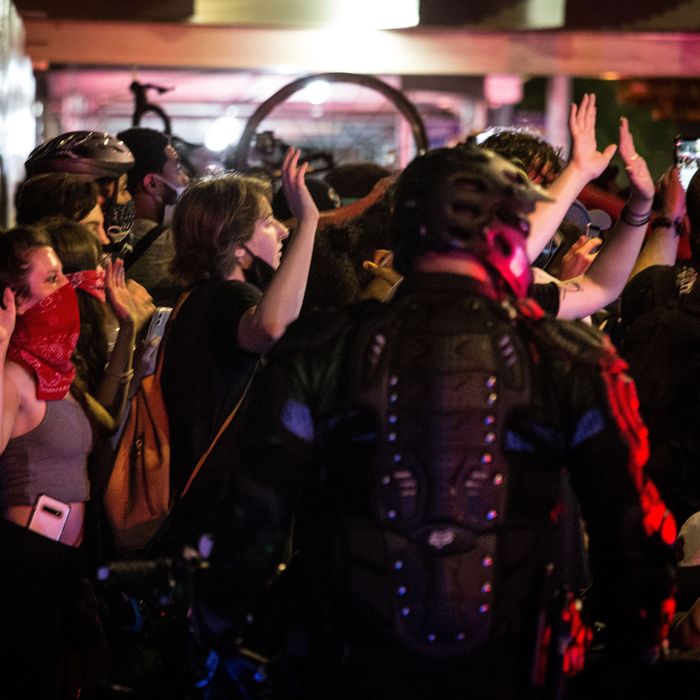 Photo: ALBA VIGARAY/EPA-EFE/Shutterstock
The city is preparing to settle a lawsuit brought by protesters who were encircled and beaten by NYPD officers during a 2020 racial-justice protest for a hefty sum that could total "between $4 million and $6 million," according to the New York Times.
Hundreds of protesters involved in the demonstration in the Mott Haven neighborhood of the Bronx could receive $21,500 each, as laid out in a Tuesday court filing, according to the Times. On top of that, those who were arrested could receive an additional $2,500, according to Hell Gate. The proposed settlement still has to be officially approved by a judge.
On June 4, 2020, protesters took to the streets of Mott Haven in one of many demonstrations that occurred in the aftermath of the brutal killing of George Floyd just a week earlier in Minnesota. The demonstrators found themselves surrounded and penned in by officers, a tactic known as "kettling," and accused of violating the 8 p.m. curfew in force at the time. Then police attacked them with pepper spray and batons, ultimately arresting approximately 260 people.
One day later, Dermot Shea, the NYPD commissioner at the time, defended the actions of the officers, saying the department's plan to break up the rally was "executed nearly flawlessly." But a Human Rights Watch report would later conclude that the officers' conduct that day "amounts to serious violations of international human rights law which the federal, state, and local governments are obligated to observe." They also cited the beating of legal observers and medics as proof of indiscriminate violence. Last year, the city settled with a group of legal observers who were detained by police during the protest, with Gothamist reporting that each individual would receive between $2,500 and $10,000.