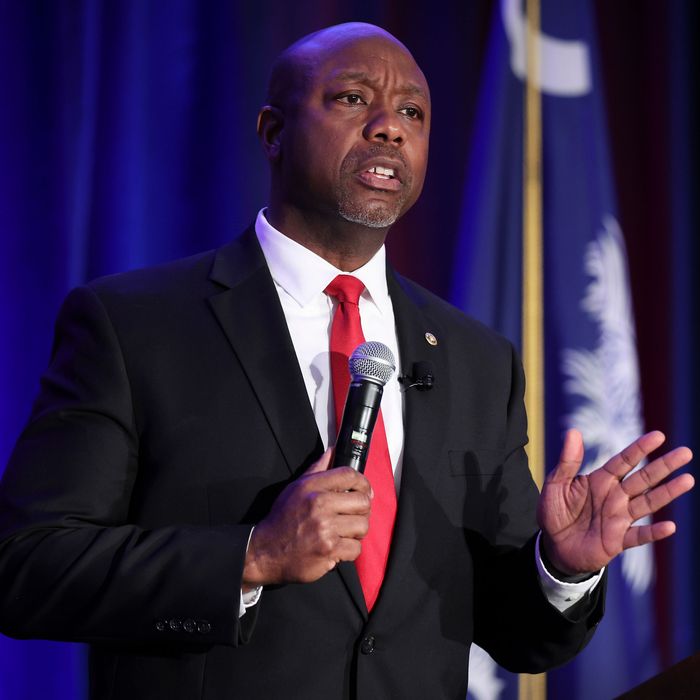 Tim Scott sticks with the defense hawks of his party.
Photo: Win McNamee/Getty Images
The 2002 U.S. Senate vote authorizing the use of military force against Iraq was most obviously significant because it sent the country down the rabbit hole of a long, frustrating, and ultimately counterproductive war. In domestic U.S. politics, it was also notable for deeply dividing the Democratic opposition to President George W. Bush. Twenty-nine Democratic senators voted for the Authorization for Use of Military Force, while 22 voted against it. Eight future Democratic presidential candidates were in the Senate at the time, and all but one voted for it, which shows how much Democrats feared being labeled as soft on defense at that moment. The Iraq War supporters included 2004 nominee John Kerry, 2016 nominee Hillary Clinton, and 2020 nominee Joe Biden. It's safe to say that virtually all of them spent a lot of time rationalizing, contextualizing, and even regretting their votes to begin Bush's war.
Meanwhile, Senate Republicans were loud, proud, and united in support of the AUMF (with the exception of soon-to-be independent and then Democrat Lincoln Chafee).
Just over 20 years later, the shoe is on the other foot. On Wednesday, the Senate approved a resolution to repeal the AUMF by a vote of 66 to 30. All 48 Democrats present supported the repeal, but Republicans were split with 18 for and 30 against.
The GOP's division is a good indicator of MAGA versus pre-Trump foreign-policy sentiment among Senate Republicans. GOP senators who voted for repeal include Mike Braun, Ted Budd, Bill Cassidy, Kevin Cramer, Steve Daines, Josh Hawley, John Hoeven, Mike Lee, Cynthia Lummis, Roger Marshall, Jerry Moran, Rand Paul, Eric Schmitt, J.D. Vance, and Todd Young. Most of these Republicans are MAGA warriors or MAGA adjacent. Susan Collins and Lisa Murkowski also voted for repeal, but they (like Chafee on the original AUMF) are Republicans who depend on Democratic votes back home.
Meanwhile, some of the anti-repeal Senate Republicans are the kind of old-school conservatives who probably never met a military-threat opportunity they didn't like, such as Tom Cotton, Lindsey Graham, Mitt Romney, and Tommy Tuberville. Another notable opponent of repeal is possible 2024 presidential candidate Tim Scott. Others either can't stand voting with Democrats or just reflexively salute when the Pentagon wants or needs authorization to use force, even if it's for the classic "forever war" Trump has scorned. Their numbers show the abiding strength of pre-Trump conservative defense-hawk tendencies.
The AUMF repeal is likely to get through the House with similar partisan dynamics, as it did in the last Congress: largely united Democrats and significantly divided Republicans. Biden has already expressed support for the repeal.
In any event, if one party is in disarray regarding foreign policy at this particular moment, it's probably the Republicans. It does not bode well for a harmonious 2024 GOP presidential campaign.