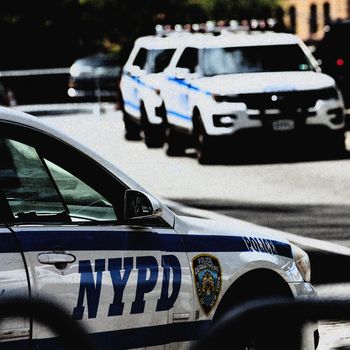 Keep it orderly, please.
Photo-Illustration: Intelligencer; Photo: Angus Mordant/Bloomberg via Getty Images
Addressing a gathering of municipal movers and shakers at the Crain's Power Breakfast, Commissioner Keechant Sewell recently floated the idea of improving police-community relations by focusing on the first impressions formed when citizens encounter the NYPD.
"It's the first 15 seconds, the first 15 feet, the first 15 minutes of your interaction with the police department that really determines how you feel about how you were treated and how the police  department is functioning," she told the gathering.
It's a great idea, but for traffic safety advocates, the commissioner's words sounded like a bitter joke. Every day, cops illegally park their personal vehicles on sidewalks, in crosswalks, at bus stops, and in bike lanes, turning the streets and sidewalks around every police precinct into a trash-strewn obstacle course (sanitation sweepers can't clean gutters blocked by cars 24 hours a day).
A similar degree of lawbreaking goes on at courthouses, jails, hospitals, firehouses, and other city facilities. But the precincts tend to be the worst offenders — most of the city's 35,000 NYPD officers don't live in the city and commute to work — and cops are supposed to enforce the traffic laws.
Police and traffic agents studiously avoid ticketing or towing vehicles owned by their fellow officers; that expensive inconvenience is reserved for the rest of us. Even worse, city data suggests that crashes and injuries are measurably more likely to happen near precincts, where pedestrians, bikers and drivers often must swerve into traffic to get around illegally parked cars.
The core of the problem is the estimated 150,000 or so city-issued placards— nobody is sure of the exact number — that ostensibly allow holders to park in designated areas. In practice, workers routinely use expired placards, handwritten notes, union-issued ID cards, reflective traffic vests (which anybody can buy online), or other office debris left on a dashboard to signal that they are part of a privileged caste and can get away with parking almost anywhere for free.
In recent months, the phenomenon has jumped up a level, with many city workers now blocking, defacing, folding, or obscuring their license plates in order to remain invisible to automated tolls and red-light and speed cameras. They are contributing to a staggering $100 million a year lost to the MTA and Port Authority through toll evasion.
"The city did decide they wanted to expand the speed camera, the red-light camera, and now the bus-lane camera program," says Gersh Kuntzman, the editor of Streetsblog, a transit and traffic-safety website. "Last August, when the cameras went on 24/7 for the first time ever, and there were now about 2,000 camera systems, in that month the number of plates that could not be read by those cameras jumped from about 3 percent to 7 percent." (Our full conversation is online at "You Decide," my podcast).
The number of camera and toll evaders has since dropped a bit but remains high, says Kuntzman, who regularly documents lawbreaking by posting videos online depicting him traveling to precincts and other parking-disaster zones, where he fixes defaced license plates by removing stickers, unbending plates or filling in painted-over letters with a magic marker. Kuntzman has reported more than 120 incidents of public employees pulling the defaced-plate scam; in at least one case, an employee of the Manhattan District Attorney lost his job as a result.
Kuntzman's witty, wiseass approach to advocacy includes sprinkling his videos with jokes and a catchy jingle called "Criminal Mischief" that he wrote and performs. The advocate-as-performance-artist routine, noted in The New Yorker and New York Times, has gained Kuntzman a following, along with other video-posting activists like Liam Quigley and the anonymous operators who post endless photos and videos of illegal parking on Twitter with provocative names like @placardabuse, @DefacedPlatesOfNYC, and Are The Police At The 94th Parked Illegally?
New York's failure to curb this egregious, extensively documented lawbreaking is a municipal scandal. Back in 2017, then-Mayor Bill de Blaiso announced a crackdown that would include 100 new traffic agents, along with 16 officers dedicated exclusively to cracking down on placard abuse by city workers. "Before anyone thinks it's a clever idea to misuse our placards, my advice is you better get to know where our impound lots are — because you're going to end up visiting them," de Blasio told me back then. "NYPD commissioner James O'Neill has made very clear he won't tolerate any of his employees using their placards inappropriately. And the same will go for the school system."
It never happened. Two years later, in the spring of 2019, the city announced a new crackdown, promising a three-strikes policy that would purportedly lead to offending city workers losing their permits. But by September 2020, the get-tough policy had resulted in a grand total of two placards being revoked.
Around the same time, with the pandemic raging, the de Blasio administration quietly threw in the towel, axing all 116 members of the placard-abuse unit and zeroing out its budget. An investigation by Streetsblog found that calls to the 311 system to report illegal parking, speeding and other traffic violations are typically closed out within five minutes without any action taken.
We elected a new mayor in 2021, but Eric Adams had already made clear he would not be a reliable ally of the safe-streets movement. During de Blasio's 2019 crackdown, Adams, the Brooklyn borough president at the time, announced he would continue to allow his employees to park on the pedestrian plaza at Borough Hall, arguing that his team should not be held to a higher standard while other city workers abused placards with impunity.
"There's one rule in this city; there's not going to be a rule just for Eric Adams, the first African American borough president," he said at a heated town hall. "I'm the break-the-car-culture elected official. I believe it, I live it, I don't just talk about it, I live through it. But I'm clear on one thing: We're not going to have two standards, folks."
Adams has apparently carried that defiant attitude from Downtown Brooklyn to City Hall, where laws passed by the City Council to report on the extent of placard abuse every six months have simply been ignored by the NYPD, which last last year generated one report covering a three-month span, instead of the legally required six. "It's not only short on the time frame," City Councilwoman Gale Brewer told me. "Nothing in the report says they did anything."
"We listen to our communities. We know that it's a problem," NYPD's chief of patrol, Jeff Maddrey, said to angry City Council members at a recent hearing. "We're trying our best, in terms of just our officers parking as appropriately as possible. I know it's difficult. A lot of people work at the precinct, and there's not enough parking spots."
At least one advocate has helpfully begun posting maps showing the location of commercial parking lots near precincts. But all the crowd-sourced citizen input and City Council hearings in the world won't work as well as two simple structural reforms.
First, put the full placard system — issuance, enforcement, and mandatory public reporting — in the hands of the Department of Transportation, with orders that all city placards be chip-powered, satellite-trackable, and subject to deactivation, with an easy way for the public to record and report violations on a public dashboard. No more honoring fake placards, expired placards, handwritten notes, and business cards.
Second, Sewell should empower her precinct commanders to purchase free or deeply discounted parking at nearby commercial garages, which might appreciate the extra safety that comes with having cops around. And there should be discipline for cops who continue to park illegally or evade tolls by using defaced plates.
There will be plenty of grumbling from workers accustomed to sneaking through toll plazas and parking in bus stops and bike lanes. Those complaints will be drowned out by the cheers of most New Yorkers, who will finally be able to pass a precinct and see, within 15 seconds, that our government no longer turns a blind eye to the daily corruption we've put up with for much too long.