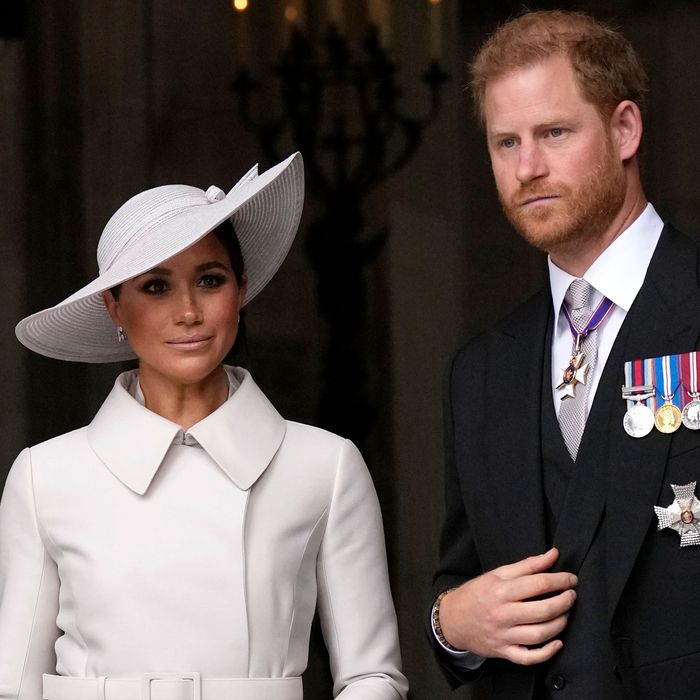 Photo: att Dunham - WPA Pool/Getty Images
When Prince Harry and Meghan Markle's first child, Archie, was christened at Windsor Castle on July 6, 2019, the event generated all kinds of controversy — from allegations that the couple legally had to identify the godparents to reports that they'd slighted the queen by picking a date when she couldn't attend. In retrospect, this isn't surprising. We now know that Harry and Meghan's tensions with the rest of the royal family were about to come to a head. Months later, in January 2020, they went public with their decision to begin stepping back from royal affairs.
Now that Harry and Meghan live in California without even a royal residence to call their own, one might think that their second child's christening would be relatively drama-free. But the family over in London has proven that they can get petty over just a press release and the wording on a website.
On Wednesday March 8, People reported that the Duke and Duchess of Sussex had christened their 21-month-old daughter in a "small and intimate ceremony" at their home in Montecito. A spokesperson for Harry and Meghan said, "I can confirm that Princess Lilibet Diana was christened on Friday, March 3, by the Archbishop of Los Angeles, the Reverend John Taylor."
This brief statement was notable, as it's the first time Lilibet has been publicly called "princess." Grandchildren of the monarch are given the titles "prince" and "princess" under rules set by King George V in 1917, so Archie and Lilibet only qualified automatically when Queen Elizabeth died and King Charles succeeded her. Prince William's children were always called "prince" and "princess," even when they were merely the monarch's great-grandchildren, but Meghan said in an interview with Oprah Winfrey that the palace had declined to give Archie the title at birth.
Thus the royal website was outdated as of Wednesday. It still listed the two children as "master" and "miss" in its order of succession:
This seems like it should have been a quick and easy fix; the Daily Mail notes that the titles of Prince William's children were swiftly updated after the queen's death six months ago. Buckingham Palace confirmed to the BBC on Wednesday that the website would be changed to reflect Archie and Lilibet's correct titles, but it didn't seem to be in any rush. The palace said that the site would "be updated in due course."
It turns out that meant "sometime tomorrow." The royal website was updated around 9:30 a.m. local time on Thursday.
The Daily Beast's Tom Sykes noted on Wednesday that palace officials had been dragging their feet on acknowledging the children's titles for months:
The palace has notably declined to use such titles on its official channels, and the palace has long refused to be drawn on how the Sussex children would be styled.




There has been speculation that the unwillingness to acknowledge the children as prince and princess was linked to the collapse of the relationship between the couple and the royals.




The couple now appear to have run out of patience and have instead put it up to the royals to explicitly deny the children the titles if they so wish.
In a follow-up statement to People, Meghan and Harry confirmed that regardless what it said on the palace's website and social feeds, in their view the children have been "prince" and "princess" since September. "The children's titles have been a birthright since their grandfather became monarch," they said. "This matter has been settled for some time in alignment with Buckingham Palace."
Meanwhile, one line in the original People story suggests Harry and Meghan wanted it to be known that if any snubbing happened at the christening, it wasn't coming from them:
According to a source, Meghan, 41, and Harry, 38, extended an invite to King Charles, Queen Camilla, Prince William and Kate Middleton, but they were not in attendance.
Responding to your grandchild's christening by adopting a "we'll update our website when we get around to it" stance seems pretty cold. But I guess, from the palace's view, so is Harry telling the world that "Willy" assaulted him, "Pa" won't go anywhere without his teddy bear, and Camilla "sacrificed me on her personal P.R. altar."
This post was updated after the palace changed its website.