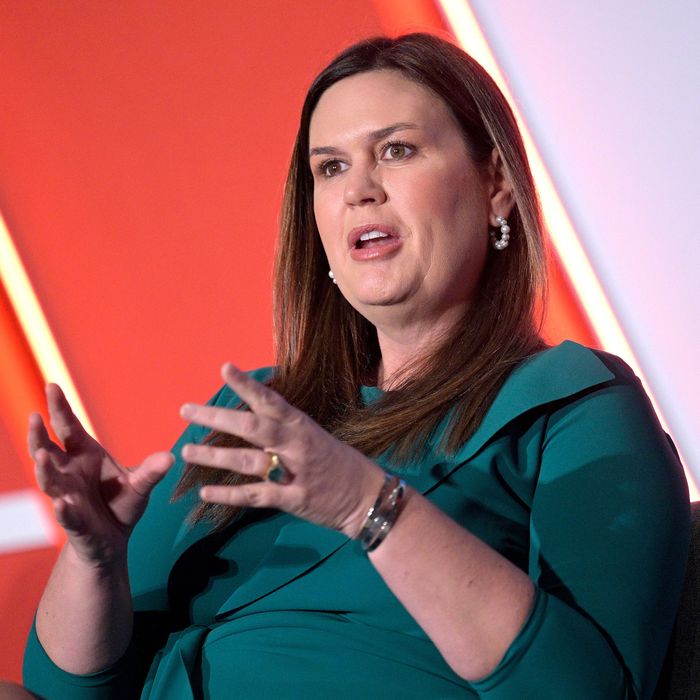 Sarah Huckabee Sanders: champion of "normal" or "crazy"?
Photo: Phelan M Ebenhack/AP/Shutterstock
Conservative southern Republicans for decades now have conducted an on-again, off-again guerrilla war to maintain monuments and other memorabilia devoted to the Lost Cause of the Confederacy (as part of the losing cause of neo-Confederate racist nostalgia for slavery and/or Jim Crow). It hasn't been going too well lately. But there's now a reactionary cause with a brighter future than segregation for which new monuments can be built and revered. In Arkansas, Governor Sarah Huckabee Sanders has just signed legislation clearing the way for the creation of a "Monument to the Unborn" to arise near the state capitol to memorialize the alleged victims of reproductive rights during the 49-year reign of Roe v. Wade, which ended last year, as the Associated Press reports:
Sanders's office said Friday night that the Republican governor signed the bill that will allow the creation of a privately funded "monument to the unborn" on the Capitol grounds. The bill, approved by lawmakers last week, requires the secretary of state to permit and arrange the placement of the monument.




It also requires the Capitol Arts and Grounds Commission to oversee the selection of the artist and the design of the monument, with input from anti-abortion groups.
Wouldn't do much good to invite input from people who regard abortion as their own personal medical business, would it? According to a recent survey, fully 43 percent of Arkansans want abortion to be legal in most or all cases. But their state government figures it knows better. Back in 2019, Sanders's predecessor, Asa Hutchinson (now considering a presidential bid), signed a "trigger law" banning virtually all abortions in anticipation of the U.S. Supreme Court's abolition of the federal constitutional right to choose.
Tennessee has already authorized a similar monument on its state capitol grounds, but it hasn't been built just yet.
One wonders if the Arkansas anti-abortion activists who made this happen will include a commemoration of the "unborn" lost in the illegal abortions that are surely already happening post-Dobbs there and everywhere, not to mention the women killed by unsafe procedures. In any event, this development gives us a better idea of what Sanders meant in her official GOP response to the president's State of the Union address when she said, "The dividing line in America is no longer between right or left. The choice is between normal or crazy." I don't think the solid pro-choice majority of Americans are the ones whose "normalcy" should be suspect. And it's very likely that any "monument to the unborn" will someday look as strange as those falling and fading memorials to Jefferson Davis and Stonewall Jackson.