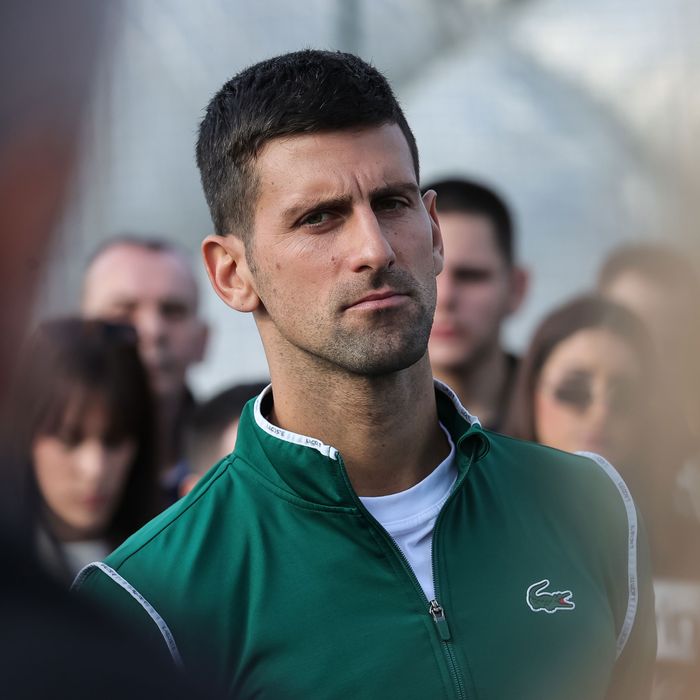 Is this some kind of Djoke?
Photo: Srdjan Stevanovic/Getty Images
Two things that were true in 2022 and that remain true today: Novak Djokovic is still the best tennis player in the world. And he's still not allowed to play in America.
Djokovic, who holds some strange pseudoscientific beliefs, remains defiantly unvaccinated against COVID. You may recall that last year, his stubbornness led to a drawn-out international incident before the Australian Open, which ended in his deportation. Since then, the pandemic has (largely) receded, and pretty much every country on earth has given up on trying to mitigate COVID spread. Even Australia, which maintained some of the strictest COVID policies in the world for two years, awarded Djokovic a visa to play this year; he received a warm welcome and proceeded to win his 10th Australian Open.
But the U.S., alone among major tennis destinations, continues to bar unvaccinated travelers from its shores, despite the unclear-at-best benefit of doing so. Djokovic couldn't play in the U.S. Open last year, and six months later, as the American hardcourt season gets underway, he still can't travel here. Now, lawmakers are getting involved. Djokovic recently applied for a waiver to play in the Miami Open, a Masters 1000 event that begins on March 19, and Florida's Republican senators, Rick Scott and Marco Rubio, are pleading with President Biden to grant it on economic grounds.
To be clear, Scott and Rubio are far from trusted authorities on COVID. And yet their overall point — that the travel restrictions make little sense in March 2023 — is sound. When these two have a point, it's a sign that something is amiss.
The U.S. currently makes next to no effort to mitigate the spread of the virus. If Djokovic shows a negative COVID test before boarding a flight to America, the worst-case scenario is that he contracts COVID during his trip. Given that there are tens of millions of unvaccinated Americans and that the Miami Open doesn't require proof of having received a shot, it's difficult to argue that Djokovic poses some kind of special threat.
The White House plans to end the Covid public health emergency on May 11, at which point its policy around international travel and vaccination may change. But in the meantime, there's no indication Biden will grant Djokovic his waiver — not a big surprise, since it would have the appearance of granting favors to the rich and famous. Djokovic had already applied for a similar waiver to play at Indian Wells, sometimes dubbed the Fifth Grand Slam, which begins this week in California. But the administration, didn't act, and Djokovic announced his withdrawal on Monday. The tennis toll of Djokovic's anti-scientific stubbornness, combined with U.S. government intransigence, continues to grow.