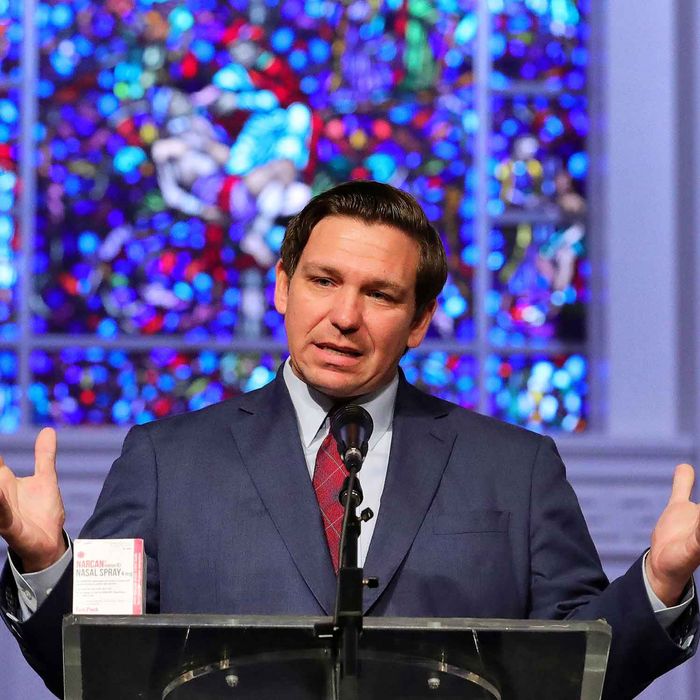 Photo: Joe Burbank/Orlando Sentinel/Tribune News Service via Getty Images
If the 2024 Republican primary turns into a one-on-one rivalry between Donald Trump and Ron DeSantis, conservative Evangelical voters could be the major factor in determining who is chasing whom. DeSantis is already positioning himself to cut into Trump's Evangelical base, and the former president has been risking his support among this key group.
It took Trump a while to make Evangelicals a core part — arguably the most loyal part — of his political coalition. He lost the Iowa caucus to Ted Cruz in 2016 mostly because he lost Evangelicals. But then the 2016 Republican presidential nominee Trump won an astounding 81 percent of white Evangelical, or "born-again," voters in 2016, and won 76 percent of that vote in 2020, according to exit polls. These voters were also consistently loyal to the 45th president throughout the many trials of his presidency. But there are widespread reports that Trump has alienated conservative Christian leaders in the last few months, which could create a big problem for him if the estrangement spreads from the pundits to the pulpits and then to the pews.
To be sure, some Evangelical leaders may have been privately concerned about Trump's conduct on January 6 or the stolen election fables that led to the Capitol riot. But the big wave of anger in those precincts came after Republicans' underwhelming performance in the 2022 midterms. Smarting from claims that he had undermined the ticket with unwise Senate endorsements and far too much talk about himself, Trump pointed at GOP anti-abortion extremism as the real midterm culprit. This deeply offended the conservative Evangelicals and traditionalist Catholics of the anti-abortion movement for whom the reversal of Roe v. Wade was just the beginning of the fight to protect "the unborn" in blue as well as red states.
The activists Trump was insulting are in a position to hit back at him, beginning with the Iowa caucuses, that intensely personal retail political venue in which Evangelicals have outsize influence (according to 2016 entrance polls, 64 percent of Republican caucus-goers identified as born-again Christians). As veteran Republican-watcher Tim Alberta recently reported in The Atlantic, politically active Evangelical leaders in Iowa and elsewhere are basically sitting on their hands waiting to see how the 2024 contest unfolds:
In my recent conversations with some two dozen evangelical leaders — many of whom asked not to be named, all of whom backed Trump in 2016, throughout his presidency, and again in 2020 — not a single one would commit to supporting him in the 2024 Republican primary. And this was all before the speculation of his potential arrest on charges related to paying hush money to his porn-star paramour back in 2016.
Former Vice-President Mike Pence — who for four years served as sort of the Evangelical commissar of the White House, vouching for Trump's reliability — would dearly love to scoop up those leaders that Trump has scorned. But Pence is suffering from a combination of fears that he can't possibly win the nomination and quiet disdain over his too-Christian-to-a-fault demeanor. After a Pence speech at conservative Christian Hillsdale College, some Pence friends told Alberta the veep "was not tough enough":
They all admired him. They all thought he was an honorable man and a model Christian. But a Sunday School teacher couldn't lead them into the battles over gender identity, school curriculum, abortion, and the like. They needed a warrior.
This is just the opening Ron DeSantis needs, as he seems to understand. Right before his smashing midterm reelection, his campaign ran a very peculiar ad modeled very closely on broadcasting legend Paul Harvey's famous 1978 speech to an agricultural group explaining that "God created a farmer" on the eighth day of creation to take care of his handiwork. In the DeSantis campaign's account, "God created a fighter," referring to none other than the governor of Florida:
To secular-minded viewers, this self-idolizing ad may have been over the top or even laugh-worthy. But to its larger target audience outside the state, it was exactly what the spin doctor ordered: a validation that DeSantis's harsh and unforgiving war against "wokeness," LGBTQ+ people, and "liberal education" in his state was motivated by the same religious motives as theirs.
To exploit his Evangelical opportunity before it fades, DeSantis doesn't have a lot of time for subtlety. As Alberta notes, DeSantis really hasn't done any prior spadework among Evangelical leaders. Little is know about his own spiritual life; he identifies as Catholic, but has conspicuously deployed the language of spiritual warfare associated with Pentecostalism (a movement that exists among both Protestants and Catholics — though there it is usually known as the Charismatic Renewal). He does already have some vocal conservative Evangelical backers, especially in Florida (the Southern Baptist Convention's hard-core conservative leader, Tom Ascol, is one of them). But he needs more intensive and high-profile gestures to show he wants and deserves Evangelical support.
Fortunately for DeSantis, he may have three major opportunities on the immediate horizon to do just that.
• On April 7, he is scheduled to speak at one of Liberty University's twice-weekly convocation assemblies. It's an ideal venue for him to talk about his personal faith, his sense of what that means for his vision of politics and government, and his specific issue commitments of interest to Evangelicals. It's worth noting that the last three Republican presidential nominees — John McCain, Mitt Romney, and Donald Trump — all found time to speak at Liberty before or while running for the office.
• On April 27, DeSantis is also scheduled to go to Israel for a speech in Jerusalem, another can't-miss stop on the list of venues important to conservative Evangelicals. The timing could be tricky given the current Israeli crisis over Benjamin Netanyahu's wildly controversial efforts to short-circuit judicial independence, but all DeSantis really needs to do is to display solidarity with the Greater Israel concept beloved of Evangelicals who view Israel as the site of an end-of-days battle between the faithful and Antichrist. Being anti-anti-Netanyahu should suffice.
• At some point between now and the end of Florida's current legislative session in early June, Florida Republicans are expected to send DeSantis legislation tightening the state's current ban on abortions after 15 weeks to 6 weeks. DeSantis has already promised to sign the legislation, which will please the same anti-abortion activists unhappy with Trump. But perhaps just as important as DeSantis's signature on the ban is what he might say about national abortion policy. Pence has already pledged to back a federal abortion ban preempting permissive state laws if he is president; if DeSantis goes that far, it could theoretically hurt him in a close general election given the clear existence of a national pro-choice majority and the eagerness of many Democrats to make it a 2024 campaign issue.
It's a fraught decision for DeSantis and other GOP candidates, who lust after Evangelical support but would prefer to keep the more extreme promises under wraps until they are in the White House. Right now there's no particular evidence that Trump is losing rank-and-file Evangelical support to DeSantis; a rare February poll from Fox News of the nomination race that breaks out white Evangelical voters shows Trump leading DeSantis by a two-to-one margin in this subgroup, slightly better than his advantage overall. DeSantis may need to strike while the iron is hot and before Trump begins to lock down Evangelical leaders afraid of defying the defending champ. If the Floridian is so bold as to claim God has chosen him to be president as well as governor, those who believe they represent the Almighty in politics and government may have to bow or walk away.