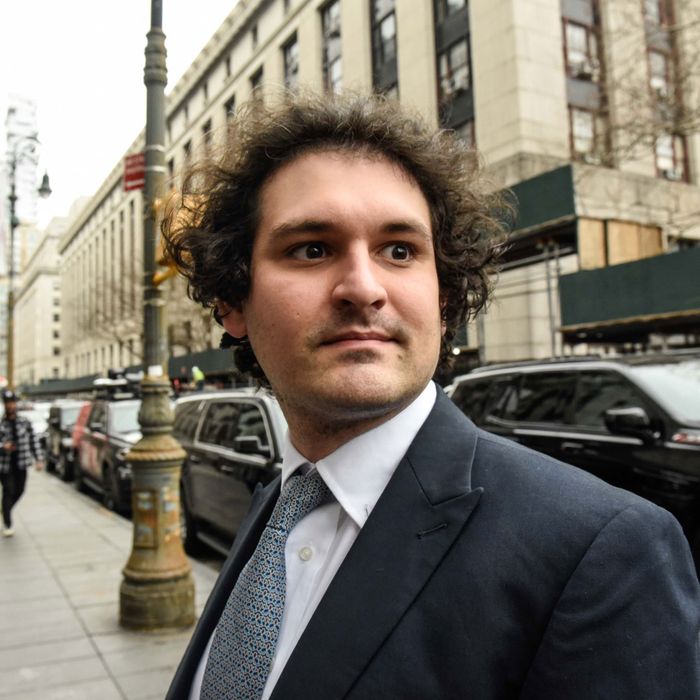 Photo: Stephanie Keith/Bloomberg via Getty Images
In news big enough that it was announced close to midnight on Wednesday, liquidators at FTX, who are responsible for figuring out where the company's money went, said that founder Sam Bankman-Fried had received $2.2 billion in "loans and payments" while he was allegedly running a massive fraud at the crypto exchange.
According to FTX's bankruptcy court filing, Bankman-Fried got more than $2 billion in loans — primarily through Alameda Research, the hedge fund he founded that lost big on bad investments, then misused customer deposits from FTX accounts in an attempt to cover those losses. Bankman-Fried wasn't the only executive-roommate to be paid via Alameda: Former director of engineering Nishad Singh got $587 million, co-founder Gary Wang got $246 million, former co-CEO Ryan Salame got $87 million, and former Alameda co-CEO John Samuel Trabucco got $25 million. Caroline Ellison, Bankman-Fried's ex-girlfriend and ex-CEO at Alameda, was more frugal, receiving just $6 million in loans and payments. New management at FTX was careful to note that the $3.2 billion that FTX's and Alameda's top earners essentially lent themselves does not include the $240 million they spent on luxury property in the Bahamas or the political donations given directly by FTX.
The new information appears to confirm an earlier claim from Caroline Ellison, who told a judge in December that company executives received billions of dollars in secret loans from Alameda. As federal investigators build the case against Bankman-Fried, who has been charged with 12 counts, including money laundering and bank fraud, they are likely checking these unusual loans and payments with the aid of Ellison, Wang, and Singh — who are all cooperating with the government as part of their guilty pleas on fraud charges. Bankman-Fried, who is living with his parents under house arrest, has pleaded not guilty.
Wednesday's announcement is welcome news for customers owed money by FTX, which has vowed to chase down the billions of dollars that Bankman-Fried and other top executives lost. But the process of making everyone whole still has a long way to go: FTX's new management stated that the "amount and timing of eventual monetary recoveries cannot be predicted at this time" but that it's confident further investigation will dig up even more "assets, liabilities, and transfers" tucked away in FTX's notoriously sloppy bookkeeping.