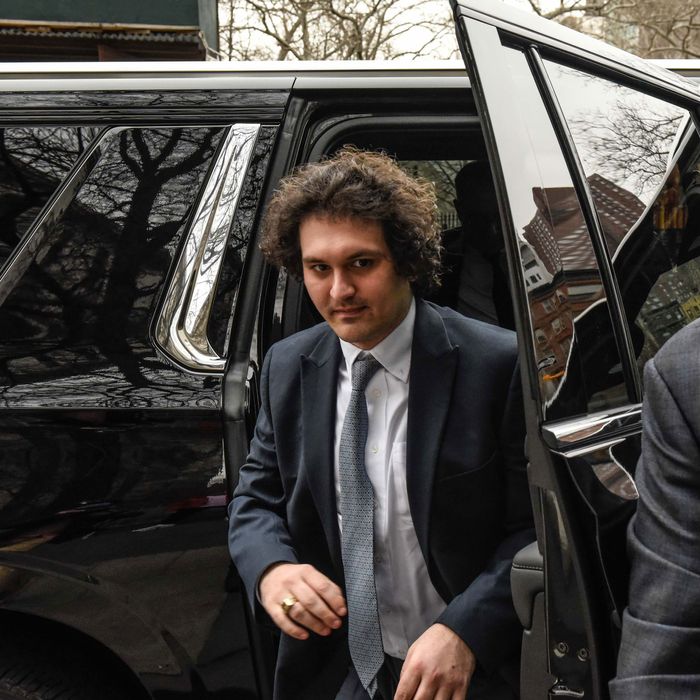 How the mighty have fallen.
Photo: Stephanie Keith/Bloomberg via Getty Images
So far while on house arrest, disgraced FTX founder Sam Bankman-Fried has been enjoying a pretty sweet deal, spending most of his time playing video games and hanging out with his parents' dog — sort of like an extended visit home from college but with an ankle monitor. But soon, Bankman-Fried, who has been accused of orchestrating a massive fraud at his crypto exchange, may be stripped of his favorite distractions.
After he reached out to a witness in the case on an encrypted app and hid his IP address to watch the Super Bowl (an event that's very widely available to watch without a virtual private network), federal prosecutors in Manhattan wrote to Judge Lewis Kaplan requesting that SBF be restricted to a flip phone or another "non-smartphone" that can't access the internet. The cell would be registered with the government and allowed only to text and make calls — except to current or former FTX employees. If he's on a computer, prosecutors want him to be limited to an approved list of sites, including YouTube, Wikipedia, Netflix, MLB.com, NFL.com, and a bunch of the food-delivery services. According to the terms, Bankman-Fried could also access apps that his lawyers consider necessary for his defense, like Zoom for meetings and Python to read the FTX codebase.
As Bankman-Fried stares down the prospect of life on a flip phone, another FTX executive has flipped: Last week, the company's former engineering director, Nishad Singh, pleaded to six charges, including three counts of conspiracy to commit fraud. As part of his plea deal, Singh has agreed to cooperate in the case against SBF. Late last year, two more top players — former Alameda CEO Caroline Ellison and former FTX chief technology officer Gary Wang — also pleaded out and are cooperating in the investigation of the multibillion-dollar alleged fraud.
If Judge Kaplan agrees with prosecutors and cuts off Bankman-Fried from the modern mobile world, there is a bright side for the bored 30-year-old on house arrest: The terms technically would allow him to play video games on an old system that can't connect to the internet. Hopefully he held on to his childhood Game Boy.