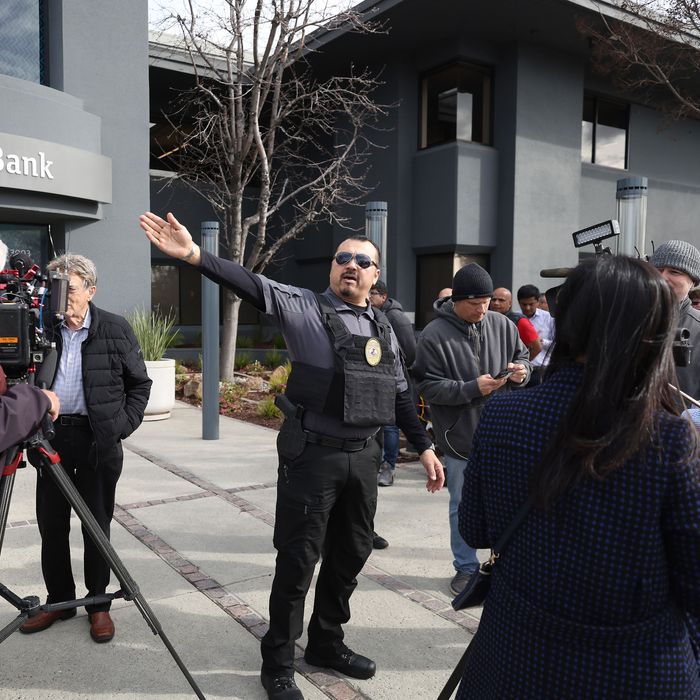 A security guard outside the SBV branch in Santa Clara.
Photo: Justin Sullivan/Getty Images
Executives at the collapsed Silicon Valley Bank may have more than customer problems to worry about: According to The Wall Street Journal, the Justice Department and the Securities and Exchange Commission are investigating the lender, which was taken over by federal regulators after sending the financial system into a brief moment of shock.
Justice Department investigators are said to be looking into the stock sales that some executives made in the final days before the bank run that on Friday destroyed the firm. Filings with the SEC reviewed by the Journal show that 11 days before SVB went into receivership, CEO Gregory Becker sold more than $3.5 million in stock in the bank. The same day, the bank's CFO Daniel Beck sold more than $575,000 worth of shares. In both cases, Beck and Becker had filed paperwork 30 days in advance of the sales, a practice required by regulators to avoid allegations of trading on non-public information.
The investigation, which was also reported by the New York Times, does not equate to wrongdoing, and inquiries of this kind are common when firms collapse in quick and dramatic fashion. (SEC investigations such as this often look to determine if a company accurately disclosed its financial risk prior to a collapse.) In a statement on Sunday, SEC chair Gary Gensler stated that during times of "increased volatility and uncertainty," the agency is "focused on monitoring for market stability and identifying and prosecuting any form of misconduct that might threaten investors, capital formation, or the markets more broadly."
On Tuesday, shareholders also filed a class-action lawsuit against Daniel Beck, Gregory Becker, and SVB, alleging that they intentionally did not disclose that rising interest rates would leave the bank "particularly susceptible" to a run.