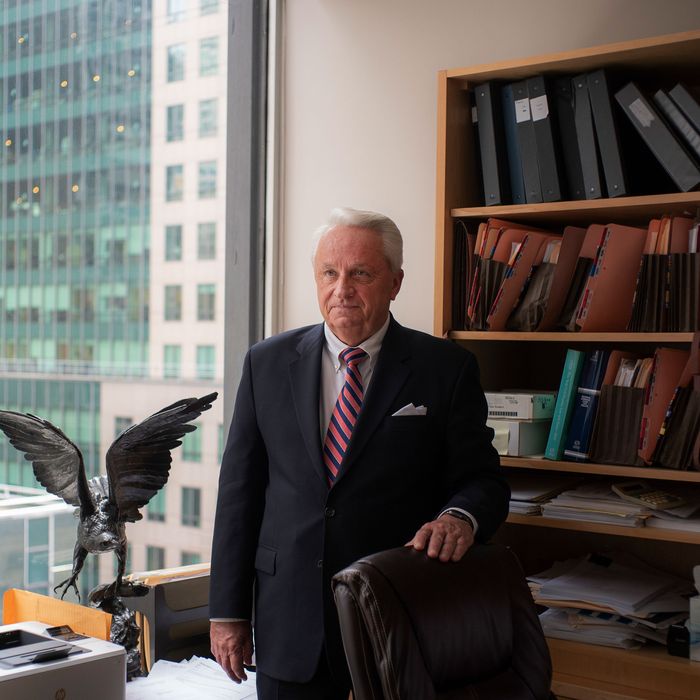 Photo: Todd Heisler/The New York Times/Redux
If Donald Trump is indicted in Manhattan over his involvement in paying hush money to an adult-film star, it will be largely because of the man who carried out the scheme: Michael Cohen, who turned on his former boss years ago and last week testified before a grand jury hearing evidence against the ex-president.
Thanks to an invitation from prosecutors, though, Trump's team is launching something of a preemptive strike on the expected charges. Robert Costello, a former legal adviser to Cohen, is expected to testify before the grand jury, according to the New York Times. Sources told the Times it was the former president's lawyers who first made the request for Costello to testify. That suggests that Trump's legal team is expecting testimony that is likely to attack Cohen's credibility.
Cohen first connected with Costello in 2018 not long after his office was raided by the FBI in connection with a federal investigation into the $130,000 payment made to Stormy Daniels on Trump's behest. Emails between the two as documented in Robert Mueller's report on Russian election interference suggests that Costello tried to keep Cohen connected with Trump and ensure him that he had the then-president's support. The Times reports that Costello even inquired about a possible pardon for Cohen. Ultimately, Cohen would plead guilty to violating federal campaign-finance law by making the payment, among other charges, and has implicated Trump.
In an interview with the Washington Post, Costello said Cohen waived attorney-client privilege back in 2019, allowing him to speak about their past interactions. "I think I have an ethical obligation to report what I know, once the attorney-client privilege was waived," he said. "It's too important."
It is believed that Costello's testimony will point to Cohen's past legal troubles, namely his history of lying under oath, as he pleaded guilty to doing by giving false testimony to Congress about Trump's business dealings in Russia.
The news of Costello's upcoming testimony comes in the wake of Trump taking to social media in a fury over the weekend, claiming he will be arrested on Tuesday, citing unnamed "illegal leaks." He also called for his supporters to protest and to "take our nation back." That timeline seems unlikely given Costello's testimony — and a possible rebuttal by Cohen before the grand jury — but the NYPD has already begun setting up barriers outside the Manhattan Criminal Court in anticipation of any protests.
According to Politico, Manhattan district attorney Alvin Bragg emailed his office's employees in response to Trump's claims, writing, "We do not tolerate attempts to intimidate our office or threaten the rule of law in New York."
"Our law enforcement partners will ensure that any specific or credible threats against the office will be fully investigated and that the proper safeguards are in place so all 1,600 of us have a secure work environment," Bragg said.