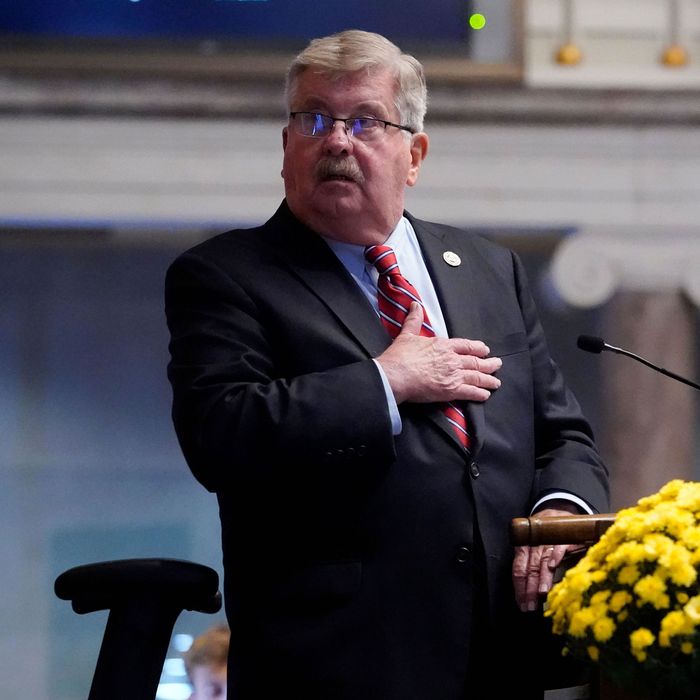 Tennessee Lieutenant Governor Randy McNally.
Photo: Mark Humphrey/AP/Shutterstock
Before signing legislation to ban drag shows on public property or in front of children, Tennessee's Republican governor, Bill Lee, said such performances are "harmful to minors."
But Lee might not be the best messenger for the crackdown, part of a wave of Republican-controlled states passing legislation targeting transgender people. During a press conference on Monday, an activist asked him if he recalled "dressing up in drag in 1977." Lee was then shown a photo from his high-school yearbook showing him dressed in drag his senior year.
Lee was furious over what he called the "ridiculous" question. "Conflating something like that to sexualized entertainment in front of children, which is a very serious question," he said, ignoring the probability that he was dressing as a woman to entertain his fellow 14-to-18-year-old students.
That's nothing compared to what the lieutenant governor has been doing.
As Tennessee Republicans were busy also banning gender-affirming care for minors, some choice Instagram comments from Lieutenant Governor Randy McNally became public. McNally, 79, has supported the state GOP's anti-trans efforts and once sponsored legislation banning same-sex marriage. He also appears not to understand that Instagram comments can be seen by everyone, because he has been liking the (mostly) nudes of a 20-year-old user named Franklyn McClur from his official account.
On his verified Instagram page, McNally has been liberally using the heart and fire emojis and writing about how he's been inspired by the pictures. "Finn, you can turn a rainy day into rainbows and sunshine," McNally wrote in response to a picture of the 20-year-old's butt.
"I just thought he was older and out of touch," McClur said in an interview with the Tennessee Holler, the blog that first reported the photos.
McNally then sat for an interview with NewsChannel 5 in Nashville to explain his behavior. "I'm really, really sorry if I've embarrassed my family, embarrassed my friends, embarrassed any of the members of the legislature with the posts," he said, sweating heavily. McNally said that he tries to "encourage people with posts," stating that he first followed McClur on Facebook. The reporter then showed the lieutenant governor a printout of one of the posts he liked: "I Am not a WHORE, I Am a HOE! There is a difference! One is a SLUT and the other is a PROSTITUTE! I'm the one that gets free weed for giving head."
"A lot of times on people's posts, you see the name and you see what they've written and you just press the button that says like," McNally said, describing his undiscerning support for the 20-year-olds he follows. "I don't recall reading the part about the weed," he added.
"But what about the prostitute?" the host asked.
"I might have read that," McNally replied. The Republican also liked similarly racy accounts of other young men. (After the posts were made public, McNally announced he would be "pausing" his social media accounts. )
A Republican administration being accused of hypocrisy for publicly restricting aspects of life that they enjoyed in private in the past is not a novel development. There's some potential for rebuke here, if Tennessee Republicans coax a resignation out of a colleague named Randy for being horny online. But if McNally is ousted, the state's anti-trans backlash is here to stay.