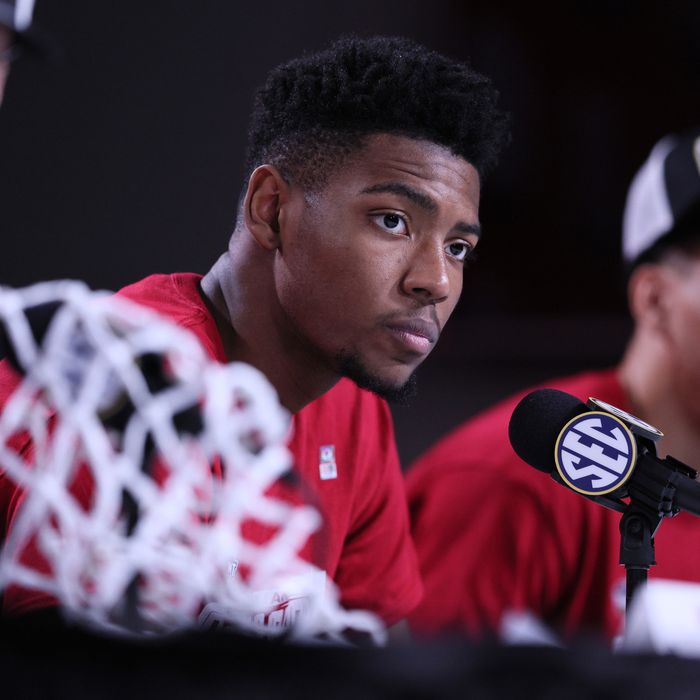 Photo: Andy Lyons/Getty Images
As of Wednesday, a woman named Jamea Jonae Harris, who was the mother of a 5-year-old boy named Kaine, will have been dead for two months. One day later, the top-ranked college basketball team in the country, Alabama, will take the court for their first-round game in the NCAA Tournament, led by their star small forward Brandon Miller. The 20-year-old freshman will make jump shots; he'll dunk; slow-motion replays of his highlights will ease us into commercial breaks. Hopefully, he won't break your bracket. He and his team will likely be at the center of one of the biggest events in sports over the next few weeks — two months after police say he provided the gun that killed Jamea Jonae Harris.
"Alabama's Championship Push Arrives With Murder Indictment" reads the Times headline, and I can't think of a better way to describe the cognitive dissonance that characterizes this edition of March Madness — this event we all love so much — than those seven words. We're used to booing Duke, or cheering for a scrappy St. Peter's–style underdog, or just hoping we win our office pool. We are not used to this, and for good reason.
At the risk of sounding histrionic, it is downright ghastly the extent to which the University of Alabama has attempted to normalize what's happening here, simply because the school's basketball team is so good. Jamea Jonae Harris is dead. The men indicted with her capital murder allegedly procured their gun from Alabama's best player, who then delivered it to them minutes before the killing. Now he's going to be a part of "One Shining Moment." Isn't this shocking to you?
A bit more detail on the incident, per the police timeline: Harris was visiting Tuscaloosa, home of the University of Alabama, with her boyfriend, whose cousin is a student at the school. According to her mother, Harris and the two men were waiting for food outside a club when a man named Michael Lynn Davis began dancing next to their car, trying to get Harris's attention. A confrontation ensued. Davis's friend Darius Miles, who plays on Alabama's basketball team and was with Davis, claims he saw a gun in Harris's car. That's when he texted Miller, his teammate and one of the best college basketball players in the country (he's expected to be a lottery pick in this June's NBA Draft), requesting Miller bring over Miles's gun. Miller did so — his lawyers claim he was already on his way to pick up Miles and Davis, did not see Miles's message, and did not know the gun was in the car, though the timeline is obviously very much in question — and, two minutes after Miller arrived, Davis began shooting into Harris's vehicle, killing her. Miller's windshield was shattered in the crossfire as he ducked down in the driver's seat.
Miles was summarily dismissed from the basketball team — no big loss for Alabama, since he was a bench player who averages only 1.5 points per game. He has since been charged with capital murder. Miller, on the other hand, scored 30 points in a win over Vanderbilt roughly 50 hours after Harris's death. It wasn't until a month later, when police released witness pretrial testimony, that his role in the alleged crime came to light. And that's when everyone involved — the university, the athletic department, the coach, the NCAA — lost their humanity.
Players are routinely suspended from games when they are involved in an ongoing investigation; heck, they are often kept out just for a vague "violation of team rules." At the very least, sitting Miller in the days after his involvement in a fatal shooting would seem to be warranted. But not only did Alabama not do that, Tide coach Nate Oats said — as little Kaine entered the second month of his life without his mother — that he "can't control everything everybody does outside of practice," and that Miller was "not in any trouble," and was simply in the "wrong spot at the wrong time." The university then shut down further inquiries and allowed Miller to keep playing. The school has said he's a "cooperative witness" in the murder investigation, and Miller told reporters, "I never lose sight of the fact that a family has lost one of their loved ones that night."
But the situation has devolved further. Reporters have had their microphones taken away when they tried to ask about the murder at press conferences. Miller performed an extremely ill-advised "pat down" before the start of a game. South Carolina fans chanted  "Lock Him Up!" every time Miller touched the ball. One Alabama fan showed up at a game with a "Killing Our Way Through the SEC in '23" shirt (and then verbally attacked a reporter who asked about it).
And now this circus, this grotesquerie, is about to take center stage at college sports's signature event. Alabama is one of the favorites to win the championship, entirely because Miller's still on the team. From the outside, it's easy to wonder how in the world the NCAA, or some overarching authority, isn't stepping in and forcing Alabama to do the right, or at least not totally wrong, thing here. It's impossible to imagine Roger Goodell in the NFL, or Rob Manfred in MLB, or Adam Silver in the NBA, not immediately suspending a player involved in a murder investigation, whether he was being charged or not. The problem in college sports is that no such overarching authority exists anymore. In the wake of the Supreme Court's ruling on college athletics nearly two years ago now — and specifically Brett Kavanaugh's concurring opinion — the NCAA has essentially abdicated its role as athletics' arbiter. Universities and teams are now making their own rules, which is to say, they're playing by no rules at all. Witness the increasingly shady world of the NIL (the noble idea of paying players for their "name, image, and likeness" has translated into a lawless Wild West) to newly hostile public relations (athletic departments now routinely stonewall all outside queries, controversial or not) to athlete (and athletic staff) discipline. Texas fired coach Chris Beard in December for a domestic-violence incident, but because there was no larger authority to suspend him (and his wife successfully lobbied for the charges to be dropped), the University of Mississippi hired him less than three months later. Alabama can decide that winning a first-ever national championship is more important than doing anything about a player who allegedly provided a gun that killed the mother of a 5-year-old boy. And no one has the power to change their mind.
Someday, little Kaine is going to be a grown man, and he will look back at how the supposed adults in the room handled themselves in the wake of the murder of his mother. What he will find should be cause for shame upon us all.