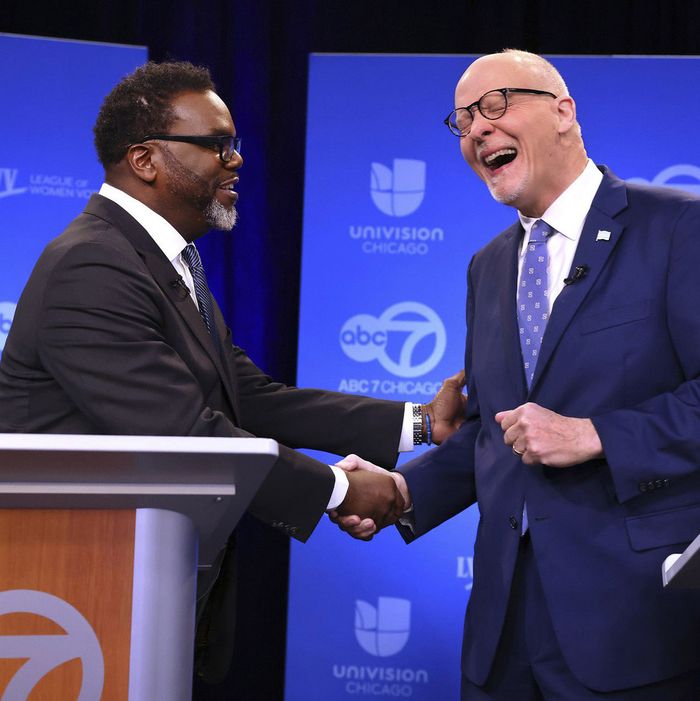 Brandon Johnson, left, and Paul Vallas shake hands before their debate on March 16.
Photo: Chicago Tribune/TNS
On the last day of February, Lori Lightfoot became the first mayor of Chicago in 34 years to lose an election. The polarizing Democrat was one of the only big-city executives in America to govern through the pandemic and face voters again, coming in third and failing to advance to the next round. Soundly rejected by an electorate that handed her an enormous margin of victory four years ago, her loss offered a warning for mayors everywhere: Incumbency won't save you.
Two wildly divergent candidates vie to replace her in the nonpartisan April 4 runoff: Paul Vallas, the former CEO of the Chicago Public Schools, and Brandon Johnson, a Cook County commissioner and a former public-school teacher. The contest might naturally sort along racial lines — Johnson is Black and Vallas is white — but the starkest difference between the two men, both Democrats, is ideology. Just as the party has undergone enormous shifts at the national level, veering leftward from the '90s Clintonian consensus while influential moderates simultaneously try to beat back progressive upstarts, Chicago is now the locus of a pitched struggle between the left and center — or even center-right, depending on your view.
Vallas, a 69-year-old who has managed three other school systems beyond Chicago's, has emerged as the obvious if beatable favorite. In the first round of voting, Vallas took 33 percent to Johnson's 22 percent — a remarkable finish for a man who placed ninth in the race against Lightfoot four years ago. He is quietly assembling a formidable coalition, branching out beyond his white moderate base to court-reform-oriented liberals disenchanted by Lightfoot and crime-weary Black voters willing to allow the candidate backed by the right-wing president of the local police union to control City Hall.
Obamaworld, still influential in Chicago politics and wary of the progressive left, is coalescing around Vallas as well. Dick Durbin, the senior senator from Illinois and a close ally of the former president, endorsed Vallas over the weekend, drawing a fiery rebuke from Chicago's Indivisible chapter. Arne Duncan, the Obama administration Education secretary who once worked under Vallas in the Chicago schools, penned an opinion piece in the Chicago Tribune arguing for a Vallas mayoralty — and received an approving nod on Twitter from David Axelrod. Business elites are also backing Vallas, who has bashed Johnson for wanting to raise taxes to generate more revenue for city coffers. The billionaire Kenneth Griffin, one of the Republican Party's most prolific donors, is a Vallas supporter, and a coalition of business leaders, including the Chicagoland Chamber of Commerce, recently put out a joint statement condemning Johnson's "extreme tax increase plan."
Johnson, 47, is the candidate of Bernie Sanders, Elizabeth Warren, and Jesse Jackson, and the local affiliate of the Working Families Party. (At least one power broker from the institutional wing of the Democratic Party, South Carolina congressman Jim Clyburn, is also supporting Johnson.) The Chicago Teachers Union, arguably the city's most potent union, is heavily invested in Johnson, contributing more than $1 million to his campaign. More important for the union leadership, perhaps: They revile Vallas. "The fact that he is even a contender to run this city is a gross demonstration of privilege, that someone like him can fail forward," said Teachers Union president Stacy Davis Gates. "He has shown zero evidence of competence. He has shown zero evidence of being a unifying force." If the Cook County commissioner finds a way to eke out a victory against Vallas, he would become one of the brightest stars of the Democratic Party's left flank, the rare overt progressive to seize control of a leading American city.
In a recent forum, the two men lashed each other in the most personal of terms, but underlying the rancor was ideology. Each Democrat has a very different vision for how the third-largest city in America, grappling with its post-pandemic future, should be governed for the next four years. "You build economies off of sand, and then as soon as they crumble, you run away," Johnson told Vallas of his record as schools chief in four cities. "The murder rate — committed by students, school-aged students — has skyrocketed," Vallas shot back, harping on pandemic school closures Johnson supported. "You've got to answer for yourself."
The race so far has bent slightly toward Vallas, who has run a disciplined campaign that has sought to portray Johnson as too anti-police and anti-business to govern Chicago, a city still struggling to fully recover from the ravages of the pandemic. "Bottom line, he supports the defunding of the police," Vallas told me. "He and the union leadership, their impact on the schools have had catastrophic consequences. I think he would not only be bad for public safety, he would be bad for public education."
Johnson replied that the former schools boss is the one who would harm education. "What's at stake here is that the conditions in which we are living that were created and designed by the financial schemes of my opponent [have] reared its ugly head again in an attempt to finish off the hopes and dreams of working people and middle-class families and those who are living in poverty," he told me. "What's at stake is fully funded neighborhood schools; he's a privatizer. What's at stake is affordable housing; he was part of an administration that shut down public housing."
Johnson should, in theory at least, be able to run up large margins in Chicago's Black working-class wards, but Vallas is not without support there. Bobby Rush, the veteran congressman who recently retired, announced his support for Vallas, as did Willie Wilson, a wealthy businessman and perennial candidate with a base of support among Black voters. In the first round of voting, neighborhoods on the South and West Sides largely favored Lightfoot, the city's first Black female mayor, and both campaigns are battling block by block not just for the votes of Black Democrats but also the Latinos who favored progressive Jesus "Chuy" García in the first round of voting. "I'm supporting Paul because when you look at what Brandon is standing for, Brandon's policies will basically destroy this city," said Anthony Beale, a Black alderman from the far South Side. "Brandon has never run anything; he's never been an executive of anything."
In 2020, when mass protests over the police murder of George Floyd rocked Chicago and the rest of America, Johnson introduced a nonbinding resolution calling for Cook County to "redirect funds from policing and incarceration to public services not administered by law enforcement." Johnson has since, rhetorically at least, retreated from the "defund the police" movement, which remains popular in leftist circles but polls poorly elsewhere. While still embracing more mental-health services, job opportunities, and a stronger social safety net to combat violent crime, Johnson has also said he'd like to hire more police detectives and will no longer commit to reducing Chicago's policing budget, which is nearly $2 billion.
"If you're going to have a better, stronger, safer Chicago, you have to invest and spend. There is no shortcut to public safety," Johnson told me. "I get how some folks are trying to paint me. I do understand it. When you grow up Black in America, you actually understand a lot more than people give you credit for."
If the pandemic, in all its horror, has receded, bitterness lingers in Chicago over the closure of public schools. Unlike New York, which partially reopened public schools in the fall of 2020, Chicago didn't open for in-person learning until the end of April 2021, a shutdown that lasted more than a year. The unionized workforce, along with many students and parents, feared for their lives, and the hybrid approach New York took that school year attracted condemnation from teachers and parents alike. But the prolonged nature of Chicago's school closures — and the power the CTU wielded in negotiations with the city — has become a top talking point for Vallas, who has lambasted Johnson for backing a year without physical schooling in the city.
"He's been responsible for the shutting down of a school system for 15 consecutive months, keeping the system closed long after other school districts across the country, across the state, have reopened," Vallas said. The school closures, he argued, led to a "historic exodus of students and a plummeting of academic performance." Vallas argues it has contributed to what he said is a "record increase in the number of murders and other violent crimes like carjacking committed by young people who were out of school."
In a break with some Democrats across the country, Johnson staunchly defended the prolonged closures. "If there is another 100-year pandemic, then we should be thinking about how to keep people alive. The vast majority of the individuals that lost their lives in the pandemic were Black and brown, and saving lives is important."
Education has naturally been at the forefront of a mayoral race where the front-runner built his reputation around his tenure leading large and complex public-schools systems. Vallas has long been a proponent of privately run, publicly funded charter schools. "Both President Clinton and President Obama were strong supporters of charter schools," Vallas said. "Why can't we let existing charter schools, which serve 56,000 kids in Chicago, 96 percent of them who are Black and Latino, use those vacant buildings that the city closed that the teachers union has barred the charter schools from occupying? Think about that for a second."
In the 2020s, charters have lost some of their luster, disliked by Democrats who view them as thinly veiled attempts at union-busting and ignored by Trump Republicans who have lost interest in what was called, at the time, education reform. In New Orleans, where Vallas was charged with rebuilding the school system after Hurricane Katrina, he rapidly closed neighborhood schools and opened charters, drawing both praise and plenty of scrutiny. Criticism came over "lack of transparency, inattention to the most disadvantaged students," according to the Times-Picayune. In Philadelphia, Vallas was hired after the state took over the public-school system. He made large-scale changes, but left behind a deficit and enough tumult. When it comes to Chicago, his supporters — including former union leaders and veterans of the Obama administration — portray him as a gifted leader who can resuscitate struggling schools. He boosted test scores and opened almost 80 new schools as Chicago's first public-schools CEO in the 1990s, winning plaudits from Bill Clinton.
His detractors in Chicago, though, are large in number. Vallas decided to forego pension payments to the teachers' retirement system, which made an enemy of the union and has grown into fodder for Johnson's campaign. Vallas has been criticized for financial mismanagement, lackluster academic growth, and harsh punishments handed out to low-performing schools. For Vallas's critics, then-Mayor Rahm Emanuel's divisive push to shutter neighborhood schools had its roots in his tenure as schools chief.
Vallas, because of his executive role running the schools and prior runs for office, is more well known than Johnson, but neither candidate is overly formidable. Arguments for either inevitably devolve into arguments against: Vallas, the predatory neoliberal, versus Johnson, the neophyte activist-politician. As Beale, the alderman, said, Johnson has never been the executive of anything. And when Vallas was in charge, controversy inevitably trailed him. The question remains whether more voters will regard Vallas or Johnson as too dangerous for Chicago.