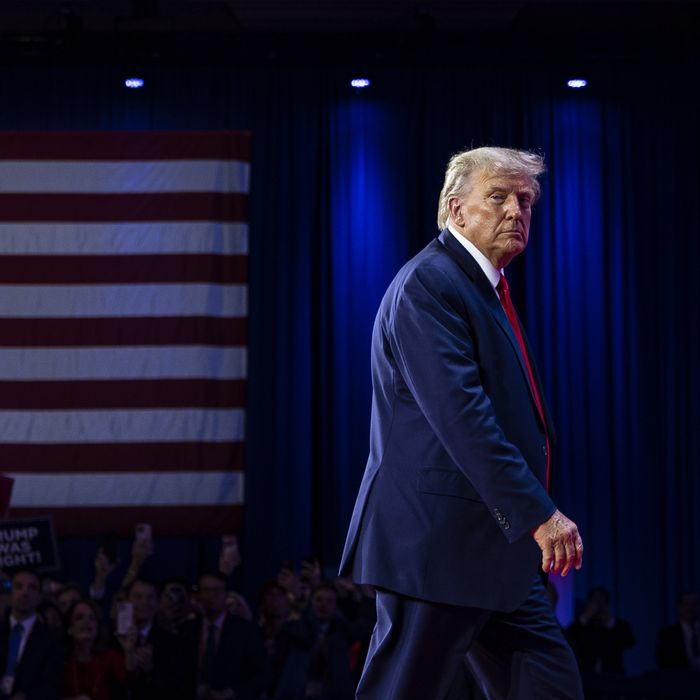 Photo: Al Drago/Bloomberg via Getty Images
Depending on how you count, the country is about to enter either the seventh or the eighth year of contemplating Donald Trump's imprisonment. If you mark the start at the public appointment of Robert Mueller to handle the Trump-Russia investigation, then we are coming into year seven, but you could reasonably make the case that we are really entering year eight — particularly given the scattered but contemporaneous questions about Trump's conduct during the 2016 election and the belated disclosure that the Trump campaign was in fact already under investigation by the FBI in the summer of 2016.
Somehow, all these years later, we find ourselves on tenterhooks waiting for Trump to be indicted by the Manhattan district attorney's office in what would be the first-ever criminal prosecution of a former U.S. president, but the prevailing mood among many of Trump's detractors and antagonists is one of nervousness and skepticism, not excitement.
According to public reports, the prospective case against the former president appears to concern Trump's payment of hush money to the adult-film star Stormy Daniels to keep her quiet in the final weeks of the 2016 election about an alleged affair between the two. To state the obvious, these facts have nothing to do with the many other areas of potential criminal misconduct on Trump's part that have been publicly posited, particularly in recent years — his efforts to overturn the results of the 2020 election, his hoarding of hundreds of classified documents at Mar-a-Lago, his company's alleged manipulation of financial statements to mislead lenders and insurers, his attempted shakedown of Ukrainian president Volodymyr Zelenskyy, or his obstruction of the Mueller investigation.
The prospective prosecution is being described among liberal observers as "the least significant and the weakest one facing Trump," "the hardest to prove" among "all the legal cases Trump faces," one with "manifold" legal and evidentiary problems. There are concerns that the indictment might even boost Trump's reelection prospects. During an appearance last week on MSNBC, a former U.S. Attorney in Georgia during the Obama administration lamented the fact that Manhattan district attorney Alvin Bragg may be the first to charge Trump rather than Justice Department special counsel Jack Smith or Fulton County district attorney Fani Willis in Georgia. "I wish these prosecutors would get somewhere in a room together and talk about who has the strongest case and who's got the most evidence and who can actually do something as opposed to worrying about who's gonna get to be the first one at the watering trough," the U.S. Attorney said, adding, like others have argued, that he did not "find the case very compelling."
It is hard to venture a definitive view on any of this at the moment, particularly since we will not know for certain what charges Bragg's office is bringing unless and until there is an actual indictment. For now, the media and legal observers are widely assuming that the office intends to charge Trump with falsifying business records under New York law based on his role in obscuring the nature and purpose of the payment to Daniels within the Trump Organization, which was structured and described internally as a legal retainer for Trump's then-lawyer Michael Cohen. Cohen handled the hush payment on behalf of Trump, pled guilty in 2018 to federal campaign-finance violations based on his involvement, and has spent the intervening years doing pretty much anything he can to ensure that Trump suffers the same legal fate that he did and winds up doing prison time.
If this is indeed the theory that Bragg's office is contemplating, the handwringers have fair reason to worry. In New York, a defendant can be convicted of falsifying business records at the misdemeanor level if he makes "or causes a false entry in the business records of an enterprise" and does so "with intent to defraud." The charge can be escalated to a low-level felony with a four-year maximum term of imprisonment if the defendant intended "to commit another crime or to aid or conceal the commission thereof."
Trump would likely posit defenses to every element of this offense — arguing, for instance, that he did not intend "to defraud" anyone but instead took the advice of his advisers (among them Cohen himself) at a time when he was completing a heated campaign for the White House; that the entries within the Trump Organization were not materially "false" (because paying a settlement is in fact a legal expense); and that he was not trying to commit or conceal "another crime" since the payment by itself did not actually run afoul of state law or federal law (even assuming that a federal criminal offense would qualify as "another crime" under the law, which is itself unclear). The New York Times has described the prospective case as one that "hinges on an untested and therefore risky legal theory involving a complex interplay of laws, all amounting to a low-level felony."
The flip side of this is that this would not be the first time that prosecutors would be bringing a case that is described as novel under the current state of the law. Courts can be persuaded to sign off in these kinds of situations if the government can offer a cogent explanation — drawing on the text of the statute, case law, and broader legal principles — for why the law should be extended to a new context. When I worked at the Justice Department, I was tasked with persuading judges that a form of market manipulation was a crime under the federal wire-fraud statute even though this was a "novel" theory at the time — one that drew intense public opposition from the Chamber of Commerce and other leading financial-services advocacy groups. We eventually prevailed, and what was once an ostensibly open legal question is now decidedly closed.
Still, the situation that we are all currently contemplating — in which Trump finally faces the prospect of some criminal accountability, but for a payment to an adult-film star from six and a half years ago that we have known about for more than five years — remains a perplexing one. Of all the potential cases to bring against Trump, how could this be the one — or, at least, the first one?
The answer, such as it is, appears to be that a bunch of lawyers with the ability to prosecute Trump made some highly questionable decisions in recent years.
At the federal level, Trump was shielded throughout his term in office by the Justice Department's policy against indicting a sitting president as well as the fact that his attorney general was a shameless opportunist and political operator who was willing to use his power to protect Trump. That changed more than two years ago, when Joe Biden and later his attorney general, Merrick Garland, took office, at which point in time the Justice Department could — and should — have pursued swift and aggressive criminal investigations concerning (at least) Trump's efforts to remain in power and his dubious financial dealings. Some observers also suggested that the new administration could finally charge Trump with obstructing the Mueller investigation, but that did not happen, and the Biden Justice Department has not addressed the matter publicly.
Had the administration wanted to, it could also have tried to prevail upon both Bragg and Willis to stand down on their investigations so that the Justice Department could take the lead investigating and prosecuting Trump at the federal level if appropriate. That happens all the time in the criminal justice system, particularly when the subject of the investigation is a prominent one who may have violated federal law. In fact, there is a well-known law-enforcement tradition in New York — one you might also describe as a long-running rivalry — in which federal prosecutors in the Southern District stake a claim to major investigations in the city and then box out their counterparts in the district attorney's office.
So far as we can tell, that did not happen, and the reason does not appear particularly mysterious. Biden publicly and privately said during the 2020 campaign and transition that he did not want his administration to be consumed with investigations of Trump; the notion, which was dubious even at the time, was that a federal investigation and perhaps prosecution of Trump would further divide the country at a time when Biden hoped to unify it. As for Garland, it was apparent even during his confirmation hearings that he might share that view or otherwise simply be willing to follow the president's wishes. At some point all that changed — though not as soon as it should have — apparently as a result of some combination of the House Select Committee's January 6 hearings last year, Trump's apparent stonewalling of the investigation concerning the documents at Mar-a-Lago, and Biden's own publicly reported frustration last spring that Trump remained legally unscathed despite everything we had already learned about his role in the events leading up to January 6.
All of this complicates the intuitive notion that Garland, Bragg, and Willis should somehow just "get somewhere in a room together and talk about who has the strongest case," as the former U.S. Attorney in Georgia posited last week. What exactly would they be talking about? The most logical rationale for the Justice Department to use to impose upon local prosecutors to stand down is that federal prosecutors can and will handle the case(s) themselves, but at least as to the investigation by Bragg's office, there is no parallel federal inquiry that even remotely covers the conduct at issue. The federal investigation that resulted in Cohen's conviction for the payment to Daniels was closed during the Trump administration, and there is no public indication that that decision was revisited in any meaningful way after Garland took office — even assuming that there was a federal case to be made against Trump himself, which is questionable.
Meanwhile, the investigation by the district attorney's office has followed its own bizarre and tortuous path. The investigation reportedly began during the Trump administration under Bragg's predecessor, Cy Vance, as a result of the payments to Daniels, but it eventually grew to include more expansive and factually complex questions about whether the Trump Organization had criminally defrauded lenders, insurers, and tax authorities by manipulating the values of Trump's assets. With Trump still in office, the probe became the subject of considerable excitement among legal observers who claimed (wrongly) that it "would be easy" for the office to prosecute Trump for fraud under New York law, though the office proceeded to criminally charge both Trump Organization CFO Allen Weisselberg and the company based on a scheme to avoid paying taxes on compensation and benefits that Weisselberg received.
Prosecutors eventually secured convictions on those relatively modest charges, but shortly after Bragg took office at the start of last year, the two prosecutors leading the investigation at the time asked him to sign off on broader criminal fraud charges against Trump based on his alleged involvement in manipulating the value of his assets. Bragg concluded that the proposed case was not strong enough, which prompted the two lawyers to resign and eventually led one of them last month to publish a very inconveniently timed tell-all account — one that may have perversely made it harder for the office to convict Trump now given all of the internal dirty laundry that was aired in the process. The full story of the office's work during Vance's tenure has yet to be told, but suffice to say that the simplest explanation currently available — and certainly the most convenient for Bragg — is that Vance and the since-departed lawyers that he tasked with leading the investigation badly mismanaged it.
Exactly what happened between then and now is unclear, but if Trump is charged, that will undoubtedly become a more pressing question. The answer may not come in anything approximating a definitive form until the case reaches its ultimate conclusion — a process that could easily take years, even assuming that Trump's reelection bid is unsuccessful. In the meantime, it is possible that Trump will also be criminally charged by prosecutors in Fulton County, the Justice Department, or both, at which point the percolating anxiety among observers at the moment might be alleviated or at least diffused as a result of proceedings that would seem to center weightier and more consequential matters of national concern.
For the time being, we find ourselves preparing for a literally unprecedented and deeply strange situation — one that owes its existence, first and foremost, to Trump and his endless creativity in generating new legal problems, as well as the Republican Party's seemingly endless appetite for indulging his excesses, but also to a Democratic legal Establishment that has struggled for years to manage those concerns on behalf of the public in a responsible, fulsome, and orderly manner. Whether Bragg and his team of prosecutors can break that pattern remains to be seen.