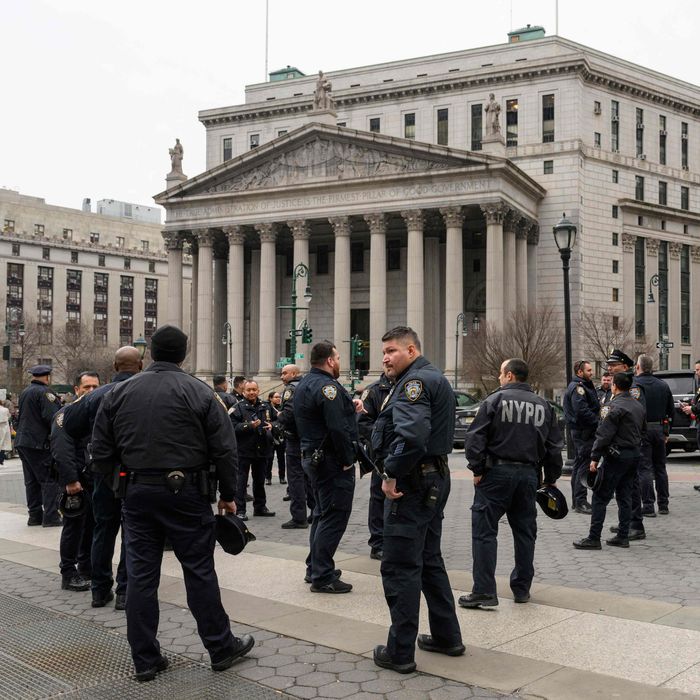 Photo: Angela Weiss/AFP via Getty Images
Insider reports that the Manhattan grand jury investigating Donald Trump over hush-money payments is not meeting Wednesday, as anticipated, delaying any potential vote to indict the former president.
No reason has been given for the change, but the panel has reportedly been told to be on standby on Thursday. According to The Wall Street Journal, the Manhattan district attorney's office alerted court officials of the change on Tuesday.
Anticipation for a decision in the Manhattan district attorney's inquiry has been mounting in part because of Trump himself. The former president claimed on social media that he would be arrested Tuesday, probably in response to reports that law-enforcement agencies were coordinating in preparation for a possible indictment. He then urged his followers to protest and "take our nation back."
Tuesday came and went with no arrest of Trump and with small protests that featured more press and counterprotestors than actual supporters, something that likely did not impress the crowd-size-obsessed former president. Speculation turned to Wednesday, one of the days the jury commonly meets on, per the New York Times.
CNN reports that prosecutors have been in contact with the attorney of "at least one witness," meaning there's a possibility the grand jury could hear additional testimony from a previous witness. Most recently, the panel heard from Robert Costello, a former legal adviser to Michael Cohen, on Monday. His testimony was expected to cast doubt on the credibility of Cohen, who has testified before the jury twice before.