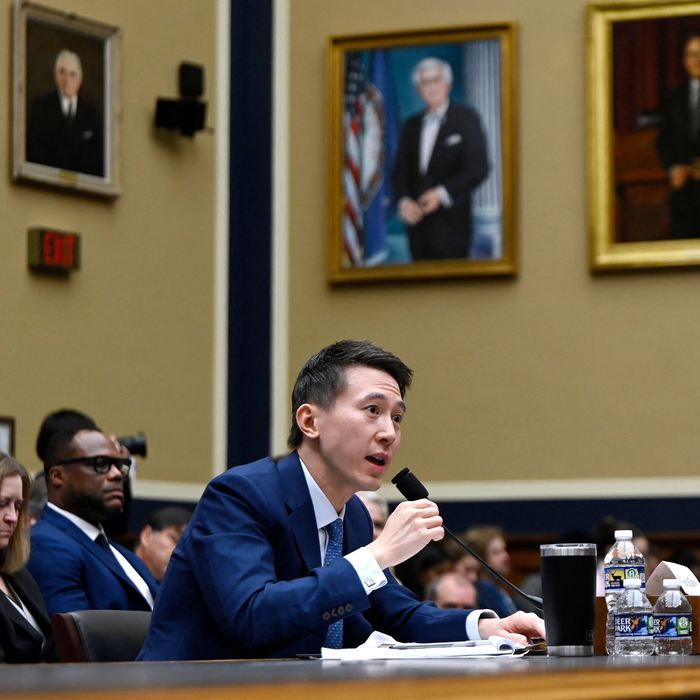 Photo: Olivier Douliery/AFP via Getty Images
TikTok CEO Shou Zi Chew testified on Thursday before the Republican-controlled House Committee on Energy and Commerce, defending his company's right to operate in the U.S., where lawmakers in both parties have proposed giving the Biden administration the authority to sanction or ban the Chinese-owned video-sharing app.
In many high-profile hearings involving an embattled CEO, there's some partisan reprieve to the questions with one party on the offensive and the other more sympathetic to the witness. But that wasn't the dynamic on Thursday. Chair Cathy McMorris Rodgers came out blasting Chew and his company for allegedly seeking "more control, more surveillance, and more manipulation" on its app while calling for TikTok to be banned. The top Democrat on the committee, Frank Pallone, concurred.
Chew spent all morning handling lawmakers' pointed questions about TikTok's data-collection practices and potential national-security concerns regarding the app's alleged connection to the Chinese government. Chew, who informed the committee that he is from Singapore, ensured his interrogators that TikTok's parent company, ByteDance, "is not owned or controlled by the Chinese government" and that international shareholders control a majority of the company. "Since I've been CEO of TikTok, I've not had any discussions with Chinese government officials," Chew said. But he was not able to answer a question from Pallone on TikTok's controversial data harvesting:
As is often the case at such hearings, several committee members demonstrated that they are not very young and, thus, know little about social media. Pallone referred to the "information superhighway" right out of the gate. Gus Bilirakis showed a clip from the TV show The Bear and tweets from late rapper XXXTentacion. And Richard Hudson had some basic questions about Wi-Fi access:
And other answers from Chew are unlikely to stop bipartisan pressure on the Biden administration to take action on TikTok: