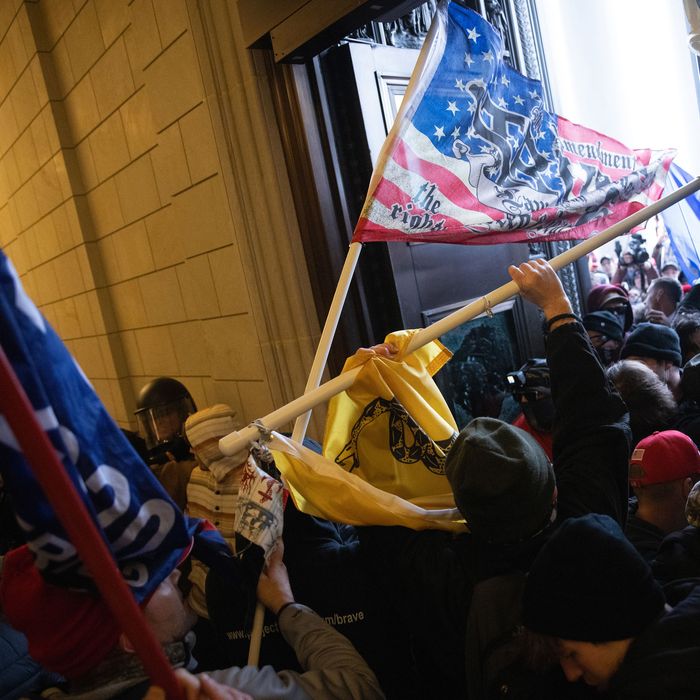 January 6 footage you won't see on Tucker Carlson's show.
Photo: Win McNamee/Getty Images
A lot of Republicans would just as soon forget about the events of January 6, 2021. It's why congressional GOP leadership fought so hard to obstruct and undermine the House select committee investigating the fraught events of that day. But the deliberate amnesia is even more evident in the virtual silence on the subject among Donald Trump's 2024 rivals. January 6 does not come up in the new book Florida governor Ron DeSantis is out promoting. And, as Politico recently noted, DeSantis isn't alone in looking the other way:
Mike Pence, the former vice president and likely presidential candidate, is preparing to resist a grand jury subpoena for testimony about Trump's efforts to overturn the election, seeing only political landmines in testifying. Nikki Haley, asked on a podcast recently if she would describe the riot at the Capitol as an "insurrection, a riot, or a coup," went instead with a more banal — and safer — description: "a sad day in America."




In the primary, said Dave Carney, a national Republican strategist based in New Hampshire, "I don't think January 6 will come up, period."
But unfortunately for these Republicans, several key figures in MAGA-world won't stop bringing up January 6 to advance their own political causes.
Last month, Kevin McCarthy gave Fox News host Tucker Carlson exclusive access to previously unreleased footage of the January 6 invasion of the Capitol, reportedly as part of a deal that helped him become Speaker of the House. Now Carlson is airing segments of the footage on his show in an effort to depict the Capitol riot as a peaceful patriotic demonstration rather than a violent insurrection (which, conveniently, may distract from embarrassing revelations in the Fox News–Dominion Voting Systems lawsuit).
And the man you'd expect to be most embarrassed by memories of January 6 — indeed, the one who was actually impeached over it — keeps bringing it up in increasingly provocative ways. Trump recently collaborated with a group of "January 6 prisoners," recording the Pledge of Allegiance for this video, in which they sing the national anthem:
Unsurprisingly, the 45th president was thrilled by Carlson's prime-time rehashing of January 6 (despite the Dominion suit's revelation that just two days before the riot, Carlson had said of Trump, "I hate him passionately").
For years, Trump denied responsibility for his supporters' actions at the Capitol or suggested that it was some kind of false-flag operation pulled off by antifa. Now he's not only embracing the insurrectionists but treating them as heroes and martyrs. So are his acolytes, as the recent MAGA-dominated CPAC conference showed, per Politico:
Micki Witthoeft, the mother of Ashli Babbitt — the protester shot and killed by Capital police at the riot as she tried to break down a door inside the building — appeared on set with Donald Trump Jr. outside the convention's main stage. There were two booths in the CPAC exhibition hall focused on Jan. 6 defendants. And it was standing room only for a breakout session at the conference titled: "True Stories of January 6: The Prosecuted Speak." Speakers included Jan. 6 defendants Brandon Straka, Simone Gold, West Virginia legislator Derrick Evans, John Strand and Geri Perna, the aunt of Matthew Perna, who died by suicide after pleading guilty to four charges related to the Capitol riot.
What are Republicans supposed to do if Trump, Carlson, McCarthy, and other MAGA agitators keep lighting candles to the memory of January 6 rioters? Senate Republican leader Mitch McConnell and a handful of other GOP senators opted to stand with the Capitol Police, who are outraged by this attempted papering over of January 6:
But many more Republican officials are saying nothing or gesturing vaguely at the subject with talk about how the party needs to "move on" or "look ahead." It seems that they fear making themselves targets of Trumpian rage by speaking out. For Trump's 2024 rivals, this means fighting him with their hands tied behind their backs, as they refuse to acknowledge the summit of his lawlessness and irresponsibility.
Unfortunately for Republicans, Joe Biden and other Democrats are not going to go along with any conspiracy of silence on January 6 — regardless of whether Trump is the 2024 GOP nominee. And if the ex-president and his allies continue to wave the bloody flag of the "J6 patriots" to differentiate him from his RINO rivals, Democrats won't need to dig too deeply to unearth memories of that eventful day. Perhaps one of those Republican rivals will figure out that if they are going to lose to Trump or DeSantis anyway, they might as well lose honorably.