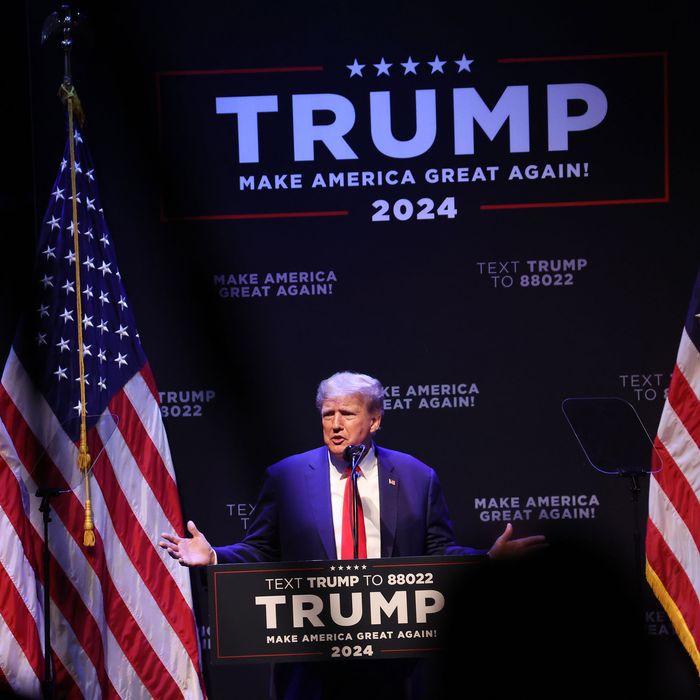 Former president Donald Trump speaks in Davenport, Iowa, on March 13, 2023.
Photo: Scott Olson/Getty Images
Democrats may have abandoned Iowa's first-in-the-nation caucus in favor of more diverse states with straightforward primaries, but the trail to the 2024 Republican presidential nomination still begins in the corn-fed heartland state. The two dominant aspirants for that prize, Donald Trump and Ron DeSantis (who has not yet declared but is almost certainly running), showed up in the last few days, previewing what may develop into a two-person cage match that leaves other candidates angling for attention and relevance.
DeSantis spoke in Davenport and Des Moines, continuing a national barnstorming tour touting his new book about his efforts to turn Florida into a right-wing paradise (unsubtly subtitled "Florida's Blueprint for America's Revival"). His big applause line was a boast about flying migrants to Martha's Vineyard to mess with blue-state minds. "I'm sick of elites imposing their vision on open borders on you and on us with them not having to face the consequences of it. So we thought it was worth it to send 50 illegals to Martha's Vineyard," DeSantis said.
Three days later, Trump came to Davenport as well, delivering a nearly two-hour address billed as an education policy speech. It was mostly the usual ex-presidential brag-fest. There were a few spare lines about education featuring his bizarre idea that parents should directly elect school principals. But for the most part, the 45th president talked about his own greater glory and the benefits his administration had showered on Iowa farmers.
While DeSantis steered clear of comments on his most important rival, Trump had the governor clearly on his mind. Prior to his speech, Trump entertained reporters with a familiar complaint about his own role in DeSantis's rise, as Politico reported:
Former President Donald Trump is intensifying his attacks on Florida Gov. Ron DeSantis, calling him disloyal and saying that his political career would have been over had he not endorsed his ultimately successful 2018 campaign.




"He was dead as a dog, he was a dead politician. He would have been working perhaps for a law firm or doing something else," Trump told a small group of reporters aboard his plane on Monday afternoon en route to Iowa, where he was to make an appearance that evening.
During the Davenport speech, Trump took a couple of brief shots at DeSantis's congressional record on hot-button issues. He called him "very, very bad on ethanol," the federally subsidized corn-based alternative fuel that is cherished by Iowans, and brought up the governor's past support for budget proposals that would cut Social Security benefits. After the speech, Trump resumed his criticisms of DeSantis with reporters, per Politico:
During another gaggle with reporters on the flight back to West Palm Beach late in the evening, Trump doubled down on his remarks about DeSantis. The former president called the governor a flip-flopper, ridiculed his debate skills and likened him to establishment-aligned Republicans like Utah Sen. Mitt Romney and former House Speaker Paul Ryan.




"Remember this: If it weren't for me, Ron DeSanctimonious would right now be working probably at a law firm, or maybe a Pizza Hut, I don't know."
Whatever he'd be doing had Trump not crossed his path, DeSantis is now far and away the most serious threat to the former president's comeback. Iowans famously expect presidential candidates to come almost literally into their homes, and DeSantis showed signs of understanding those expectations with a relatively generous serving of baby-kissing and selfies. For his part, Trump has spent a lot of time in Iowa after losing the 2016 caucus and has reportedly set up a much more professional campaign in the state this time around. As is their wont, most of the big players in Iowa Republican politics are neutral at this early juncture (Governor Kim Reynolds was onstage with both DeSantis and Trump in their inaugural 2024 events), and they will need intensive wooing. Fortunately for all of the candidates, the GOP does not use the highly complex caucusing procedures that helped screw up the Democratic event in 2020. Republicans just show up at caucus sites, eat baked goods, hear a few speeches, then vote for their favored presidential candidates. The results are simple preference totals. The date of Caucus Night has not been definitively set, though nomination-contest expert Josh Putnam expects it could happen as early as January 8.
Announced candidates Nikki Haley and Vivek Ramaswamy along with unannounced but very likely candidates Mike Pence, Mike Pompeo, and Tim Scott have all spent time in Iowa recently. But DeSantis and Trump, who seem closely matched in initial favorability ratings by famed Iowa pollster Ann Selzer, will command most of the initial attention. The others will have to hope that the top two candidates damage each other in a murder-suicide scenario while they struggle for relevance via the roundabout circuit of small-town civic clubs and Pizza Ranch locations.
All of the Republican candidates will try to appeal to Iowa's most conservative voters, who are the most likely caucus-goers, by pummeling Joe Biden, his Democratic allies, and the "radical left" they are alleged to represent. But it's not as clear how often and how savagely they will attack each other in the process. It's no surprise that Trump has been the early aggressor in his tense competition with DeSantis. Whether and when the Florida governor fires back will greatly affect the tone of the campaign in Iowa and other early states.