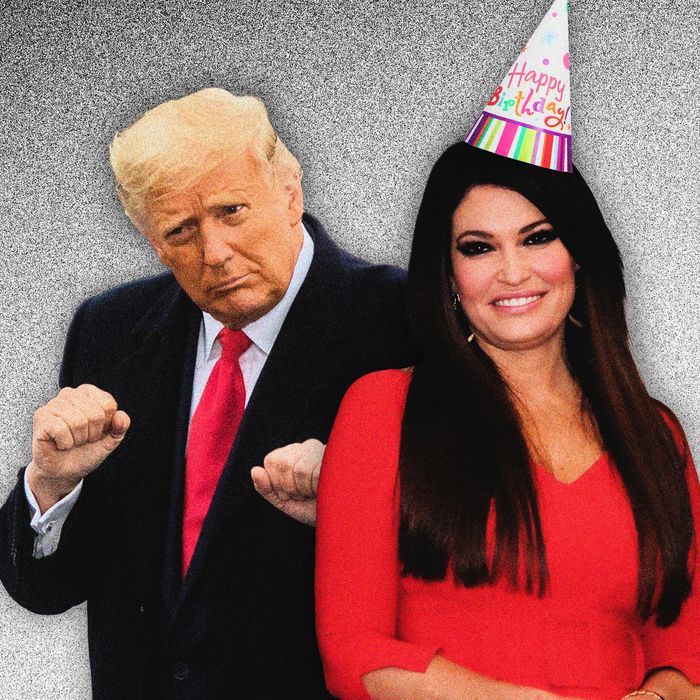 Photo-Illustration: Intelligencer; Photos: Getty Images
There have been some questions about whether the Trump family actually likes Don Jr.'s fiancée, Kimberly Guilfoyle. On the one hand, they gave the former Fox News host a plum spot at the 2020 Republican National Convention, letting her scream at Americans for six minutes straight. On the other hand, last year Ivanka Trump cropped Guilfoyle out of pictures from her sister Tiffany's wedding and key Trumps skipped Kim's 2022 holiday party, reviving old rumors that the family was never keen on her.
The Trumps' initial effort to squash this story line wasn't very convincing. In December, Eric Trump offered a lukewarm Guilfoyle endorsement to the New York Post, saying, "I completely disagree with the narrative and happen to think the world of Kimberly." But over the weekend, Donald Trump made a big show of honoring his future daughter-in-law at her 54th-birthday party, which was held in a private home near Jupiter, Florida. The Post reported that Trump was "seen dancing the night away," and a source told the paper, "Trump gave a big, long speech praising Kimberly and saying, 'I look forward to officially welcoming Kimberly into the family when Don [Jr.] marries her … we all love her."
Footage from the event confirms that Trump honored Guilfoyle with a spirited rendition of the "Y.M.C.A." dad dance he often performs at his rallies.
And Trump did give a "big, long speech" at the party — but video posted by a partygoer shows it was more stump speech than "L to the OG"–style tribute. Trump went over his ostensibly amazing poll numbers, then lamented that "we have a country that's in very bad shape," partly due to the "millions and millions" of immigrants "pouring in" from jails and "mental institutions." He segued into promoting his new book, Letters to Trump, and took some jabs at Oprah Winfrey. Then he closed by attacking Joe Biden, saying that Democrats "used COVID to cheat" during the 2020 election and are now "fighting like dogs" to block his White House return.
None of this is normal fatherly birthday behavior, but Guilfoyle seemed charmed. She probably knows that some kind words sprinkled in a rambling, self-aggrandizing speech are just about the best any Trump kid can hope for.