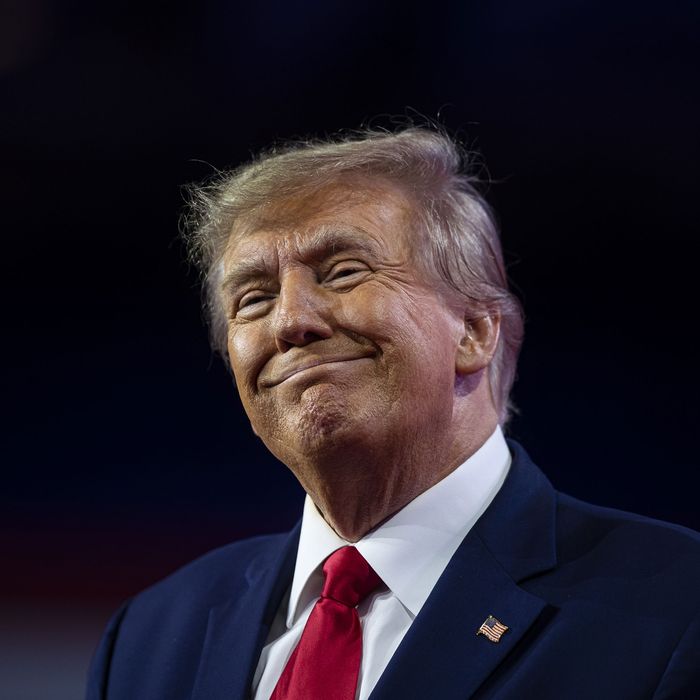 Photo: Al Drago/Bloomberg via Getty Images
While all of Donald Trump's business ventures have an air of scam about them, the book he released last year was one of his more honest cons. Is Our Journey Together just a big book of pictures from the Trump administration? Yes. Is it funny that Trump released a coffee-table book instead of a proper post-presidential memoir? Absolutely. Did he rip off a bunch of White House photographers, not even giving them proper credit for the images he used in the book? Sure. And did Trump swindle his most devoted followers by charging them $74.99 for a basic copy, $229.99 for a signed copy, and $999 for a "special edition" bundle? This is also true.
But Our Journey Together is authentically Trump and it's legitimately amusing, thanks to one special feature. Unlike most coffee-table books and all presidential tomes, it's chock full of nasty, unhinged captions, some of which are written in Trump's own Sharpie scrawl.
Now Trump is releasing a sequel to Our Journey Together. You might think he'd just round up another 300 photos and cook up some more insulting captions. But Trump is an innovator — and kind of a hoarder. The aptly titled Letters to Trump will feature photos of 150 letters he's received from famous people over the decades, with some commentary. Here's Axios's description of the book, which will be released on April 25:
… Trump's new book includes letters — from presidents, royals, celebrities, and business titans — that he chose from thousands he saved over 40+ years, and stashed at his various properties.




For each, Trump adds a photo and his own commentary about the author — and, for tough handwriting, some transcripts.




The book includes letters from Richard Nixon, Ronald Reagan, Bill Clinton, Princess Diana, Hillary Clinton, Ted Kennedy, North Korea's Kim Jong-un, Mario Cuomo, Arnold Palmer, Jay Leno, Liza Minnelli, Regis Philbin (salutation: "My Dear Trumpster") and many more.
This book may actually be even Trumpier than Our Journey Together. Trump loves showing off his own memorabilia, bragging about the famous people he knows, and publicly shaming famous people who he feels have slighted him.
Axios's preview suggest this is exactly what he'll do in Letters to Trump. The site published a letter Oprah Winfrey sent to Trump in response to the mogul writing in his 2000 book The America We Deserve that she'd be his top pick for vice-president, if he ever ran for president.
"I have to tell you your comments made me a little weepy," Winfrey wrote. "It's one thing to try and live a life of integrity — still another to have people like yourself notice."
Apparently Trump doesn't go after Winfrey in the caption for this letter, but he does suggest she's a hypocrite, per Axios:
Trump writes that he still considers Winfrey "amazing" — but admits it's not mutual: "Sadly, once I announced for President, she never spoke to me again."
In another Trumpy move, Winning Team Publishing (which was co-founded by Sergio Gor and Donald Trump Jr.) is charging significantly more for the new book: $99 for a basic edition or $399 for a signed copy. That's basically robbery, but I bet Letters to Trump will be way more nourishing than Trump's overpriced steaks.