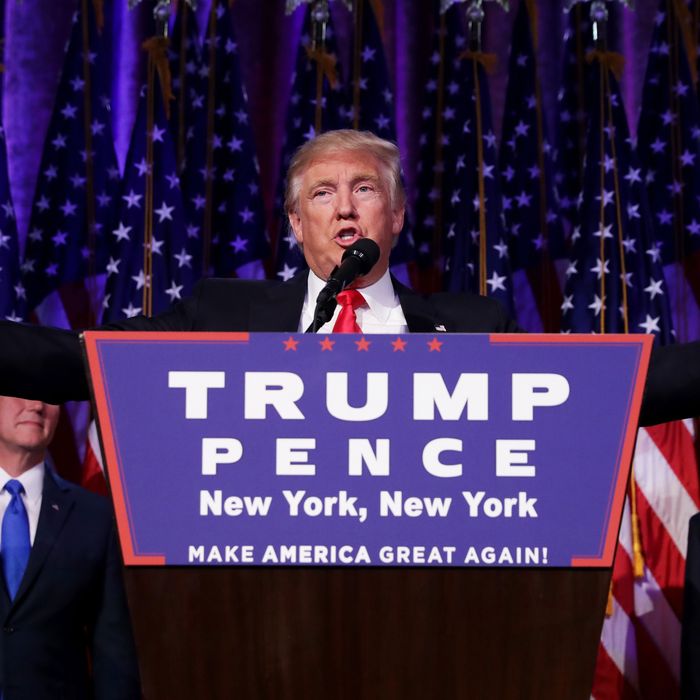 Is it possible we've already forgotten what happened on Election Night in 2016?
Photo: Chip Somodevilla/Getty Images
There are an awful lot of reasons for Republican elites to oppose the renomination of Donald Trump next year. He's erratic and selfish as a party leader. He's repudiated many historic GOP issue positions that Republicans would love to bring back and implement. His constant boasting and lying is embarrassing. And he's not that much younger than Joe Biden, whose alleged decrepitude will be a major party talking point in 2024.
None of these concerns are terribly politic to say out loud; there's a strong possibility that anyone who voices them will wind up in a scorching Truth Social post attacking RINOs and the party Establishment. So instead, would-be post-Trump Republicans prefer to talk about the 45th president's alleged lack of "electability," as The Atlantic's Ron Brownstein found when exploring the Trump-o-phobia of GOP elites:
Jennifer Horn, the former Republican state party chair in New Hampshire and a leading Trump critic, told me that it's likely the institutional resistance to him this time "will be stronger and more organized" than it was in 2016. Doubts about Trump's electability, she added, could resonate with more GOP primary voters than opponents' 2016 arguments against his morality or fealty to conservative principles did. "His biggest vulnerability in a primary is whether or not he can win a general election," she said.
That sounds superficially plausible to those of us who saw Joe Biden defy the odds and win the 2020 Democratic nomination because Democratic voters (even more than elites) considered him electable. In this high-stakes era of polarized politics, with the two major parties roughly equal in strength, everybody is looking for a sure winner. But is Trump really any less viable of a candidate today than he was during the 2016 primary, when he steamrolled his more "electable" opponents?
An odd amnesia seems to have obliterated memories of how completely screwed Trump initially seemed as a prospective rival to Hillary Clinton. According to the RealClearPolitics polling averages from that year, Trump trailed Clinton by nearly 20 points in trial heats shortly after he announced his candidacy. Yes, he did better in later polls, but despite the partisan hype, few people were convinced he would win. He was all but written off by a variety of party figures after the Access Hollywood tapes came out in October 2016. Republican senators Kelly Ayotte, John Thune, Deb Fischer, Mike Crapo, Cory Gardner, Mark Kirk, Lisa Murkowski, and Dan Sullivan, as well as governors Gary Herbert and Bill Haslam, all renounced their support for him instantly. Then–Speaker of the House Paul Ryan told his members they should feel free to abandon their presidential nominee. How electable did he look then? Even when the furor had calmed down, there was a raging debate among pollsters and pundits aimed at Nate Silver's allegedly too positive projection that Trump had a 29 percent chance of winning. And disputes about how so many people got so much of the 2016 election wrong dragged on for years.
So are we now supposed to believe that the Republicans who made Trump president in 2016 are going to write him off in 2024 because he can't possibly win? The same Donald Trump who again defied the polls and nearly pulled off another shocker in 2020? And the same Republican voters who to a considerable extent believe Trump actually won a second time? This does not make a great deal of sense.
Some Trump critics suggest that the former president proved himself unelectable when "his" candidates (for the Senate, at least) did poorly in 2022. There's some sleight of hand in that argument. Sure, some bad Senate candidates endorsed by Trump lost winnable races in 2022. But it's a different matter to claim that they lost because of Trump's support, showing how toxic his "brand" had become. The counterargument from MAGA-land, of course, is that just as Republican underperformed in the 2018 midterms, the 2022 results showed the GOP needs Trump on the ballot to win. It's not an argument that's easy to brush off.
Advocates for Trump's non-electability also need to come to grips with the fact that (so far, at least) Trump is not looking particularly weak in head-to-head polls for a prospective rematch with Joe Biden. According to RCP's averages of Trump-versus-Biden trial heats, the ex-president currently leads the sitting president by an eyelash (44.6 percent to 44.4 percent). How does the presumed beneficiary of all this fear about Trump's electability do? Ron DeSantis trails Biden in trial heats 42.8 percent to 43.2 percent. There's not much difference between the two Republicans' performance against the incumbent, but again: Where's the evidence that DeSantis is so vastly more electable that Republican should risk the wrath of Trump's base (and even a possible third-party run) by dumping him?
I am reminded of the 1968 Republican presidential-nomination contest in which Nelson Rockefeller ran incessantly on the theme that he was more electable than Richard Nixon. But on the eve of the Republican convention when the deal would go down, Rocky was devastated by a poll showing Nixon running ahead of him against putative Democratic nominee Hubert Humphrey. Anti-Trump Republicans would be prudent to come right out with substantive arguments about why it would be a bad idea to let Donald Trump slither back into the White House instead of hiding behind "electability" concerns that may soon be as ephemeral as Hillary Clinton's unassailable lead in 2016.