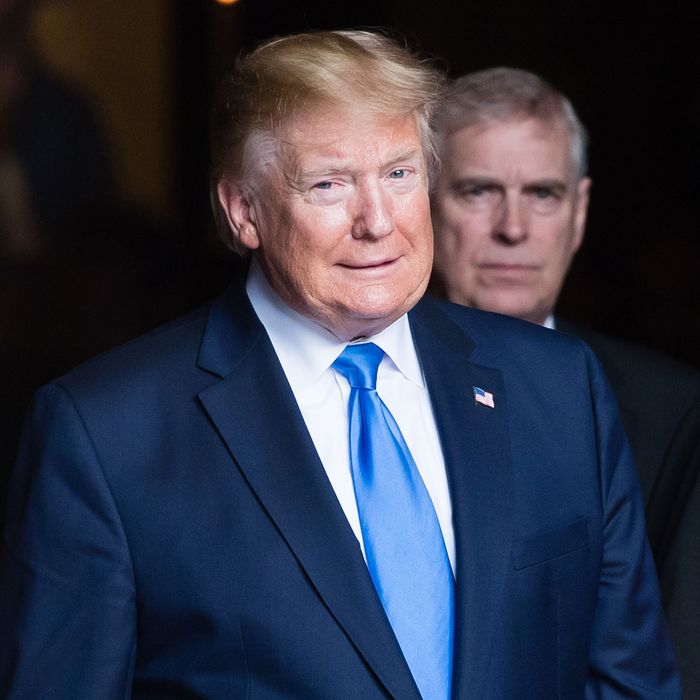 Photo: Samir Hussein/Samir Hussein/WireImage
The concept behind the forthcoming coffee-table book Letters to Trump is pretty clever, for one of Donald Trump's moneymaking schemes. It's just a collection of letters he's received from other celebrities, with some commentary. Much like the photo book Our Journey Together, it involves little effort or actual writing by the former president. And the new book also lets Trump engage in one of his favorite activities: bragging about all the famous people he knows.
That could have been the whole marketing pitch, but Winning Team Publishing decided to take things a step further, explicitly promoting the coffee-table book as a chance to see Trump humiliate his famous enemies. Incredibly, this strategy has now earned Trump a posthumous public insult from Princess Diana, via her brother Earl Charles Spencer.
Winning Team, which was co-founded by Donald Trump Jr. and Sergio Gor, initially presented Letters to Trump as a peek into celebrities' private correspondence. The official description drops Princess Diana's name but doesn't suggest Trump says anything negative about her:
President Donald J. Trump's second official book since leaving the White House is Letters to Trump. A colorful photo book captures the incredible, and oftentimes private correspondence, between President Donald J. Trump and some of the biggest names in history throughout the past 40 years!




From President Richard Nixon, to Princess Diana, and from Hillary Clinton, to Chairman Kim Jong Un, no book offers a glimpse into history quite like Letters to Trump!
However, in a Breitbart interview promoting the book, both Trump and his son implied that he'd be exposing how "every one" of the celebrities included in the book used to suck up to him.
"I think [readers are] going to see a very fascinating life. I knew them all — and every one of them kissed my ass, and now I only have half of them kissing my ass," Trump told Breitbart.
Don Jr. echoed this, telling Breitbart: "My father has lived an amazing life and has been around some of the most interesting people in the world … It's amazing how quickly their adoration of him changed when he ran for office as a Republican. Letters to Trump shows you exactly how they felt about him and how phony their newfound disdain truly is."
It seems that in their zeal to brand their famous foes as hypocrites, the Trumps accidentally dragged Princess Diana. They didn't actually say anything about her specifically in the Breitbart piece, but her name is mentioned immediately before Trump's quote (which Breitbart characterizes as a joke), along with various other unwitting Letters to Trump contributors like Queen Elizabeth II, Clint Eastwood, Michael Jackson, and Ronald Reagan.
Nevertheless, the Trumps' remarks prompted a scathing response from Earl Charles Spencer, who claimed on Twitter Wednesday that the one time he discussed the mogul with his sister, she "clearly viewed him as worse than an anal fissure."
It seems unlikely that Donald Trump actually meant to insult Princess Diana in the Breitbart interview or that he'll say something nasty about her in Letters to Trump. The mogul "aggressively pursued Princess Diana" after her divorce, according to Christopher Andersen's biography of King Charles. Diana rebuffed Trump, but that didn't keep him from claiming on Howard Stern's radio show shortly after her death that he could have "nailed" her. It's clear that Trump has always wanted the public to think he had a shot with the princess. Now, thanks to his bragging about their barely existent relationship, coupled with his hyperbolic dig at "every one" of his celebrity correspondents, we have a well-sourced report that she actually thought he was vile.