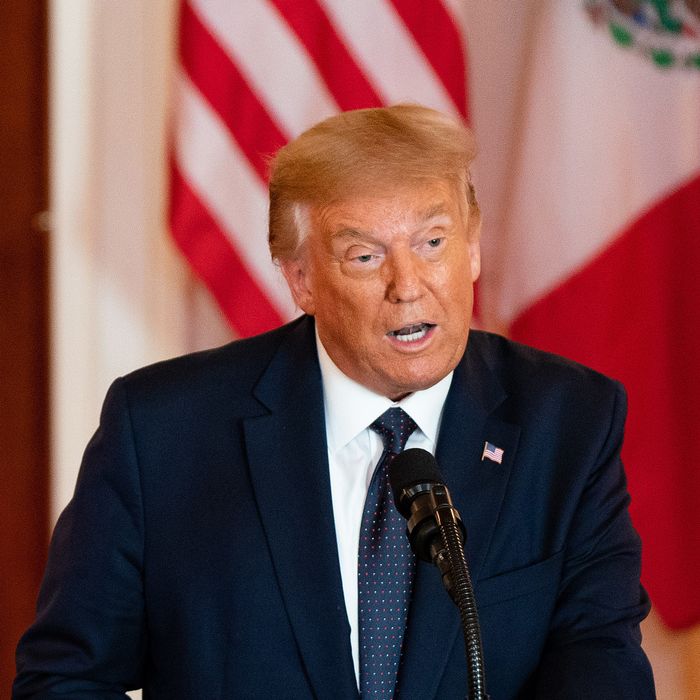 Photo: Anna Moneymaker-Pool/Getty Images
About a year ago, we learned that Donald Trump proposed taking U.S. military action in Mexico — but not accepting responsibility for it. In his book A Sacred Oath, former Defense secretary Mark Esper claimed that Trump asked him if the U.S. could "shoot missiles into Mexico to destroy the drug labs" without giving our ally a heads-up, suggesting, "No one would know it was us."
Incredibly, this was not the only time Trump floated the idea of committing an act of war and then feigning ignorance. In January, a new edition of Michael Schmidt's book Donald Trump v. the United States revealed that former White House chief of staff John Kelly was scared Trump might attack North Korea with no warning. Trump "cavalierly discussed the idea of using a nuclear weapon against North Korea, saying that if he took such an action, the administration could blame someone else for it to absolve itself of responsibility," Schmidt wrote.
Pretty crazy stuff! But, of course, Trump didn't secretly attack Mexico, North Korea, or any other nation (as far as we know). So now we can all relax and maybe even laugh about it.
Well, maybe not. Rolling Stone reports that, as he runs for a second term in the White House, Trump's been asking policy advisers to give him options for using the U.S. military to take out Mexican drug cartels. And he doesn't seem that concerned about Mexico's government authorizing these maneuvers:
"'Attacking Mexico,' or whatever you'd like to call it, is something that President Trump has said he wants 'battle plans' drawn for," says one of the sources. "He's complained about missed opportunities of his first term, and there are a lot of people around him who want fewer missed opportunities in a second Trump presidency."




Trump lieutenants have briefed him on several options that include unilateral military strikes and troop deployments on a sovereign U.S. partner and neighbor, the sources say.
Among the proposals Trump has been briefed on is a policy paper titled "It's Time to Wage War on Transnational Drug Cartels" from the Center for Renewing America, a MAGA-y think tank. It outlines how the next Republican president could "formally" declare "war against the cartels," calling for the U.S. to "enlist the Mexican government in joint operations" that target drug operations. But it emphasizes that the U.S. should have final say on what happens within the sovereign nation to our south: "It is vital that Mexico not be led to believe that they have veto power to prevent the US from taking the actions necessary to secure its borders and people."
Rolling Stone notes that the idea of taking some kind of U.S. military action against Mexican cartels is gaining traction in the GOP, so it might happen regardless of whether he wins in 2024. But Trump's original plan has already been foiled since he's lost the element of surprise. It's even more ridiculous to tell the world "It wasn't us!" when your horrified advisers keep running to the media about your crazy plan to bomb Mexico and lie about it.