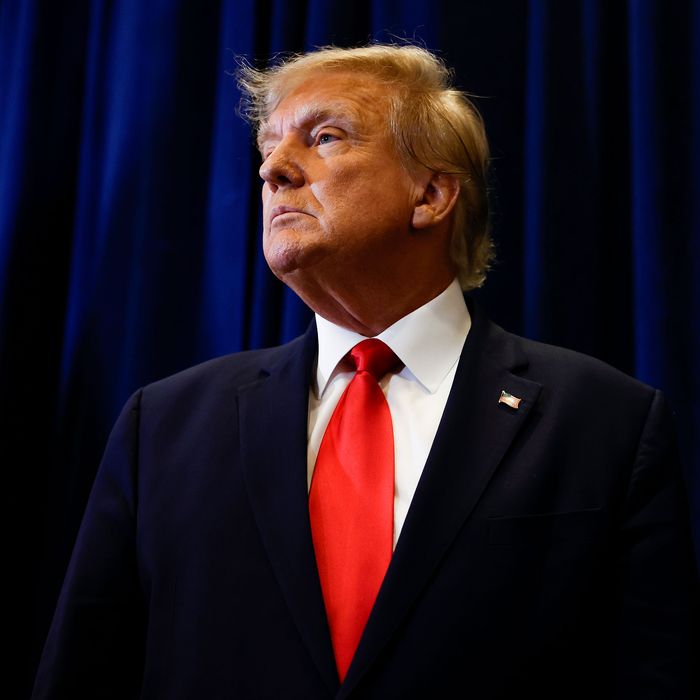 Photo: Anna Moneymaker/Getty Images
Just days after he called for his followers to protest his possible indictment, Donald Trump made his most inflammatory comments yet about the case, suggesting overnight Thursday that his arrest could result in "potential death and destruction." Then on Friday, it emerged that Alvin Bragg, the district attorney investigating him, had already received at least one death threat mailed earlier in the week.
Shortly after 1 a.m. on Friday morning, Trump wrote a lengthy post on TruthSocial that escalated his recent rhetoric against the Manhattan district attorney's investigation into the role he played in making hush-money payments to Stormy Daniels.
"What kind of person can charge another person, in this case a former President of the United States, who got more votes than any sitting President in history, and leading candidate (by far!) for the Republican Party nomination, with a Crime, when it is known by all that NO Crime has been committed, & also known that potential death & destruction in such a false charge could be catastrophic for our Country?," he wrote.
Trump then answered his own question, adding "Only a degenerate psychopath that truely [sic] hates the USA!," in clear reference to Bragg, Manhattan's first Black district attorney, whom the former president called an "animal" a day earlier.
NBC News reported Friday afternoon that the NYPD and FBI are investigating a letter mailed to Bragg that contained a death threat and a white powdery substance which was later found to be non-hazardous. The letter reportedly came from Orlando, Florida and was postmarked on Tuesday.
This all began last weekend when Trump predicted his own arrest would come this Tuesday (it did not), urging his followers to protest and to "TAKE OUR NATION BACK!" in a repeat of the rhetoric that inspired his supporters to attack the Capitol.
As the nation waited to see what the grand jury would decide, Politico spoke to Lanny Davis, who is representing Bragg's star witness, Michael Cohen. In an interview, Davis gave his perspective on the case against Trump, raising a hypothetical that the grand jury determines Trump told Cohen to make the payments. "Michael went to prison. How come [Trump's] any different?" he said.
But on the chance that Bragg doesn't end up charging Trump with a crime?
"I'll be disappointed. But I will grant him a good-faith judgment. And judgments can always be disagreed with, but I'll be disappointed for sure," he said.
This post has been updated.