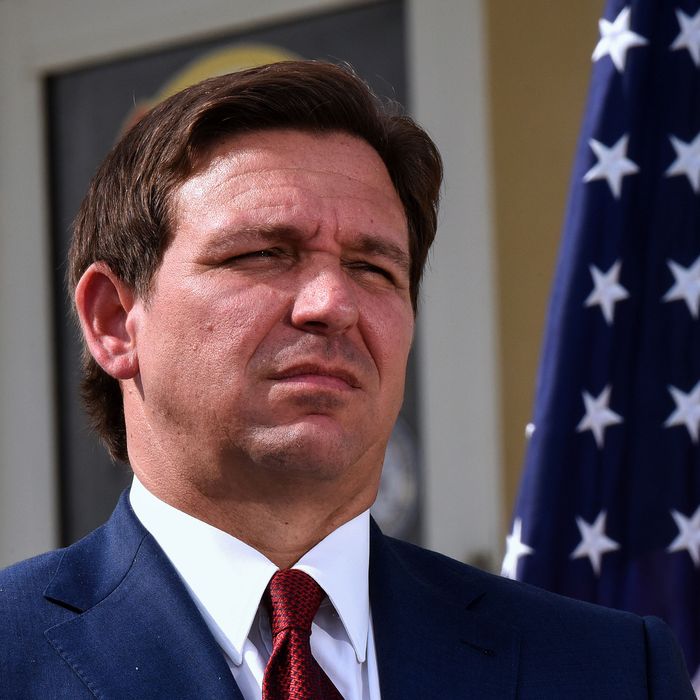 Ron DeSantis just can't get out of Trump's shadow.
Photo: Paul Hennessy/SOPA Images/LightRocket via Gett
Before the news of his indictment in Manhattan hit the political landscape like a meteor, Donald Trump was beginning to feel his oats in the 2024 Republican presidential nomination contest. His steady climb in recent GOP polls was punctuated by a national Fox News survey showing him leading second-place Ron DeSantis by a 54-24 margin, literally doubling his lead over the Florida governor from last month's Fox poll. Now that Trump has become the first current or former president to be criminally indicted, DeSantis (like every other Republican who is not a confirmed Never Trump heretic) is shouting that he's outraged over this incredibly predictable development and expressing solidarity with the allegedly persecuted business-records-fraud suspect:
The double use of "Soros-backed Manhattan District Attorney" in a single tweet shows DeSantis embracing the full "witch hunt" hypothesis: the indictment represents a global left-wing plot to bring down the man who made America great again. And the fact that Trump reportedly plans to submit to arrest in Manhattan next week makes DeSantis's threat to throw himself in front of agents of The Man coming to detain Trump at Mar-a-Lago seem especially pathetic. The moment has reduced the big brawling bully who has terrorized LGBTQ+ kids, teachers, and racial-justice advocates to what Trump has always contemptuously labeled him: a "dull" dude who would be nothing without Donald J. Trump.
The odds seem very high that the indictment and the subsequent drama of Trump's arrest will give him another bump in the GOP-primary polls, adding to the perception that he's the front-runner. The timing of such a Trump surge could be very bad for DeSantis, who appears to be revving the engines for a formal candidacy announcement in the late spring. If the Florida governor is perceived to be losing ground, he could become a secondary figure in his own long-awaited campaign launch, as pundits wonder aloud what happened to the politician who seemed poised to dispatch Trump not too long ago.
If indictments do inflate Trump's Republican support, there could be even more bad news for DeSantis, as more charge may be coming in Atlanta and Washington. Trump could frame this as a steadily growing storm of "persecution" that just proves globalists, RINOs, criminal coddlers, and baby killers fear him. As my colleague Jonathan Chait recently explained, DeSantis cannot compete with Trump's visceral appeal to MAGA voters: "The fact that DeSantis will be able to stump the Midwest without an electronic-monitoring bracelet shows he is less dangerous to the Establishment, not more."
It's even possible that DeSantis will rethink his plans entirely, given a political atmosphere in his party that makes Trump the sun and even his most formidable rivals small moons circling him. He is, after all, just 44 years old. He won't be Trump's current age until 2055. Does he really want to risk his limitless political future on a campaign in which he will spend half his time trying to undermine or outdo Trump and the other half defending him from prosecutors carrying out the evil plans of Joe Biden and George Soros? It has to be tempting for him to take a pass.
If indict-o-mania has created a dilemma for DeSantis, it's even more of an existential threat to other actual or potential 2024 candidates, whose ambivalent attitudes toward Trump will become excruciatingly clear every time they are asked about his legal problems. Mike Pence, Trump's former Sancho Panza, was in the unfortunate position of conducting a prearranged CNN interview with Wolf Blitzer very soon after the news from Manhattan broke. Pence clearly wanted to sternly rebuke his former boss for his self-identification with the January 6 insurrectionists, who threatened the veep's own life. But first he had to defend Trump against the "outrage" of the indictment. It's an unsustainable position for a politician already struggling to transcend his bizarre relationship with the 45th president. And if DeSantis is in danger of being completely eclipsed by a resurgent Trump, that is doubly true of Pence, Nikki Haley, Tim Scott, Glenn Youngkin, and anyone else seeking to struggle out of the low single digits in the polls.
In the very long run, Trump's indictments may affect his general-election standing. While there's little doubt this veteran legal guerrilla will be able to postpone any real reckoning in the courts until after the presidential contest has ended, incessant talk about his alleged crimes will add to "Trump fatigue" in the non-Republican parts of the electorate, while heat-searing the MAGA label on the GOP to its peril. Maybe that will bother Republican-primary voters enough to keep Trump from an easy nomination win. But at present, Republicans are in more danger of being imprisoned by Trump's misconduct than he is of actually doing time.