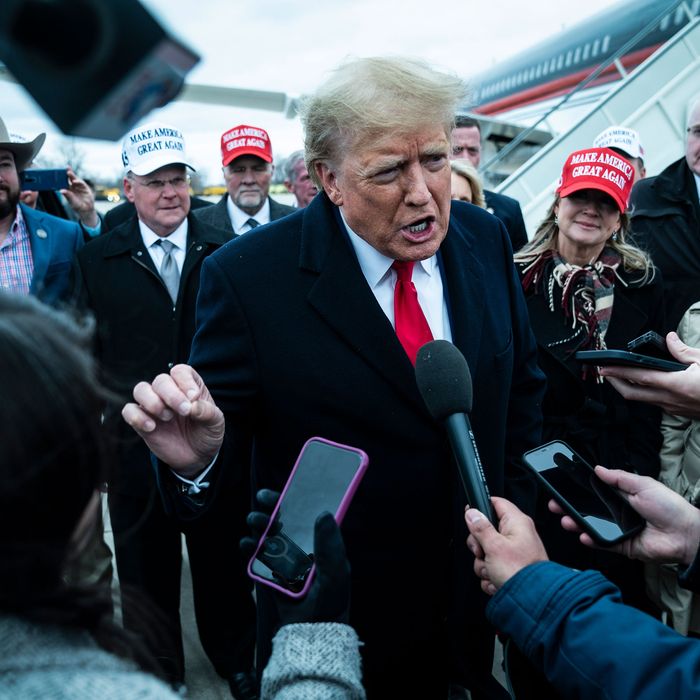 Photo: Jabin Botsfordages/The Washington Post via Getty Im
After months of speculation, news that a Manhattan grand jury has actually indicted former president Donald Trump came like a bolt from the blue given recent reports that said the grand jury was taking an extended break from its deliberations. The indictment clearly surprised Trump and his campaign team, as the New York Times reports:
Trump is at Mar-a-Lago absorbing this information, according to aides. It's not clear what his next move will be. Trump aides were caught off guard by this happening today, according to several people close to the former president. They had believed reports by some news outlets that the grand jury in Manhattan was not hearing the Trump case. Some advisers had been confident that there would be no movement until the end of April at the earliest and were looking at the political implications for Trump's closest potential rival, Gov. Ron DeSantis of Florida.
DeSantis had this to say:
Like Team Trump, everyone else affected by the indictment and the criminal proceedings it foretells will be scrambling until the exact charges are unveiled ("in the coming days," we are told) or, more likely, leaked to one of the hundreds of reporters pursuing this news with bloodhounds and assurances of anonymity. It's not too early, however, to provide a preliminary look at how the indictment will likely shake up the 2024 presidential contest.
To be very clear, no indictment — or, for that matter, conviction — can disqualify Trump from running for president again, unless he agrees to some plea deal that includes giving up his career as a candidate for public office.
Beyond that, it's important to acknowledge from the get-go that there are two very different audiences whose reaction to these and related legal proceedings may matter down the road. Likely Republican primary voters are not expected to be shocked by this and future indictments and may actually rally around the 45th president, who has branded all the indictments in advance as "the witch-hunt" (the Trump fans in the main camera frame during his March 25 rally in Waco were holding "Witch Hunt" signs). A recent Marist poll found four of five self-identified Republicans accepting that very description for the "investigations" into Trump's conduct that have been swirling around him lately. And even Trump critics and rivals among Republican elected officials have almost universally attacked such investigations as politically motivated and basically meritless.
The indictments could have a more corrosive effect, however, among the general electorate that will eventually determine Trump's ultimate political fate, assuming he does win the nomination. Even in this broader universe, voter cynicism may help protect Trump from too much damage. A recent Quinnipiac poll about the very indictment we learned about today showed that pretty clearly, as the Washington Post explained:
[T]he pollster asked whether people thought the case was "mainly motivated by politics" or by the law. Americans said it was more about politics by a nearly 2-to-1 margin, 62 percent to 32 percent.




Fully 70 percent of independents and even 29 percent of Democrats said it was mostly about politics.
It also doesn't help that the indictment, so far as we can guess right now, involves sexual hush money, one of those things many Americans view as an inveterate habit of both rich people and politicians, and more technically revolves around campaign-finance laws that are as inscrutable as ancient cave drawings to non-experts.
One question we should expect to get more data on very quickly is whether an actual indictment of Trump has more of an impact on perceptions of him than multiple investigations or, indeed, the man's two past impeachments.
But in the longer run, barring disclosures of evidence that shake entrenched understandings of who Trump is and how he deals with inconvenient laws, the political ball game may depend on how subsequent indictments are cumulatively received. It's generally thought the Manhattan case may be the weakest of them all, legally and politically. Will public dismissal of it as "political" disrupt a cascade of future indictments, or will the drumbeat of Indicted! Indicted! Indicted! finally achieve a tipping point wherein Trump just cannot be a credible presidential candidate? Prosecutors in Atlanta and in the Justice Department are not far behind. Again, that dynamic may significantly vary in terms of the primary and the general electorate. But at some point Republicans prone to defending Trump against his liberal tormenters may decide he's just not worth the trouble. And his chief Republican rival, Ron DeSantis, must decide whether to push this electability judgment or just let Trump stew in his juices until Iowa or New Hampshire Republicans decide whether to fight or switch.