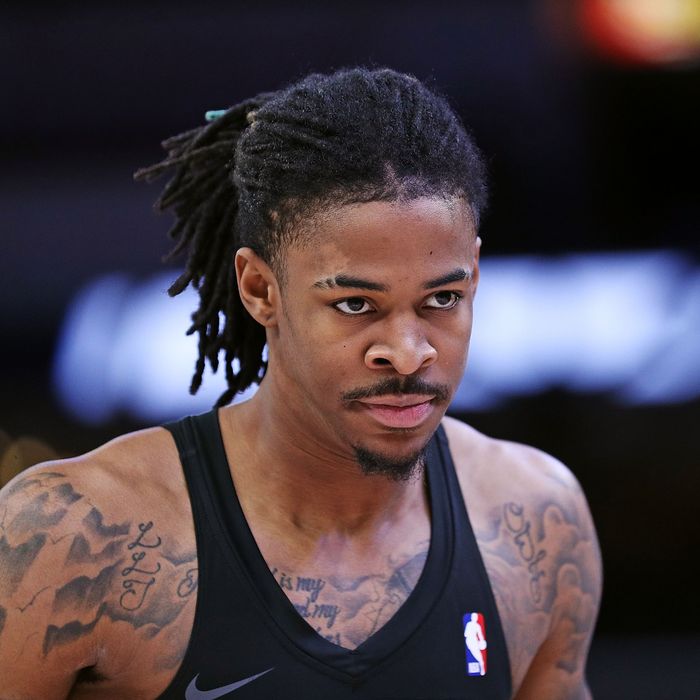 We actually know very little about Ja Morant.
Photo: Justin Ford/Getty Images
One year ago, the Memphis Grizzlies' Ja Morant seemed like the future of the NBA. In a league whose two most popular players are 34 or older, Morant was young, fun, hip, charismatic, attractive, and, oh yeah, capable of on-court dunking acrobatics that appeared to transcend the bounds of space and time. Seriously, watch this kid:
Morant was the most electrifying young superstar since Jordan. (Yeah, I'll say it.) The NBA and the brands most invested in the league knew this: Nike signed him to a $200 million contract, he was the subject of a fawning documentary during his rookie season, and his jersey rocketed to the sixth best seller in the league. More than that: Morant was the sort of talent fans felt as if they'd personally discovered. He starred for the otherwise ignored Memphis Grizzlies, he had played college basketball at tiny Murray State University in Kentucky, and he rarely appeared on national television, which only intensified his cultlike following. Obsessing over Ja Morant, which almost every NBA fan I know has been doing for two years, became a little like loving an indie-rock band from the beginning.
And then suddenly out of nowhere: Morant got Milkshake Duck'd.
We all remember the Milkshake Duck, yes?
Usually, Milkshake Ducks are of the Ken Bone variety — a previously unknown character who suddenly emerges on the public stage just in time to be called out for problematic behavior we didn't know about (and couldn't have known about). Other examples include the Florida Hot Cop, Curvy-Wife Guy, and Gary From Chicago. (Only 75 bucks for a live video call with ol' Ken Bone, by the way.)
But a lot of athletes have been getting Milkshake Duck'd lately. Morant is still only 23, but over the course of two months, his public persona has imploded. TMZ reported in January that a teenager was suing Morant for attacking and punching him at his home. A month later, members of Morant's entourage, including his father, were accused by Indiana Pacers players of threatening and aiming laser pointers at them. And just five days ago, the Washington Post reported that Morant had attacked another, different teen at Morant's house, left the premises, then returned with a gun. In the heavily stage-managed world of the NBA — where players have learned to exercise their power, control the narrative, and mostly avoid scandals — Moran appeared to ignore all of his PR team's advice. Just this past weekend, Morant posted an Instagram Live video in which he waved a gun in front of his face.
That latest incident resulted in Morant "taking time away" from his team, sitting out at least the next two games, though both the NBA and the Grizzlies were careful not to call it a "suspension." A lot of the fans who have followed Morant's career so avidly now worry that he's in danger of ruining his career, and former players are stepping in with well-intentioned attempts to help.
Much of the stunned reaction can be summarized simply: We thought we knew Ja Morant — which is to say Ja Morant has been Milkshake Duck'd. The internet phenomenon of a ubiquitous and beloved character suddenly being exposed as something very different seems like it shouldn't exist at the highest level of sports. Star athletes are covered extensively from the very beginning of their careers, often when they are literally children. And in the social-media age, they've taken control of their own media images rather than waiting for middle-aged, ink-stained wretches in press boxes to give them press. There is now a sense that we know these people well enough not to be fooled. Joel Embiid is a snarky goofball; Patrick Mahomes is as affable as a State Farm rep; Peyton Manning is an aw-shucks cornpoke. These A-listers are ubiquitous in highlight clips and on our Instagram feeds. We feel connected to them. But it turns out we don't know them any better than we knew Jordan or anyone of his generation.
Morant is an incredible basketball player, but that doesn't tell us much about him as a person. It's a simple lesson we should have learned from Ty Cobb, O.J. Simpson, Oscar Pistorius, Brett Favre, and so many more. Yet we keep getting fooled and we're still surprised! In the past three years, previously universally beloved athletes have watched as their once-sterling, We thought you were cool reputations have collapsed. Aaron Rodgers went from the Smart, Hip Quarterback Who Did a Decent Job Guest-Hosting Jeopardy! to a vaccine-denying, chronically lying dipshit who can't stop telling the world how he wants to go hallucinate in a yurt. Deshaun Watson went from the guy whom we all loved for giving his first game check to victims of Hurricane Harvey to an alleged serial sexual-assaulter. For crying out loud, five years ago, Kyrie Irving was Uncle Drew! He is … something other than that now. Morant is only 23 years old; he has plenty of time to get his life back on track, if it's even as far off course as it seems to be right now. (All I know about him now, after all, is only what I've read in headlines. I'm guessing just as much as ever.) But we still feel shocked, even betrayed by learning that Morant is not, in fact, a guileless superstar in waiting, as perfect off the court as we see him on it. And while you could argue there is something good about this — after all, we're all about to be a lot less in love with Ja Morant than we were three months ago, and that's probably a good thing — I am far from persuaded that we have learned any lesson. After all, we never do.
Our continued astonishment at these revelations is evidence of the deep connection we feel with athletes. We pour our hearts and dreams into them; we tell ourselves they stand for whatever we personally stand for; we connect with them in ways that they don't, that they can't, connect with us. And then, when they show they are flawed, in ways either understandably human or unspeakably venal, we feel betrayed: Don't they know how much we believed in them? This pattern has repeated itself since sports stars and celebrities have existed. And the internet hasn't made us the least bit more likely to be able to stop it — if anything, it has made the illusion that we know our heroes even more deceptive. We did it with Morant (who, amusingly, just signed a deal with Powerade to be the face of its product … six days ago), we did it with Rodgers, we did it with Irving, and we will do it again — we're doing it right now. The whole internet loves Ja Morant, the lovely superstar duck who dunks baskets. [Five seconds later] We regret to inform you the superstar duck has a gun.