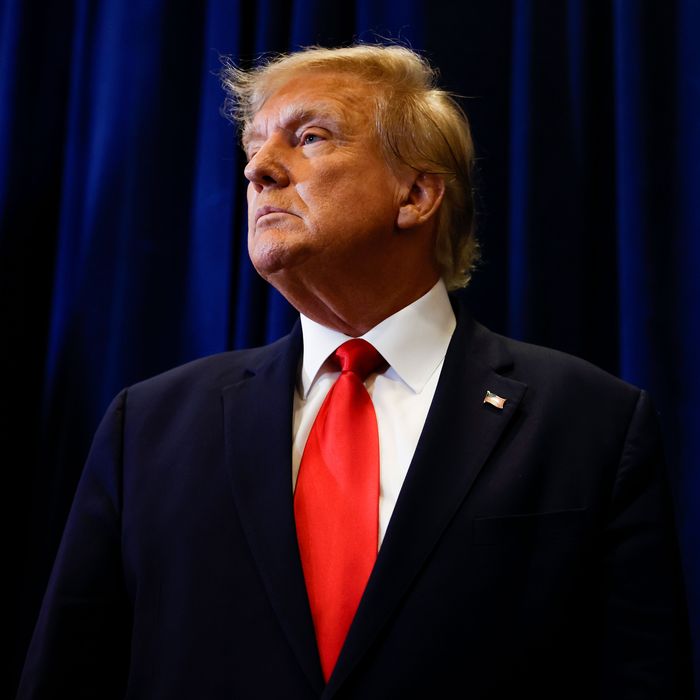 Photo: Anna Moneymaker/Getty Images
Manhattan district attorney Alvin Bragg's office just made the unprecedented move to indict a former president of the United States. Weeks after Donald Trump predicted his own arrest, a Manhattan grand jury officially voted to indict him in relation to hush money paid to Stormy Daniels, though the specifics of the charges are still unknown. Here's what to expect in the days ahead.
Will he be arrested?
From the moment the grand jury returns the indictment, Trump is officially criminally charged and subject to potential arrest. (Prosecutors were reportedly eyeing a felony offense related to the hush money.) An indictment is filed with the court under seal, according to The Wall Street Journal.
However, Trump will probably not be arrested in the traditional way one might think. Insider reports that his legal team and the prosecution would likely work out a date for Trump to surrender himself at the district attorney's headquarters. A prosecutor who previously worked under Cyrus Vance Jr., Bragg's predecessor, told Insider anonymously that Trump could be arraigned without spending time in custody and instead be issued a summons to appear for arraignment.
Will he appear in court?
Trump lawyer Joe Tacopina has said his client will surrender if charges are filed. "There won't be a standoff at Mar-a-Lago with Secret Service and the Manhattan DA's office," he told the New York Daily News.
Like any defendant, Trump will have the right to appear before a judge at arraignment and enter a plea in his case. The court date will be set after the indictment is returned.
Trump is expected to be arraigned on Tuesday afternoon, court spokesman Lucian Chalfen tells Axios.
Will he be handcuffed?
Despite the uncommon nature of a former leader of the country being criminally charged, some aspects of the process will likely be similar, such as Trump's being fingerprinted and photographed for a mug shot, according to the New York Times. But will the ex-president be seen in handcuffs?
"The handcuffing part — I think the police and Secret Service are negotiating whether or not that would happen or the specific details," said former Manhattan chief assistant district attorney Karen Agnifilo to Fox 5. "But yes, he will be processed. He'll be read his Miranda warning. He'll be photographed, fingerprinted. Whether or not there's a quote-unquote perp walk, I assume Mr. Trump will use the arrest of him as an opportunity to have more media done, so I think it may be his own perp walk, is my guess."
Citing an expert, Time reports that the former president probably won't be considered a flight risk and would likely be released on bond.
He won't be alone.
Along with his attorney, Trump would be accompanied by Secret Service agents, who are assigned to former presidents. Bloomberg, citing a person familiar with the matter, reports that Trump would likely stay in the custody of his Secret Service detail if arrested, rather than being placed in a holding cell like an average citizen.