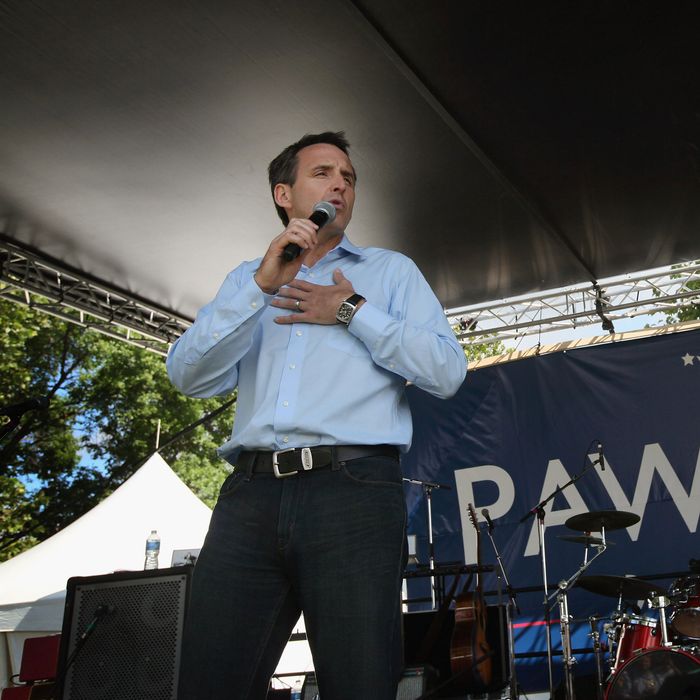 Former 2012 Republican front-runner Tim Pawlenty at the Ames Straw Poll event in Iowa that killed his candidacy.
Photo: Scott Olson/Getty Images
The 2024 Republican-presidential-candidate field is forming slowly but surely. Only Donald Trump, Nikki Haley, Vivek Ramaswamy, and Asa Hutchinson are declared White House aspirants, but this week, Tim Scott soft launched his candidacy by forming an exploratory committee, and it's hard to find anyone who doubts that Ron DeSantis and Mike Pence will jump in soon. Glenn Youngkin (who will leave the Virginia governorship at the end of 2025, but is insisting he won't join the presidential race), Chris Sununu, Chris Christie, and a handful of other GOP politicians are said to be mulling over a run.
But before you get emotionally invested in any candidates, it's good to keep in mind that, sometimes, White House bids founder and fail before a single actual voter renders judgment on the field. Just in the last four cycles, the list of pre-Iowa casualties has been extensive.
In 2008, five Republicans and two Democrats hit the self-ejection button before they had a chance to lose contests. In 2012, two GOP presidential hopefuls hit the skids early. In 2016, three Democrats and five Republicans withdrew before Iowa. And in 2020, an astonishing 18 Democrats (Bill de Blasio, Cory Booker, Steve Bullock, Julian Castro, John Delaney, Kirsten Gillibrand, Mike Gravel, Kamala Harris, John Hickenlooper, Jay Inslee, Wayne Messam, Seth Moulton, Richard Ojeda, Beto O'Rourke, Tim Ryan, Joe Sestak, Eric Swalwell, and Marianne Williamson) took flight, then crashed before voters could weigh in.
The reasons for aborted presidential campaigns have varied. Back in the day, Republicans used to have a key vetting contest before the Iowa caucuses: the Ames Straw Poll. A poor performance in that event felled former front-runner Tim Pawlenty in 2012. For Republicans in 2016 and Democrats in 2020, crowded fields created poll-based cutoffs for major-candidate debate participation and missing them depressed media attention and donations for those left out. Some candidacies that looked powerful on paper just didn't translate at all to the campaign trail. That's what happened to Scott Walker in 2016 and Bullock in 2020. Other candidates pursued strategies that fizzled out due to underperformance in the polls in key states. Harris needed to come on like gangbusters in Iowa in 2020 in order to make her competitive later in South Carolina, and it just wasn't happening for her when she withdrew. Sometimes, candidates are fighting for "lanes" in the field and lose primaries within the primaries before voters even vote. In 2008, Sam Brownback battled Mike Huckabee for the mantle of Christian-conservative challenger to Mitt Romney, and it soon became clear that Huckabee had cornered that market in Iowa.
Looking at the 2024 Republican field, you can already see some developments that might cull candidates early on. Somebody is likely to become the darling of Iowa's powerful conservative Evangelical camp. If neither Pence nor Scott is that person, they are both in deep trouble. Similarly, donors and handicappers will constantly be comparing Scott's and Haley's poll standings in South Carolina on the theory that one (but not both) will have a distant chance of beating Trump and DeSantis in their home state. An early poll of New Hampshire shows Sununu running a poor third in his own state. If he doesn't raise his numbers, he'll be like Tom Vilsack in 2008 — unable to nail down his home base. And, for that matter, candidates assumed to be champing at the bit to run in 2024 (even DeSantis) may just decide that it's the wrong year for them. The debates could prove either a crucial boost or a deadly albatross for participating candidates (a Fox News debate in Milwaukee has already been announced for August).
An awful lot of people in and beyond both parties profoundly hope that legal problems or even handcuffs could get in the way of Trump's 2024 comeback bid and knock him out. But that's one early casualty no one should count on — his legal problems are more likely to represent a regular supply of jet fuel for his candidacy. And it's important to remember that, of all the politicians running (or possibly running) for president in 2024, exactly two have negotiated the nomination process successfully before: Trump and Joe Biden. This is why a rematch remains the best bet.