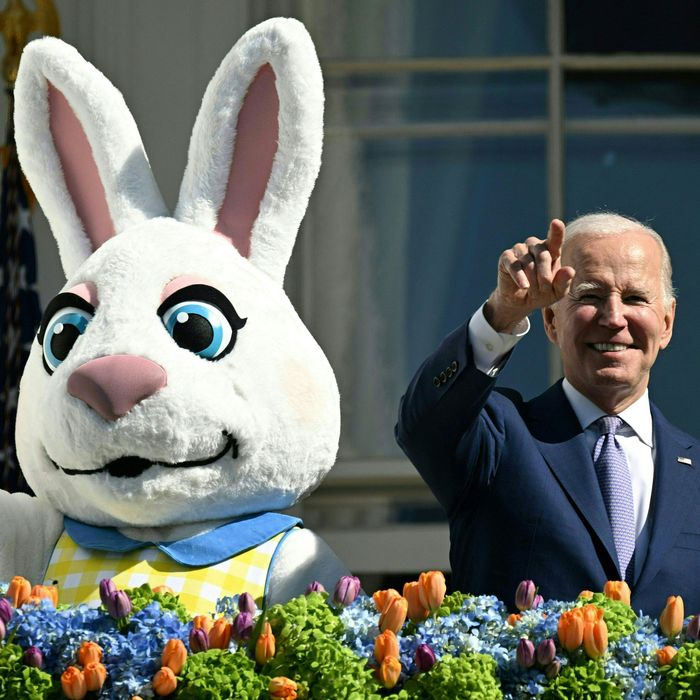 Photo: Andrew Caballero-Reynolds/AFP via Getty Images
Joe Biden is going to run for president in 2024. We know this because he's been dropping many clues that he's already running. Plus he just came out and said it during the White House Easter Egg Roll.
On Monday morning, Today Show host Al Roker asked President Biden if he intended to attend the annual event beyond 2024, teasing, "Help a brother out, make some news for me!" Shockingly, Biden obliged.
"I'm planning on running, Al, but we're not prepared to announce it yet," Biden said.
Such announcements are usually carefully coordinated by the candidate's team, and the latest reports suggested Biden wouldn't reveal his 2024 decision for months. So why did he suddenly blurt out this news at an event best known for generating goofy photos of the commander-in-chief with a guy in an Easter Bunny costume? Here are some theories.
Biden just made a huge mistake
The simplest explanation: The president has always been a gaffe machine, and he's lost a step since his prime. Anyone can accidentally say something they didn't mean to, but Biden stepping on his big 2024 reveal at the White House Easter Egg Hunt isn't going to allay anyone's concerns about voting for an 82-year-old in 2024.
Biden doesn't share our definition of "announced"
Biden made a statement about his intention to run for president on-air to a journalist holding a microphone. Most normal people would consider that an "announcement." But it seems that Biden thinks declaring "I'm planning on running" doesn't count if you quickly follow it up with "We're not prepared to announce it yet."
And maybe Biden cares less about the common man's understanding of the word "announcement" than the FEC's. New York's Gabriel Debenedetti reported last month:



In the past, aides have had to remind [Biden] repeatedly not to say [he's running] until he formally launches his campaigns, for fear of triggering federal election regulations before they're ready. But he's been consistent since taking office, telling anyone who asks — and it comes up in basically every interview he's done — that running again is his "expectation."
Biden was outsmarted by Al Roker
Reporters constantly pester Biden about his plans for a second term, so he's gotten good at telling us he's running without literally saying, "I'm running." But no one ever thought to ask Biden the question in terms of how many White House Easter Egg Rolls he'd attend.
"Well, I plan on at least three or four more Easter Egg Rolls … maybe five. Maybe six," Biden told Roker. "I don't know, what the hell?"
Unable to do this complicated Egg Roll math in his head, Biden panicked and blurted out the truth. Roker lulled the president into a false sense of security with inauguration fist-bumps and innocuous Macy's Thanksgiving Day Parade chatter, then sprang his devious trap.
Biden couldn't take the suspense anymore
Biden was originally expected to declare he was running for reelection sometime in April, but last week Axios reported that the official announcement had been pushed back to July or possibly as late as the fall.
Maybe the president took a step back and thought, C'mon, man!
That's quite a long time to keep teasing people about your presidential ambitions, and First Lady Jill Biden has already cracked. Back in February she basically confirmed the news when an AP reporter asked about Biden repeatedly saying it's his "intention" to seek a second term. "Are you not believing this?" the First Lady replied. "How many times does he have to say it for you to believe it?"
Dark Brandon doesn't give a shit about norms
Oh, you thought you didn't need to keep an eye on the White House Easter Egg Roll because it would be absolutely ludicrous for the president to drop huge 2024 news at a children's event focused on "EGGucation"? Well, buckle up. Dark Brandon doesn't have accidents, and he certainly won't be outmaneuvered by some TV weatherman's malarkey. Maybe Biden dropped this news to taunt Donald Trump, or maybe he just did it for the lolz. All we know is Biden's 2024 campaign is going to be an absolutely wild ride, so you'd better get used to it.