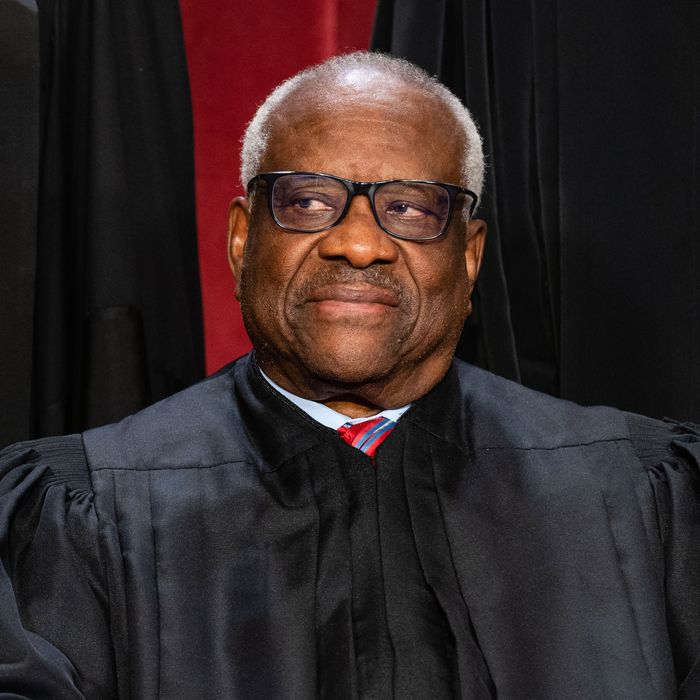 A rare admission, but hardly an admission of guilt.
Photo: Eric Lee/Bloomberg via Getty Images
On Friday, Justice Clarence Thomas issued a rare statement in which he implausibly claimed that lavish vacations he took with a Republican megadonor were "family trips" that did not require public disclosure. (Even though he did disclose the trips until the L.A. Times got wind of them in 2004.) But don't worry, he'll be better about that going forward: Thomas said that thanks to new federal guidance, he won't keep America in the dark about future trips. Whew!
On Thursday, ProPublica published a blockbuster investigation revealing that Thomas has for many years accepted lavish trips and expensive — and weird — gifts from Harlan Crow, who has funded Republican causes for decades. Though far from the first indication of Thomas's shaky legal ethics, the report illustrates previously unknown levels of sleaze, detailing how Thomas hangs out with high-profile political operatives at exclusive redoubts like Bohemian Grove, not even bothering to hide the mingling of politics and law that justices are meant to shun. It also emphasizes the Supreme Court's insulation from ethical rules that govern the executive and legislative branches of government, as well as the rest of the judiciary; much of what Thomas did falls into an enforcement gray area, since the justices generally police themselves.
Democrats are predictably outraged. But Republican elected officials, with their hammerlock on a hard-right Supreme Court, have no reason to even pretend to care about Thomas's latest breach. That the justice even commented on the story is surprising, given his silence on previous controversies — like the time his wife worked to overturn the 2020 election (Thomas didn't recuse himself from election-related cases). His note doesn't include an apology, of course, but the tone is uncharacteristically chastened. While Supreme Court kremlinology is always a guessing game, Thomas's quick reaction could indicate that Chief Justice John Roberts, still quixotically trying to salvage the Court's reputation, pushed Thomas to say something. If so, it would be one of the few times Thomas listened to him in recent years.