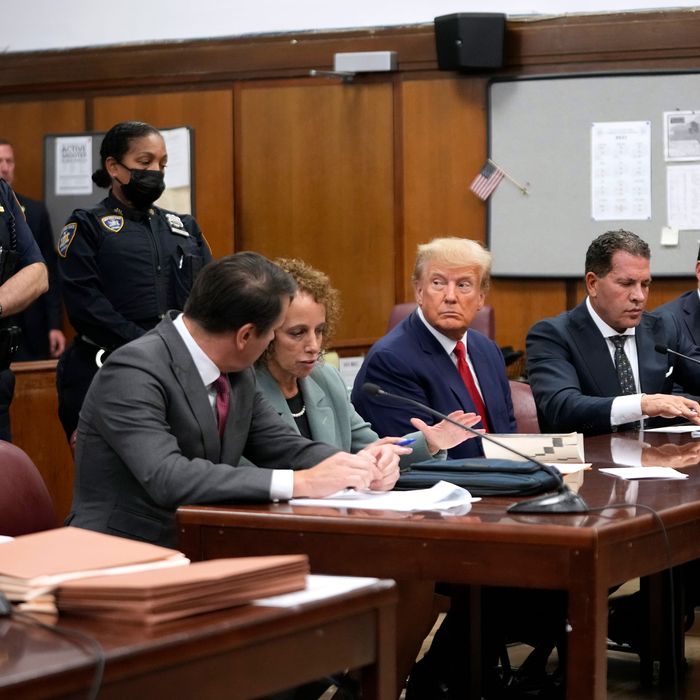 Get these crybabies some tissues.
Photo: Steven Hirsch-Pool/Getty Images
While Donald Trump clearly wanted his arraignment on 34 felony counts of falsifying business records to be a massive spectacle, New York law-enforcement officials deprived him of a dramatic perp walk and sure-to-be legendary mug shot. But, luckily for Trump, reality is no match for the power of his own mind.
Just as he inflated the number of votes he received in both the 2016 and 2020 elections, boosted the crowd size at his inauguration, and declassified documents simply by "thinking about it," Trump has now completely altered the events of April 4. During an interview with Fox News' Tucker Carlson – who may hate Trump "passionately" in real life but played a total sycophant on Tuesday's show — Trump broke some new information about the scene inside the Manhattan Criminal Court.
"When I went to the courthouse, which is also a prison in a sense, they signed me in — and I'll tell you, people were crying," Trump said. "People that work there. Professionally work there, that have no problems putting in murderers, and they see everybody. It's a tough, tough place, and they were crying. They were actually crying. "
These hardened court staffers weren't just openly weeping at the sight of their favorite president being taken into custody. The also apologized to him profusely and openly encouraged him to keep up the fight in his 2024 campaign.
"They said, 'I'm sorry.' They'd say, '2024, sir, 2024.' And tears are pouring down their eyes. I've never seen anything like it. Those people are phenomenal. Those are your police, those are the people that work at the courthouse. They're unbelievable people. Many of them were in tears or close to it. Many apologized — 'We're sorry, sir, we're sorry.'"
Indeed, no one has "seen anything like it," because there's no evidence that any of this actually happened. The multiple reporters who were in the courtroom during Trump's arraignment said nothing about court staffers with tear-stained faces. If people were offering the former president words of encouragement in the court house, it seems like journalists, lawyers, or Trump himself would have shared this incredible detail immediately — yet we're just learning about it now. The only notable gesture by law enforcement that was actually captured on camera was a police officer failing to hold a door for Trump.
But who are you going to believe, a former president with a long history of delusional claims or your own lying eyes?