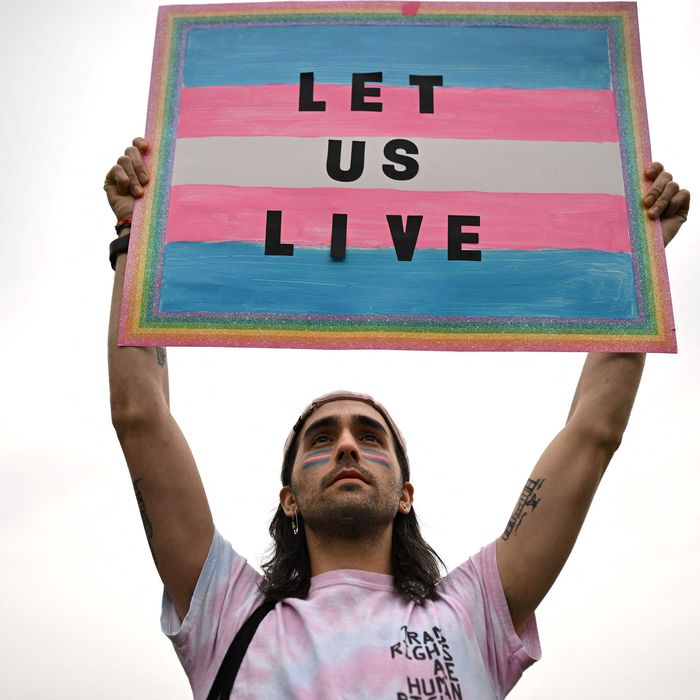 A protester at the March for Queer & Trans Youth Autonomy on Capitol Hill in March.
Photo: ANDREW CABALLERO-REYNOLDS/AFP via Getty Images
Dylan Mulvaney is an actress and influencer whose greatest sins, in the eyes of the right, are that she is trans and popular. Weeks after she briefly promoted Bud Light on Instagram, conservatives are obsessed — with her and with Bud Light, which they have said they are boycotting. Though the controversy was first the province of far-right influencers like Ben Shapiro and Matt Walsh, Republican politicians have dutifully followed them into the breach. "You have this man dressed up like a girl making fun of women. That's what this is," said Nikki Haley, a Republican presidential candidate, at a recent Iowa event. "And you wonder why we have our young girls finding an increase in depression and anxiety has gone up? And you have companies glorifying this person? What are we doing? Who's going to fight for our girls?"
On Monday, Florida governor Ron DeSantis released a video mocking Bud Light and Mulvaney ahead of a likely run for the Republican nomination. In an interview with far-right commentator Benny Johnson, he accused the brand of "rubbing our faces in it" and said that "corporate America is trying to change our country." Bud Light had lost him as a customer, he added. Bud Light will probably survive. Corporate America is far more powerful than DeSantis will admit in public, as his war on Disney falters.
More vulnerable are trans people like Mulvaney. The occasional corporate partnership won't rescue trans people from dangers like prejudice, which can and does turn violent, plus a legal assault from the right wing. Haley and DeSantis aren't the only Republican hopefuls staking out claims to hate. At the NRA convention last week, Donald Trump said he'd target trans people if reelected. He'll direct the FDA "to convene an independent outside panel to investigate whether transgender hormone treatments and ideology increase the risk of extreme depression, aggression, and even violence," he said. "I think most of us already know the answer."
Trump likely hoped to capitalize on the tragic Covenant School shooting in March, which, according to police, was carried out by a transgender person using male pronouns. Conservatives want to convince a dubious nation that trans people pose a violent threat, though the idea doesn't survive scrutiny: Police said there is no known motive for the killing. Many similar mass shootings in the United States have been carried out by white, cisgender men, some of whom professed far-right beliefs. Meanwhile, trans people are much more likely than cisgender people to be victims of violence. Extremist rhetoric endangers them further; it is one prong in an eliminationist project. As Haley, DeSantis, and Trump introduce hate to the campaign trail, the Democratic Party must be prepared to answer.
Liberals have an uneasy relationship with progress at times. Social change can outpace them, leading Democratic allies to cry out for caution. Democrats should "put a lid on the culture-war stuff," said the liberal political scientist Ruy Teixeira in 2020, after Democrats defeated Trump but came up short of expectations for Congress. Though consultant James Carville told Vox in 2021 that "wokeness," broadly defined, "is a problem and everyone knows it," he sounded more moderate in a later interview. All that "unifies" Republicans now is "cultural resentment — 'Let's all attack the trans kid' or 'We shouldn't tell seventh-graders there are gay people because then they'll never know,'" he told the Washington Post this year. As Republicans bet on resentment, however, the Democratic Party's response can seem muted, even fearful. Early this month, the Biden administration proposed a Title IX rule change that would allow public-school districts "to block some transgender athletes from competing on sports teams that match their gender identities," the New York Times reported. The administration also wants to block blanket bans on trans-student athletes, but its equivocation disappointed trans-rights advocates.
Biden once called "transgender equality" the "civil-rights issue of our time" on Twitter. He's also called Florida's anti-trans policies "close to sinful" and expressed broad support for future national legislation that enshrines trans rights. But trans people need more from him and the party he represents. Biden is right: A prolonged legislative assault has created a great civil-rights crisis. Missouri is set to limit gender-affirming care for adults and children later this month, and Time magazine reports that 13 other states have enacted restrictions or outright bans on care for trans youth to date. Ceaseless attacks on the right to care mean that trans people and their families face uncertain futures. They may have to stockpile medication or even move to different states; some have already fled persecution by Texas governor Greg Abbott. Many queer parents have said they may leave Florida over the state's "Don't Say Gay" law, news that Christina Pushaw, a DeSantis spokesperson, celebrated on Twitter.
This isn't really a battle for Bud Light. The boycott distracts from the right's real war and its costs. For trans people, access to gender-affirming care can be a life-or-death matter. A review of the 2015 U.S. Transgender Survey by the UCLA School of Law's Williams Institute concluded that "those who wanted, and subsequently received, hormone therapy and/or surgical care had substantially lower prevalence of past-year suicide thoughts and attempts than those who wanted hormone therapy and surgical care but had not received them." Other research has shown that "efforts to change the gender identity of transgender people (i.e., conversion therapy) are associated with suicidality," the Institute reported in 2020. If trans people are denied care, they'll suffer, and some may die. To the right, this is an acceptable outcome. The Daily Wire's Michael Knowles recently said at CPAC, "Transgenderism must be eradicated from public life entirely." Republicans are doing their best to comply.
In such an environment, the liberals' obligations are clear. Democrats must defend trans people. Some legislators already know this, as Greg Sargent and Paul Waldman wrote in a piece for the Washington Post. The loudest liberal voices in support of trans rights can be heard, often, in the most hostile red states, they reported: Nebraska state senator Megan Hunt spoke movingly of her son's transition in a speech on the floor of the state legislature. In Missouri, Representative Ian Mackey, who is gay, told colleagues he thinks "every day" of the kids "who haven't made it out." Montana State Rep. Zooey Zephyr, a trans woman, told Republican colleagues they would have "blood on their hands" if they banned medical care for trans youth. In response, they misgendered her, and are preventing her from participating in debate on the floor of the legislature until she apologizes. Police arrested seven of Zephyr's supporters on Monday after they held a nonviolent rally at the state Capitol.
Courageous red-state Democrats could help forge a new consensus for their party. In doing so, they can help the party meet national voters where they seem to be. Though anti-trans laws are popular in red states, FiveThirtyEight suggests that they may have less appeal to voters outside the Republican base. Sixty-four percent of American adults favor laws that protect trans people from some discrimination in housing, work, and in public spaces, the Pew Research Center reported in 2022. Though 60 percent also believe a person's gender is determined by sex at birth, the public is roughly split on the question of whether or not society has "gone too far" in accepting trans people. One Data for Progress survey released in March found that 64 percent of likely voters believed there had been too much anti-trans legislation passed at the state level.
There isn't overwhelming support, then, for the GOP's assault on trans rights, and there's some corresponding evidence that the right's message could backfire. The above polls imply that hate may not be a winning general-election message for Republicans. And in practice, "culture war" candidates often fail. Wisconsin Supreme Court candidate Daniel Kelly campaigned heavily on transphobia before losing to Janet Protasiewicz, as Jeet Heer recently pointed out in The Nation. Many conservative school-board candidates lost to Democrats in the midwestern suburbs, Politico reported; the races highlighted divisive issues like the alleged teaching of critical race theory or the presence of LGBT literature in school libraries. Democrats can defend trans rights as a matter of principle, but also to win votes. They need not fear wokeness. They can tell voters the truth: The real threat to America comes not from trans people but from the right. The right meddles in private medical decisions. The right traffics in hate. And the right will crush its opponents, if it can.
Whatever happens with the Bud Light boycott, it is an instructive story. As the Republican base pulls further to the far right, it pulls away, too, from the average American voter. Hate can rally conservatives, but those who peddle it don't speak for most people. There's hope, still, that we could be a different kind of country. The transformation that the right fears — that society will one day fully accept trans people — is not here yet. It will take work, and some time, before it is realized. Democrats will have to decide whether they are partners in that effort or not. The choice should be easy.