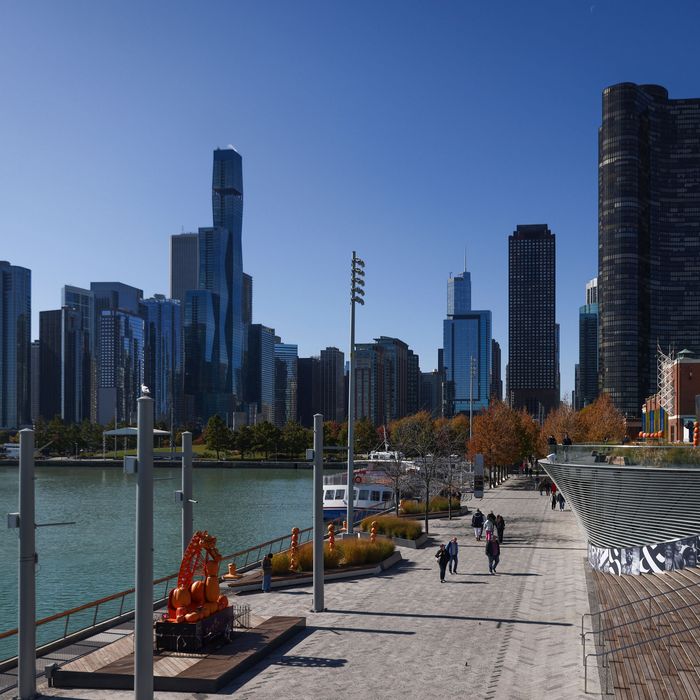 The city that has by far hosted the most major-party national conventions will add to its legacy in 2024.
Photo: Beata Zawrzel/NurPhoto via Getty Images
It appears Chicago has won the competition for the dubious honor of hosting the atavistic spectacle of a national political convention. It was widely reported on Tuesday that the city was chosen to host the 2024 Democratic National Convention over Atlanta (the clear runner-up) and New York. The event will be held from August 19 to 22, 2024, and will presumably focus on boosting President Joe Biden's reelection bid. This will be Chicago's 26th major-party convention, the most by far of any city, though it hasn't hosted one since 1996.
With the Republicans already planning to meet 90 miles away in Milwaukee a month earlier (July 15-18, to be exact), the Chicago selection underlines the strategic importance of the midwest to both parties in 2024. Yes, Illinois is a blue-state lock. But its close proximity to the battleground states of Michigan, Minnesota, and Wisconsin – all of which have Democratic governors who backed Chicago's bid – makes it well-positioned. And while the impact of convention sites on subsequent general elections is debatable at best, it can't hurt. Even the mostly virtual 2020 Democratic convention in Milwaukee may have helped flip Wisconsin – the third-closest state in that election – from a 2016 Trump state to a 2020 Biden state.
And while Chicago reportedly won a recommendation from a technical advisory group rating the bidding cities on quotidian matters like hotel availability and local fundraising capacity, there's no question the final decision was a political one made (or at least endorsed) by Joe Biden personally. That presumably means he decided the alternative regional "sunbelt" strategy of bringing the Democrats to Atlanta wasn't so fruitful (by the end, New York really wasn't in the running).
It must have been tempting. The two states that were closer than Wisconsin in 2020 were, after all, Georgia and Arizona. And Georgia, of course, was the key to the success of Democrats in 2020 and in 2022 in winning control of the U.S. Senate. Going to Atlanta, with its rich civil rights history, might have also been construed as a valentine to the Black voters who were so central to Biden's rise to the presidency.
But Chicago (the home of both President Barack Obama and newly elected Black mayor Brandon Johnson, who personally lobbied Biden on his city's behalf) is also an important political center for Black voters. And perhaps just as importantly, the labor movement, which will be essential to any 2024 national Democratic effort, put a lot of pressure on Democrats to reject Atlanta, with its right-to-work law, non-union hotels, and anti-union Republican statewide leadership.
If there was any need for a tie-breaker, Illinois Governor J.B Pritzker's pledge to ensure that Democrats didn't leave Chicago with any debts may have been key. After all, Pritzker is wealthy enough to redeem that promise personally if need be.
In the end, the 2024 Democratic convention is likely to be a tightly choreographed celebration of Biden's presidency and a springboard to the general-election campaign, much as the Chicago convention was in 1996, when Bill Clinton and Al Gore began building the rhetorical "bridge to the 21st century" there and Democrats bounced back from midterm losses to win an easy presidential reelection. We have no way of knowing at this point if the 2024 convention will give the world a pop-culture moment like the 1996 gathering's Macarena dance craze. But the Windy City will definitely host gale-force torrents of political rhetoric, particularly if Republicans have already guaranteed a Biden-Trump rematch, which will galvanize the bases of both parties and give Democrats a chance to make a convention pitch to swing voters in places like Michigan, Minnesota, and Wisconsin.