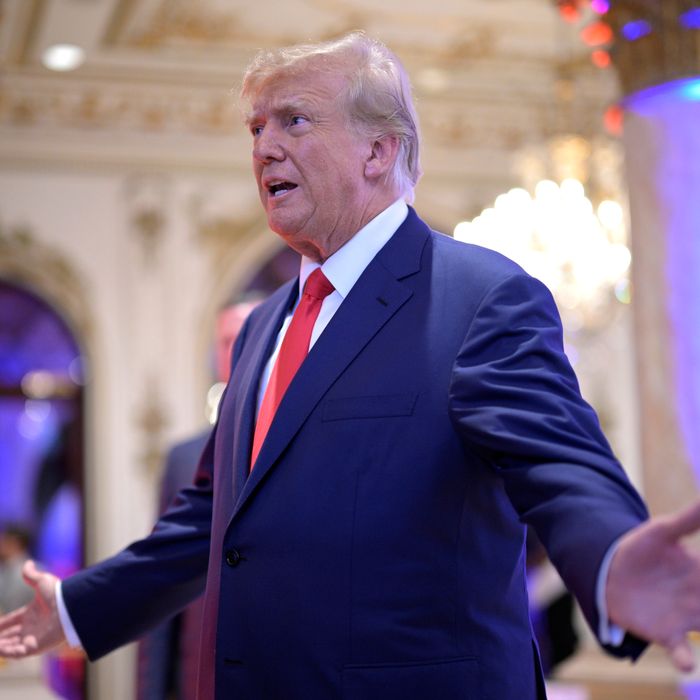 Photo: Phelan M. Ebenhack/The Washington Post via Getty Images
Federal investigators have found new evidence indicating Donald Trump may have committed obstruction in response to government efforts to recover top-secret documents from his Mar-a-Lago estate, according to a new report from the Washington Post. As part of the criminal inquiry now led by special counsel Jack Smith, DOJ and FBI investigators have been focusing on the actions of Trump and his associates after they received a grand jury subpoena in May of last year demanding they return any classified materials still in their possession. Per the Post's sources:
In the classified documents case, federal investigators have gathered new and significant evidence that after the subpoena was delivered, Trump looked through the contents of some of the boxes of documents in his home, apparently out of a desire to keep certain things in his possession, the people familiar with the investigation said. Investigators now suspect, based on witness statements, security camera footage, and other documentary evidence, that boxes including classified material were moved from a Mar-a-Lago storage area after the subpoena was served, and that Trump personally examined at least some of those boxes, these people said.
Last week, Trump falsely claimed to Fox News host Sean Hannity that the Presidential Records Act gave him "the right to take stuff" and "the right look at stuff" — which is the argument his lawyers have attempted to make as well. (Trump had previously told Hannity that he had the power to declassify documents merely "by thinking about it.")
In the interview, Hannity had said to Trump, in an apparent attempt to coach him, "I can't imagine you ever saying, 'Bring me some of the boxes that we brought back from the White House, I'd like to look at them.' Did you ever do that?"
"I would have the right to do that, there's nothing wrong with it," Trump responded, later adding, "I would do that. There would be nothing wrong."
During their raid of Mar-a-Lago in August, FBI agents found a number of classified materials that had not been turned over as required. The Post had previously reported that boxes had been moved from the storage area following the subpoena, and that a Trump employee told investigators he had done so at the former president's request. Trump's lawyers had also "explicitly prohibited government personnel from opening or looking inside any of the boxes that remained in the storage room," prior to the raid, per a DOJ court filing.
Dozens of people in Trump's Mar-a-Lago orbit have reportedly been subpoenaed to testify before a federal grand jury regarding the case. According to the Post, federal investigators have also obtained emails and text messages from a former Trump assistant, Molly Michael, that have given them a fuller picture of the Trump team's post-subpoena actions. That is in addition to evidence that Trump was angered by the subpoena, had brushed off advisers' attempts to get him to return the documents taken from the White House, had sought out second opinions from lawyers and others after being told by his advisers that he could not keep the documents, and that he had asked others, including his lawyers, to falsely state the documents had all been returned.
In other words, it appears that federal investigators haven't just recovered a number of highly sensitive classified documents still in Trump's possession long after they should have been returned, but are amassing a pretty compelling pile of evidence that Trump may have committed crimes in an effort to keep some of the materials for himself.
It won't be clear what Donald Trump has been charged with by the Manhattan DA's office regarding hush-money payments to Stormy Daniels until he is arraigned on Tuesday afternoon, but there seems to be widespread agreement that it's the weakest of several cases that may be prosecuted against the former president. The classified-documents case may now be the strongest — and even Trump's former attorney general agrees. During an interview on Fox News Sunday, prior to the Post's report on the new evidence, Bill Barr said, "What's at issue in that case is not the taking of the documents. It's what he did after the government sought them and subpoenaed them, and whether there was any obstruction. And I think that's the most serious [case] out there."
This post has been updated.