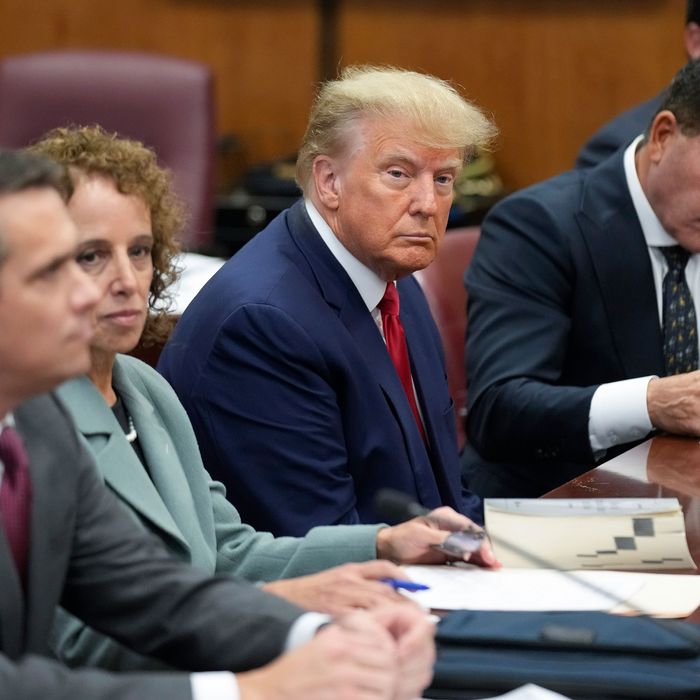 Former president Donald Trump sits at the defense table with his legal team at Manhattan Criminal Court.
Photo: Seth Wenig/AP
Donald Trump has been arrested and charged with dozens of felony counts of falsifying business records in Manhattan, making him the first former president in history to be charged with a crime. Trump pleaded not guilty to the charges, which stem from his role in hush-money payments made to Stormy Daniels during his 2016 presidential campaign in order to suppress her story of their alleged affair. The indictment was unsealed on Tuesday afternoon during Trump's arraignment in a lower Manhattan courthouse. Below are the latest updates.
Comer says county attorneys want to go after Biden following Trump indictment
Congressman James Comer suggested that Bragg's indictment of Trump will act as a green light for conservative state and local prosecutors to pursue cases against President Joe Biden. During an appearance on Fox & Friends, Comer said he's spoken to county attorneys from Tennessee and Kentucky who reportedly want to know "if there are ways to go after the Bidens now."
"They've opened up a can of worms. They've set precedents that they can't go back on," he said.
Notably, the Kentucky Republican has used his new role as chairman of the House Oversight Committee to investigate members of Biden's family including his son Hunter.
What to make of the DA's case and Trump's chances
Intelligencer contributor Ankush Khardori, a former federal prosecutor, has put together a comprehensive analysis of the indictment and DA Alvin Bragg's strategy. He also shared some thoughts about what to expect next:
There have been claims in recent weeks that this is a "weak" case, perhaps because people like me have raised questions about the strength of elements of the evidence. It is important to be clear-eyed about the strengths and weaknesses of any legal case, but every interesting or high-profile criminal case has challenges — factually, legally, usually both. This particular case is under an extraordinary microscope so it is getting more attention than any other prosecution, but none of these observations — from me or others — means that the DA's office will lose this case. At this point in time, we simply do not know.
Read the rest of Ankush's review here.
The criminal-defendant candidate
Intelligencer contributor Ben Jacobs puts Trump's post-indictment Mar-a-Lago event in context:
Trump launched into an abbreviated version of his standard rally-style speech in the ballroom of his private club. There were insults and racially loaded rhetoric. There were repeated claims of persecution and efforts at self aggrandizement. The only thing missing, for understandable reasons, was a "lock her up" chant.




It made for a stunning contrast to his lackluster campaign launch months before in the same Mar-a-Lago ballroom. At that event, a low-energy Trump limped into his 2024 re-election campaign following a disappointing midterms for the GOP weighed down by the poor performance of many Trump-backed candidates. At the time, Florida Governor Ron DeSantis looked like a potential juggernaut after his combination of hard right cultural politics combined with strict message discipline helped him to a successful re-election campaign in the Sunshine State. Since then, however, the political winds have shifted. As Trump's legal troubles have multiplied, so too has his standing with Republican presidential primary voters.
Read the rest of Ben's report here.
Is Trump begging for a gag order?
At the end of his relatively short but grievance-packed speech at Mar-a-Lago, Trump launched an attack on Judge Juan Merchan, who is presiding over the case against him in New York, calling Merchan a "Trump-hating judge with a Trump-hating wife and family."
At the arraignment, Merchan did not issue a gag order but asked Trump — who recently shared an image on social media showing him holding a baseball bat next to a photo of Manhattan DA Alvin Bragg — to "please refrain from making statements that are likely to incite violence or civil unrest" and not to use rhetoric that could "jeopardize the rule of law."
Hours later, Trump continued attacking Bragg instead — calling him racist and a criminal who should be prosecuted for leaking information about the case, Trump claimed, to the media. Trump's attack on Merchan prompted some groans in the audience, but his attack on Bragg — who has been receiving death threats over the indictment — drew a burst of enthusiastic applause:
Despite Trump's pre-arraignment attacks on Bragg and Merchan, it was unlikely that Merchan would issue a gag order on Tuesday. It's not clear if he'll change his mind, or what Trump would have to say, or continue to say, to prompt that. What is clear is that Trump would almost certainly violate the order if he did.
Back at Mar-a-Lago, Trump's attacks the "fake case" and a whole lot more
In front of a small audience of MAGA VIPs at Mar-a-Lago on Tuesday night, Trump decried his indictment and all the other cases being built against him. "They can't beat us at the ballot box, so they try to beat us through the law," Trump claimed, conjuring the specter of "radical left" crusade to vanquish him. A transcript of his remarks, which seemed to veer on and off the prepared speech on his teleprompter, is here.
Florida man returns to Florida
Some of the MAGA faithful gathered to welcome Trump home:
A taste of real powerlessness
Intelligencer's Justin Miller and James Walsh capture Trump's big day in court:
For about two hours, for the first time in his life, Donald Trump was not a free man. He surrendered to authorities at Manhattan Criminal Court just before 1:30 p.m. on Tuesday, beginning a surreal moment in U.S. history: a former president placed under arrest.




After being fingerprinted, though not photographed for a mug shot, Trump walked a few steps out from behind a blacked-out door, where photographers briefly captured his glowering face framed by his signature combination of navy suit, white shirt, and red tie. Inside the courtroom, he sat with his hands in his lap, flanked by his defense attorneys.
"Trump isn't above the law, but he shouldn't be below it"
Intelligencer columnist Jonathan Chait remains unimpressed with Bragg's case now that the indictment has been unsealed:
As a defense of the indictment, "no one is above the law" is not remotely adequate. It implicitly places the law itself beyond questioning. The uncomfortable reality is that, while Trump may be a career criminal, he does not deserve to be prosecuted for this particular charge. …




Yes, the first criminal charge against Trump carries special symbolic importance. Yet we are loading more social and political weight on these charges than they can bear. The world can be a complicated place. Sometimes people with good intentions do bad things, and sometimes bad people are the victims of unfairness.




The correct response to Trumpist hypocrisy is to wait for it to manifest rather than abandoning standards of fairness.
Read the rest of Jon's response here.
The felony charges in the indictment are just over hush-money payments to Stormy Daniels
The 34 felony counts were based each on a corporate record prosecutors say was falsified to cover up the hush money for Daniels, right down to check stubs used to reimburse Cohen. But prosecutors also referenced, but did not charge, what they say were other similar efforts to suppress damaging stories: Trump's friend David Pecker used the National Enquirer to "catch and kill" former Playboy playmate Karen McDougal's affair allegation, as well as a Trump Tower doorman's claim that Trump had fathered a child out of wedlock.
Prosecutors say that the fraud that led to the charges, however, was when Trump classified the reimbursement payments to Cohen as legal expenses. And what elevated the charges to felonies was that the falsification was allegedly done to cover up other supposed crimes.
Bragg at news conference: "'We cannot and will not normalize serious criminal conduct."
Manhattan district attorney Alvin Bragg held a press conference after Trump's arraignment to discuss the indictment further. "Thirty-four false statements made to cover up other crimes," he said. "These are felony crimes in New York State, no matter who you are. We cannot and will not normalize serious criminal conduct."
The district attorney contends that Trump, along with his former lawyer Michael Cohen and executives of the publishing company AMI, entered into a scheme "to buy and suppress negative information to help Mr. Trump's chance to win an election." Part of this plan included the $130,000 payment to Stormy Daniels, a porn star who alleged she had a past affair with Trump, which Bragg alleges was intended to "hide damaging information from the voting public."
"The scheme violated New York election law, which makes it a crime to conspire to promote a candidacy by unlawful means. The $130,000 wire payment exceeded the federal campaign contribution cap," Bragg said. "And the false statements in AMI's books violated New York law."
Bragg also said reimbursement payments made to Cohen were falsely classified as income to tax authorities.
During a short Q&A, Bragg was asked why he brought this case now in the wake of criticism that it was a political move.
"I bring cases when they're ready. Having now conducted a rigorous, thorough investigation, the case was ready to be brought. And it was brought," he said.
Trump's next hearing currently scheduled for December
The next hearing for this case is slated for December 4, according to CNN. Additionally, NBC News is reporting that a trial could potentially begin in January 2024 — which is also the start of the presidential primary cycle.
Judge warned Trump about social-media threats
"We cannot allow New York businesses to manipulate their records to cover up criminal conduct."
Right after the arraignment ended, Manhattan district attorney Alvin Bragg's office released a statement explaining why Trump was charged.
"The People of the State of New York allege that Donald J. Trump repeatedly and fraudulently falsified New York business records to conceal crimes that hid damaging information from the voting public during the 2016 presidential election," Bragg said. "Manhattan is home to the country's most significant business market. We cannot allow New York businesses to manipulate their records to cover up criminal conduct. As the Statement of Facts describes, the trail of money and lies exposes a pattern that, the People allege, violates one of New York's basic and fundamental business laws. As this office has done time and time again, we today uphold our solemn responsibility to ensure that everyone stands equal before the law."
Read the indictment and the DA's statement of facts
Trump has been released and is on his way to LGA to fly home
He didn't offer any public comments while in Manhattan, but will give a speech from Mar-a-Lago tonight.
Trump pleads "not guilty" to 34 felony counts of falsifying business records in the first degree.
Falsifying business records is typically charged as a misdemeanor offense, but the counts are all listed as felonies, which suggests that prosecutors believe the actions were done with the intent to conceal an additional crime. The charge is an E Class felony, the state's lowest-level felony, which could result in a prison sentence of up to four years, the New York Times has reported. The indictment has been unsealed, but hasn't officially been made public.
Donald Trump is officially facing the music
The New York Times Maggie Haberman notes on Twitter:
Trump accompanied by lawyers Todd Blanche and Susan Necheles, as well as adviser Jason Miller and aide Walt Nauta, per person briefed. Joe Tacopina and Boris Ephsteyn also with Trump. Trump did not stop to address the camera, after weighing saying something ahead of time. Trump looked very unhappy as he walked into the courtroom.
Or, put another way, Trump looked like "granddad having a very bad day":
The Trump campaign made its own mug shot
Intelligencer's Margaret Hartmann writes about the Trump team's mug-shot hype:
In retrospect, maybe Trump's cronies shouldn't have gotten MAGA world so hyped about this photo. In recent days, former Trump White House spokesman Hogan Gidley assured Time that "we'll have a mug shot," joking, "For the record, it will be the most manly, most masculine, most handsome mug shot of all time."
More of today's Manhattan spectacle
Well he did once say he could shoot someone in the middle of Fifth Avenue
And Trump is now under arrest
Former president leaves former home in former city to finally get arrested
More from MTG's abbreviated rally
Intelligencer's Matt Stieb was on the ground when Greene arrived for her much-promoted speech that ended up running short. Through a megaphone, Greene criticized New York City as people in the crowd heckled her:
Around 10:30 a.m., Marjorie Taylor Greene entered the park wearing the Terminator cop glasses she's partial to. Surrounded by the protest organizers and a zillion more reporters, she pushed through the crowd toward a small riser. The people packed in. Greene was handed a megaphone and yelled to her supporters about how "Democrats are the party of violence" and that New York used to be a "great city." But two anti-Trump protesters — both white guys over 40 — had come over from their side of the park and began screaming. No one could hear her, even from a few feet away. "Go home, New York City hates your guts," yelled a man in a blue-checkered shirt.
Read the rest of Matt's report here.
A mug shot appears unlikely
The New York Times explains why:
Under New York State law, the authorities must take the fingerprints of anyone charged with a felony. But law enforcement officials have discretion over whether they take a mug shot. Mug shots are meant to help the authorities identify a defendant and find them if they flee; in such instances, the photographs are distributed to law enforcement agencies and sometimes the media in order to help apprehend the fugitive. But Mr. Trump is not considered a significant flight risk, and as he is a former president who hosted a widely popular reality television show after spending decades as a fixture of the tabloids, photographs of him are more than readily available.




Several officials also said there was concern that a mug shot of Mr. Trump, which would be provided to the New York Police Department and other agencies, would be leaked. That would be a violation of law and could prompt an investigation and a political firestorm.
The Trump team is recording the whole thing
Another bizarre scene from the Manhattan Trumpfest
Even more security measures outside courthouse as Trump's arrival looms
Donald Trump's innocence apparently died for our sins
Trump is making a Christ-like sacrifice, according to a source close to his legal team who spoke with Rolling Stone on Monday:
"It's kind of a Jesus Christ thing. He is saying, 'I'm absorbing all this pain from all around from everywhere so you don't have to,' " says the source. Describing the message Trump hopes to send his supporters, the source says: " 'If they can do this to me they can do this to you,' and that's a powerful message."
Then on Tuesday, as she was being driven away from the courthouse rally, Marjorie Taylor Greene said Trump, Christ, and Nelson Mandela were birds of a sacrificial feather:
Advisers made similar comments to Time, albeit without mentioning Jesus:
Sources say that Trump's remarks [on Tuesday night] will hit hard on his accusation that Bragg is pressing charges against him out of political motivation, an attack that is designed to gin up righteous indignation and a sense of persecution among MAGA die-hards.




In that vein, Trump wants to turn his indictment into a larger symbol, connecting himself with conservative Americans who feel targeted or alienated for their views. "The fears and concerns of a weaponized government are now personified in Donald Trump," says Gidley, Trump's former White House spokesman. "He can take that pulpit, that podium, and point out the fact that we are all victims of a government that has targeted each of us because we attend the wrong rallies, like the wrong tweets, go to the wrong movies."
Trump diehards have been making the comparison on social media as well:
Trump wants to be tried on Staten Island
In a Truth Social post on Tuesday, he once again attacked Manhattan, where he lived for most of his life. "VERY UNFAIR VENUE, WITH SOME AREAS THAT VOTED 1% REPUBLICAN," Trump wrote. "THIS CASE SHOULD BE MOVED TO NEARBY STATEN ISLAND - WOULD BE A VERY FAIR AND SECURE LOCATION FOR THE TRIAL."
The MTG mob scene
Marjorie Taylor Greene's rally outside the courthouse was a big chaotic mess:
Earlier, there were so few pro-Trump protesters that reporters had to effectively line up to talk to them. After the rally officially began, the MAGA congresswoman spoke, but could barely be heard or seen over the raucous crowd of rallygoers, counterprotesters, and reporters.
Her remarks were brief and Greene was quickly escorted out of the park as the crowd grew and began to push and shove.
ABC News reports that Greene is expected to attend Trump's post-arraignment remarks back in Florida at Mar-a-Lago this evening.
Santos shows up, then flees
The morning's surreal scene got a surprise guest star: controversial freshman congressman George Santos. NBC News reports that Santos is expected to attend the pro-Trump rally slated for today.
Intelligencer's Matt Stieb describes the scene:
The circus aspect of the morning is already well underway an hour before the demonstration in Collect Pond Park is expected to begin. On the south side of the park, a small number of anti-Trump protesters wait for the speeches to begin, cordoned off by metal barricades from a slightly larger number of presidential supporters on the other side. Similar to yesterday's scene in front of Trump Tower, press people and police outnumber protesters by an order of magnitude — though the reporters' numbers cleared a bit when Representative George Santos tried to show up early. Overwhelmed by the number of reporters shouting questions at him, he ran up Centre Street, a dozen men with cameras in his tow.
Hell Gate NYC got video of the chaotic moment:
Trump lawyer predicts case will be thrown out
Joe Tacopina went on Good Morning America to spin for his client ahead of Tuesday afternoon's arraignment. Like the rest of the country, he has not seen the indictment that is still under seal, but he said Trump's team expects to challenge the case filed by Alvin Bragg's office and predicts it will not make it to trial due to issues with the law.
A sleepover in Trump Tower
The Florida resident spent the night in midtown Manhattan following dramatic coverage of his return home to face charges.
As Intelligencer's Matt Stieb has reported, the media far outnumbered Trump supporters — and anybody else — outside Trump Tower on Monday.
The Florida man has landed
Trump hasn't received this much attention since he was president.
Trump allies really want to be shown the man
The former president deserves a cookie?
Intelligencer's Margaret Hartmann surveys the reporting on how Trump has been behaving in private ahead of his arraignment:
The former president isn't totally calm, but longtime Trump observers seem impressed that he hasn't hurled his lunch against the wall, as he was accused of doing at the White House. "While Trump is not said to be throwing things, he is extremely angry and his family is, not surprisingly, rattled," noted Times reporter Maggie Haberman. People around Trump are divided on why he isn't pelting them with water bottles right now, as CNN reported.
Mayor Adams asks MTG and other protesters to behave
He addressed the coming storm in a press conference on Monday:
While there may be some rabble rousers thinking about coming to our city tomorrow, our message is clear and simple: Control yourselves. New York City is our home, not a playground for your misplaced anger. We have the safest large city in America because we respect the rule of law in New York City. And although we have no specific threats, people like Marjorie Taylor Greene, who is known to spread misinformation and hate speech — she stated she is coming to town. While you're in town, be on your best behavior.
Not surprisingly, the congresswoman framed Adams's comment as a threat:
Trump adds new lawyer to his defense team
Politico reports that Trump has hired Todd Blanche, a top white-collar criminal defense attorney, to lead his legal defense against the hush-money charges. Blanche, a former federal prosecutor, has also represented the former chair of Trump's 2016 presidential campaign, Paul Manafort.
Trumpdictment watch has begun (and its already a ridiculous spectacle)
As Intelligencer's Benjamin Hart highlights, Trump's trip to New York is getting the "O.J. treatment":
To be fair to Trump, he's not leading police on a spontaneous and dangerous pursuit. Nor is he accused of murder, that we know of. Nevertheless, time-filling cable-news commentary over a live shot of vehicles on an otherwise empty highway with people lining the sides of it can't help but dredge up memories for viewers of a certain age.
Read the rest of Ben's post here.
But there's no guarantee we'll see Trump at court
There will be a mug shot, but it's not yet clear if it will be made public, or if there will be any other photography allowed at the courthouse. Trump's lawyers have also opposed media requests to allow cameras in the courtroom, arguing that, "it will create a circus-like atmosphere at the arraignment, raise unique security concerns, and is inconsistent with President Trump's presumption of innocence."
All mostly quiet on the insurrectionist front
The New York Times reports that neither authorities nor extremism monitors have picked up any chatter suggesting there will some kind of January 6–type violence in New York when Trump is arraigned:
"At the moment, they are not seeing those threats, and the department has a lot of experience coordinating with the Secret Service and the court system, so that effort is not terribly concerning," said Kenneth Corey, who retired late last year as chief of [New York Police Department,] the highest-ranking uniformed officer in the department. "But there are still big unknowns — mainly the protesters," he added. "Who shows up? How many show up? What kind of mood are they in?"
Don't count out Bragg
Errol Louis, responding to widespread skepticism regarding the Manhattan DA's case, notes that Alvin Bragg typically knows what he's doing:
Trump is in serious legal jeopardy, not least because his adversary, Bragg, is a dogged and meticulous litigator who has proved he can build complex white-collar cases. Years ago, as an assistant U.S. Attorney under Preet Bharara, Bragg successfully prosecuted misconduct by elected officials, including former State Senator Malcolm Smith, who ended up in prison. Bragg also prosecuted a slew of white-collar criminals as the state's chief deputy attorney general, and he prides himself on not bringing frivolous cases.
Read the rest of Errol's column here.
Trump will give a post-indictment speech from Mar-a-Lago on Tuesday night
His campaign has announced that Trump will "deliver remarks" at 8:15 p.m. — approximately six hours after he is scheduled to be arraigned in Manhattan.
What the post-indictment polls say, so far
An ABC News/Ipsos poll, conducted on Friday and Saturday, found that 45 percent of Americans think Trump should have been charged with a crime in the hush-money case, including 88 percent of Democrats, and 16 percent of Republicans, even though nobody knows, at this point, exactly what Trump has been charged with. Nearly half of the poll respondents said the charges are politically motivated, including 79 percent of Republicans and 48 percent of independents. Only 43 percent of respondents thought Trump should suspend his presidential campaign because of the indictment.
A Yahoo News/YouGov poll, conducted in the 24 hours after the indictment news broke, found that 42 percent of Americans approved of the indictment, while 52 percent said he should not be allowed to serve a second term if he's convicted:
Half of the independent voters reached by the poll said they thought Trump was a criminal:
Fully half of independents (50%) now believe the former president has "committed a serious crime" at some point in his life — twice the number (25%) who think he has never committed a serious crime. When asked if they "think Donald Trump did or did not falsify business records to conceal a hush money payment to a porn star," less than half of Republicans (48%) are confident that he did not. Another 17% say he did — and a whopping 35% say they're not sure.
Hutchinson announces bid for GOP presidential nomination, says Trump should drop out of the race
Former Arkansas governor Asa Hutchinson officially announced his campaign for the 2024 Republican presidential nomination Sunday on ABC's This Week — and reiterated his opinion that Trump's indictment means the former president should drop his own bid:
First of all, the office is more important than any individual person. And so for the sake of the office of the presidency, I do think that's too much of a sideshow and distraction and he needs to be able to concentrate on his due process and there is a presumption of innocence. … I've always said that people don't have to step aside from public office if they're under investigation, but if it reaches the point of criminal charges that have to be answered, the office is always more important than a person. And so, there's some consistency there. And I do believe if we're looking at the presidency and the future of our country, then we don't need that distraction."
The 72-year-old long shot is the only confirmed or potential GOP presidential candidate to take that position.
Trump set to arrive in New York on Monday
The Washington Post reports that the former president is expected to fly into New York City on Monday, then overnight at his Trump Tower apartment before surrendering on Tuesday. The Post also reports that Trumps' Secret Service detail had apparently been worried about a far different scenario:
When initially preparing for Trump's possible indictment, Secret Service agents had expressed concern that Trump might opt to be arrested; they disliked the safety issues raised by him being handcuffed by police rather than being accompanied by Secret Service agents, said a law enforcement official familiar with the planning.
And Trump's advisers are reportedly encouraging him not to make a scene in New York:
Despite Trump's desire for iconic images, his aides have been trying to convince him to make the trip to New York a quick one and avoid any public appearances or news conferences, citing safety risks — and so far, Trump seems inclined to oblige. They also hope to have him back out on the campaign trail by the end of next week.
Bragg's big reset
The New York Times reports that the Manhattan DA, a year ago after his office seemed to have gotten nowhere in its long Trump probe, decided to "[go] back to square one, poring over the reams of evidence that had already been collected by his predecessor":
For a time, their efforts were haphazard as they examined a wide range of Mr. Trump's business practices, including whether he had lied about his net worth, which was the focus of the investigation when Mr. Bragg had declined to seek an indictment. But by July, Mr. Bragg had decided to assign several additional prosecutors to pursue one particular strand that struck him as promising: a hush-money payment made on Mr. Trump's behalf to a porn star during the final days of the 2016 presidential campaign.
What's in the indictment?
When the grand jury voted to indict Trump, the indictment itself was placed under seal, meaning its contents are secret. Typically, an indictment is unsealed when a defendant makes an initial appearance in court to face the charges, which is currently scheduled for Tuesday. To be sure, the fact that Trump was involved in paying hush money to Stormy Daniels has been known for years, though it is not yet clear how that translated into the criminal case now being brought against him. In the meantime, the only available clues are bits and pieces of reporting that appear to be sourced mainly from the side of prosecutors.
One such tidbit comes from CNN's John Miller, who reported Thursday that Trump "faces more than 30 counts related to business fraud." The Associated Press reported Friday that he "is facing multiple charges of falsifying business records, including at least one felony offense" according to "two people familiar with the matter." CBS News reported Thursday that Bragg's office obtained documents during its investigation, including financial records and communications, that are not yet known to the public.
There is no word so far on the campaign-finance law violations Trump allegedly committed, which would elevate misdemeanor business fraud to a felony.
Ivanka is playing it safe
Intelligencer's Margaret Hartmann notes the very anodyne statement Trump's daughter made on Friday:
These 27 words should be taught in public-relations courses. Is Ivanka denouncing Donald Trump? No, it says right there: "I love my father." Okay, so she agrees with her brother Eric that this is "third-world prosecutorial misconduct" that proves America has gone off the rails? Maybe, maybe not? Is she "pained" for her father because he's being unfairly persecuted, or for her country because our former president is a crook who must be brought to justice? Unclear. All we know for sure is that Ivanka appreciates "the voices across the political spectrum expressing support and concern" — which could mean Marjorie Taylor Greene, or the Krassenstein brothers, or both.




Ivanka might as well have said, "Hello. I'm here as a fellow human to acknowledge that Donald Trump has, as we know, been indicted. Trump was a man. Also, he was president of the United State for four years. And when a person is indicted, it is sad."
Read the rest of Margaret's analysis here.
McConnell isn't talking
The Cohen conundrum
Intelligencer contributor Ankush Khardori highlights how the former Trump fixer's big mouth continues to collapse his own credibility and undermine the Manhattan DA's office — this time in a CNN interview on Thursday night:
Late Thursday night, just hours after the news broke that the Manhattan district attorney's office had obtained the indictment, [Michael] Cohen decided this would be a great time to take advantage of the national spotlight and sit down for an interview with CNN's Don Lemon and Alisyn Camerota. For several months, he has been interviewed by prosecutors and he's testified before the grand jury about how Trump allegedly broke the law by directing Cohen to pay hush money to Stormy Daniels in 2016, which would likely make him a key witness against Trump at trial. Much of the CNN discussion entailed barely concealed gloating by Cohen, but at one point, he made clear what he had recently been hinting at: He believes he is not actually guilty of the federal-tax-evasion charges to which he pleaded guilty back in 2018. …




Trump's lawyers are likely to have a field day with this. They could argue that Cohen — by his own account now! — lied to the federal judge who accepted his guilty plea and sentenced him to prison.

The apparent reason? Because it was convenient for him to lie at the time so that he could avoid the risk of additional charges for him or his wife. 
Read the rest of Ankush's jaw-dropping analysis here.
MTG is coming to town
The ultra-MAGA congresswoman is planning to protest in Manhattan on Tuesday:
The #Resistance is rejoicing
Intelligencer's Matt Stieb checks in on the Trump's most infamous haters:
Maybe you've forgotten what the internet was like when Donald Trump was elected president. As conservatives gloated, a swath of very online liberals, broadly known as the #Resistance, decried the collapse of our nation's values. Their objections were often warranted — it was a pretty scary time — but their overheated rhetoric and frequent incorrect predictions of Trump's imminent downfall became wearying. Eventually, as the pandemic and Trump's 2020 loss flushed out earlier concerns about Ukrainian quid pro quos, Russian collusion, and American carnage, the #Resistance faded from the mainstream conversation.




But after two-plus years spent either dormant or out to brunch, the #Resistance is back in a big way following Trump's indictment.
Read the rest of Matt's post here.
Bragg's office rebukes congressional Republicans
House Republican leaders have made a big show of going after the Manhattan DA's office, sending official requests for details of the case and accusing the office of persecuting Trump for political reasons. In a letter on Friday, the office's general counsel, Leslie Dubeck, rejected the allegations and requests made by the GOP chairmen of three House committees — and lambasted the lawmakers for attempting to interfere in New York's prosecution and pouring fuel on Trump's anti-legal system fire:
Like any other defendant, Mr. Trump is entitled to challenge these charges in court and avail himself of all processes and protections that New York State's robust criminal procedure affords. What neither Mr. Trump nor Congress may do is interfere with the ordinary course of proceedings in New York State. …




As Committee Chairmen, you could use the stature of your office to denounce these attacks and urge respect for the fairness of our justice system and for the work of the impartial grand jury. Instead, you and many of your colleagues have chosen to collaborate with Mr. Trump's efforts to vilify and denigrate the integrity of elected state prosecutors and trial judges and made unfounded allegations that the Office's investigation, conducted via an independent grand jury of average citizens serving New York State, is politically motivated.
Trump launches preemptive attack on judge, whom he misnamed
On Friday morning, Trump fired off a Truth Social post in which he alleged that Juan Merchan — the New York judge who presided over the recent tax-fraud case against the Trump Organization and is expected to preside over Trump's arraignment — "HATES ME." Trump also misspelled his name, identifying him as "Juan Manuel Marchan." In his post, Trump makes several allegations against the judge, including that Merchan "railroaded" his company in the tax-fraud trial.
This is, of course, hardly the first time the former president has attacked a judge. In 2016, Trump alleged that the judge presiding over two fraud lawsuits against Trump University hated him and would not treat him fairly because the judge was Mexican American.
How Trump's indictment is playing on newspapers' front pages
Trump world was reportedly caught off guard
Both the former president and his advisers were surprised by the news, according to the Washington Post:
Advisers had counseled him that a possible indictment by a Manhattan grand jury involving hush-money payments to an adult-film star would not come for some time — if at all — and Trump had even begun joking about "golden handcuffs," said one person who spoke with him in recent days. …




Some of his lawyers had been preparing to take a few days off, not expecting any movement for several weeks, said two people familiar with the matter who, like many in Trump's orbit, spoke on the condition of anonymity to candidly share details of private discussions. Some Trump aides — including adviser Boris Epshteyn, who is taking a leading role on Trump's legal team — had even begun telling the former president that he would not be indicted at all, people familiar with the comments said.
The 2024 factor
Intelligencer's Ed Kilgore explains how the indictment might impact Trump's chances in the next presidential election:
Beyond that, it's important to acknowledge from the get-go that there are two very different audiences whose reaction to these and related legal proceedings may matter down the road. Likely Republican primary voters are not expected to be shocked by this and future indictments and may actually rally around the 45th president, who has branded all the indictments in advance as "the witch-hunt" (the Trump fans in the main camera frame during his March 25 rally in Waco were holding "Witch Hunt" signs). A recent Marist poll found four of five self-identified Republicans accepting that very description for the "investigations" into Trump's conduct that have been swirling around him lately. And even Trump critics and rivals among Republican elected officials have almost universally attacked such investigations as politically motivated and basically meritless.




The indictments could have a more corrosive effect, however, among the general electorate that will eventually determine Trump's ultimate political fate, assuming he does win the nomination. Even in this broader universe, voter cynicism may help protect Trump from too much damage. A recent Quinnipiac poll about the very indictment we learned about today showed that pretty clearly
Read the rest of Ed's analysis here.
There are legitimate controversies regarding this case
Putting aside Trump's characterization of it as a "witch hunt," the hush-money case brought against him appears to rest on an untested legal theory. The indictment is under seal, but it is well known that prosecutors were eyeing two laws that Trump allegedly violated. The first concerns falsifying business records, a misdemeanor. The second involves limits on how campaigns are financed, specifically on the value of contributions. In order to convict him of a felony for falsifying business records, it would have to be proven that he did so in order to conceal a violation of campaign-finance law. According to the New York Times, no such case has ever been brought, and similar ones typically end in plea deals instead of being heard in court. And the case could be subject to attacks by Trump's team before trial that it is not valid under the law.
Notably, the federal prosecutors who charged Michael Cohen with breaking the law by making the payment to Stormy Daniels — the same conduct that is at issue in the state case — did not accuse Trump of breaking the law. There is also the matter of building a case around Cohen, who has issues with his credibility (not the least of which is his previously pleading guilty to lying), as former federal prosecutor Ankush Khardori wrote a day before the indictment.
Trump expected to surrender on Tuesday
Bragg's office said in a statement that it is negotiating with Trump's attorneys to coordinate his surrender to authorities so that he can be arraigned in New York. (At that point, the indictment will have to be unsealed so he can enter a plea.) Trump defense attorney Susan Necheles later said that the former president will turn himself in for arraignment on Tuesday afternoon. The DA's office had reportedly asked Trump's lawyers to arrange for Trump to turn himself in on Friday, but they rejected the request, arguing that the Secret Service needed more time to prepare.
Joe Tacopina, another Trump lawyer, told Bloomberg News that "obviously we're disappointed, but we will swiftly and aggressively fight these charges and pursue justice in this case."
As is typical for defendants accused of nonviolent crimes, Trump has not been subject to an arrest warrant and is being allowed to turn himself in.
Trump campaign fundraises off the indictment
Longtime legal pundit Alan Dershowitz, responding to the news of the indictment on former Trump White House press secretary Sean Spicer's Newsmax show, speculated that Trump's campaign may end up turning his inevitable mug shot into a poster. In the meantime, they've already sent out a fundraising appeal leveraging the indictment news:
NYPD calls up all officers amid ongoing security concerns
Though a spokesperson for the city said there are "no credible threats" at this time, a full mobilization of the police department is underway. Earlier this month, Trump called for his supporters to protest and "take back our country," in an echo of the rhetoric that inspired a mob to attack the U.S. Capitol in 2021.
In the weeks leading up to the grand jury's decision, security was tight around the district attorney's office, with law enforcement putting up barriers in anticipation of potential protests. Bragg, whom Trump has hurled increasingly inflammatory rhetoric at, was seen leaving his office flanked by security on Thursday night after news of the indictment broke.
"This moment is flush with possibility and explosive danger"
Columnist Jonathan Chait weighs in on Trump's long-awaited indictment:
The foundation of any fair legal system is that everybody, even a criminal, has rights. The leaked details of the case against Trump reportedly being brought by Alvin Bragg are underwhelming and bordering on negligent. They seem to stitch together a decent misdemeanor case against Trump for false records (his disguising a payoff to one or potentially two women with whom he had affairs) and charging the payment as a campaign-finance violation. Unless there is more to Bragg's case than has been reported, it smells of an effort to find a crime.




The indictment's details matter tremendously. The sanctity of the rule of law hinges upon applying its force equally, without regard to the standing of the accused. This requirement goes both ways — Trump's decades of using his power to steal and cheat is one form of corruption of the rule of law that cannot be resolved by locking him up over a charge no other person would likely have faced. Turnabout is not fair play.
Read the rest of Jon's response here.
The response on Fox News and from Trump world
Benjamin Hart has rounded up some of the reaction from Trump's allies, including Congresswoman Elise Stefanik, Senator Ted Cruz, and even one Trump rival, Florida governor Ron DeSantis.
Trump calls indictment "political persecution and election interference"
About an hour after the news, which reportedly caught Trump aides off guard, the former president released a defiant statement from Mar-a-Lago attacking the indictment. "This is Political Persecution and Election Interference at the highest level in history," Trump said, before suggesting, as he has in the past, that he is the victim of a "witch hunt" conducted by "Radical Left Democrats."
In one of several posts Trump has made on his Truth Social account, the former president also claimed he won't be able to get a fair trial in New York: "They only brought this Fake, Corrupt, and Disgraceful Charge against me because I stand with the American People, and they know that I cannot get a fair trial in New York!"
The hush money
On October 8, 2016, a day after the release of the Access Hollywood tape of Trump bragging about groping women, porn star Stormy Daniels's agent reached out to the National Enquirer to say that her client was open to sharing her story publicly about having sex with Trump years earlier.
The Enquirer alerted Michael Cohen, who had previously worked with the tabloid to bury Karen McDougal's own story of an affair with Trump. The Enquirer purchased the rights to McDougal's story for $150,000 in order to prevent her from discussing it — a process known as a "catch and kill." This time, Cohen would have to pay himself, but instead of paying Daniels directly, he incorporated a shell company in Delaware called Essential Consultants to wire the money to her attorney before it was given to Daniels, according to federal prosecutors' later description of the scheme. On a form to complete the transaction, Cohen falsely claimed that it was for a "retainer" for the attorney. Days before the election, The Wall Street Journal broke the story.
In early 2017, Cohen sought reimbursement from the Trump Organization, writing on at least one invoice that it was for a "retainer agreement" (referring to the money wired to Davidson) and other services rendered that January and February. The company obliged and accounted for the money paid to Cohen as "legal expenses." Trump denies that the affair ever took place, but Cohen said Trump directed the payments to be made and agreed to reimburse him, which he or his trust did via a series of checks totaling $420,000, according to the New York Times.
In 2018, Cohen pleaded guilty to a number of federal crimes, including violating federal campaign-finance law with the hush money. In court papers, federal prosecutors said Cohen performed no legal work for the Trump Organization during the time period for which he was compensated.
The investigation
In the days after Cohen's guilty plea in 2018 to federal prosecutors, the district attorney's office under Cyrus Vance Jr. started looking into the circumstances surrounding the payment made to Daniels. The inquiry quickly expanded to focus on larger aspects of Trump's business dealings — particularly surrounding the Trump Organization. Vance and commentators had raised expectations that Trump himself would be indicted, but only the company and its CFO, Allen Weisselberg, were charged with tax fraud and convicted.
Bragg, a Democrat who was elected district attorney in 2021, insisted that despite the departure of two prominent prosecutors over the lack of criminal charges for Trump for alleged financial crimes, his office's criminal investigation into Trump was ongoing.
Then, in January, it was reported that Cohen was meeting with prosecutors for the first time in more than a year — an indication that the dormant hush-money inquiry was active again. Later that month, the office impaneled a grand jury to begin examining evidence. It heard testimony from David Pecker (former publisher of the National Enquirer), Davidson, and Kellyanne Conway, who once served as Trump's campaign manager.
Cohen testified for two consecutive days at the end of the grand jury's investigation and is likely to be the prosecution's star witness despite his history of lying, including under oath before Congress. Following his testimony, Trump was invited to testify, but his team sent a former attorney of Cohen's to shred his credibility instead. Though it seemed like the indictment was imminent — with Trump himself predicting his "arrest" two weeks ago and calling for protests — days of virtual silence from the grand jury led to speculation that the case was shriveling or would not even be brought after all.
This post has been updated.