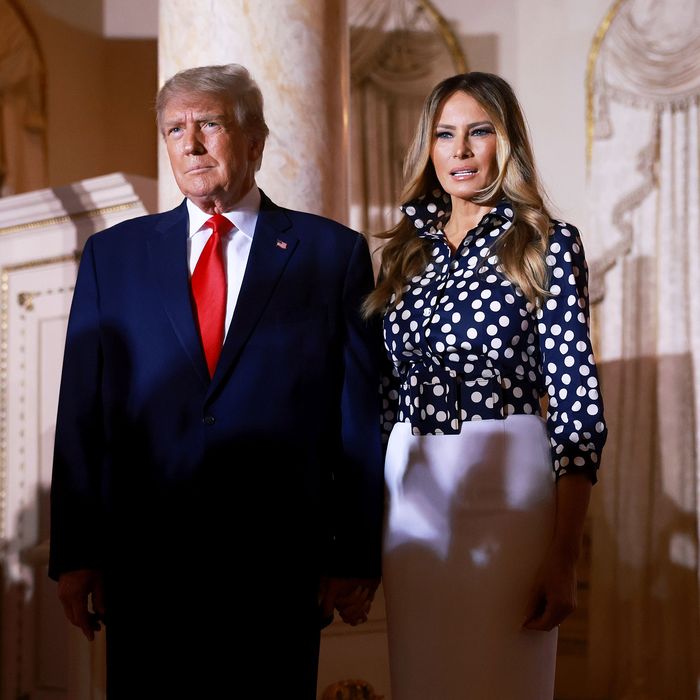 The happy couple.
Photo: Joe Raedle/Getty Images
Donald Trump's marriage has been under more scrutiny than usual lately, ever since Melania didn't appear by the former president's side after he was indicted for crimes related to paying off the porn star with whom he allegedly cheated. So when Melania turned 53 on Wednesday and he failed to wish her a happy birthday online, people took notice. But upon closer examination, there's absolutely no reason to think anything is amiss in the former First Couple's marriage.
First, Trump has five children from three wives and ten grandchildren. That's a lot of birthdays to remember, and April 26 is kind of random (whereas his eldest children were born on memorable dates: Don Jr. on New Year's Eve, Eric on January 6, and Ivanka on uh … Halloween Eve).
Second, Wednesday was a particularly busy day for him. E. Jean Carroll was testifying in her civil trial against Trump, whom she has accused of rape and defamation. Naturally, he was obligated to lob some more potentially defamatory insults at her on Truth Social.
Trump wasn't done, even after the judge in the case admonished him about the perils of ranting online while facing various lawsuits. He posted another 17 "truths" on Wednesday, attacking Ron DeSantis; touting his new book, Letters to Trump; and floating conspiracy theories about Hunter Biden and the 2020 election. Sure, Trump made time to tap out a birthday greeting to his wife back in April 2020, but life was simpler then — all he was doing was watching Tiger King, working on his sourdough starter, and floating bleach injections as a COVID treatment.
Finally, social-media posts can't tell you everything about a couple's relationship. For real insight, you need to look at anonymously sourced celebrity magazines. And according to People, Trump fully intended to celebrate his wife's birthday (if he happened to be around):
But as for Wednesday, Donald is expected to celebrate Melania if his schedule allows him to be in Mar-a-Lago.




"If Donald is here, he will be joining the family to celebrate his wife's birthday. Despite what you hear, the Trumps are a close family," the source adds.
Yes, you can't believe everything you've heard about the Trump family and observed with your own two eyes. The piece continues:
Another source tells PEOPLE: "Don't be fooled by the former president's outspoken manner and dominant influence on those around him. He respects and admires his wife."




"He wants to make Melania happy," the source says, adding: "They have a more than suitable partners arrangement."
Aww! Here's my birthday wish this year: find someone who treats me the way Donald Trump treats his "more than suitable partners arrangement."