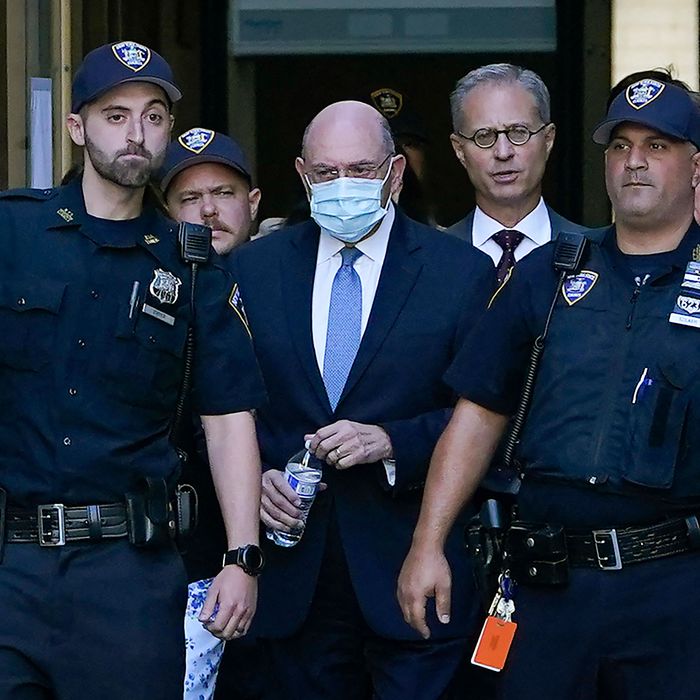 Just ask Trump Organization chief financial officer Allen Weisselberg.
Photo: TIMOTHY A. CLARY/AFP via Getty Images
The more people criticize and second-guess the motives, skill, and strategy of Manhattan district attorney Alvin Bragg, the more certain it seems that he is about to strike a simple but devastating legal blow against Donald Trump. We won't know the precise contours of the case until the indictment is unsealed, but a look at Bragg's style and record suggests that People v. Trump will turn out to be a straightforward case involving allegations of white-collar crime — the latest in a string of criminal and civil cases that have dogged Trump and his companies over the years.
Don't be distracted by lurid and dramatic details about hush-money deals and secret payoffs to a porn star and/or Playboy Playmate in the closing days of the 2016 presidential campaign: Trump's alleged sleazy personal behavior (which he has strenuously denied) is almost certainly not the heart of the case. Falsifying business records, on the other hand, is a serious crime that, under New York law, can result in prison time. Trump, who is set to surrender in Manhattan on Tuesday, is expected to go through the same tedious, humiliating booking process as any other New York defendant — he'll be read his rights, fingerprinted, photographed from the front and side for mug shots, and asked to enter a plea.
Trump and his followers continue to attempt to spin his looming indictment as the result of a politically motivated witch hunt based on a dubious legal theory. Senator Lindsey Graham called the case "legal voodoo" and "political persecution" on Fox News.
Bragg is expected to argue that hush-money payments to adult actress Stormy Daniels and/or ex–Playboy Playmate Karen McDougal were made by setting up a fake retainer agreement with Trump's ex-lawyer, Michael Cohen, who paid the cash up front and later got reimbursed by Trump's company for nonexistent legal services. Creating phony business transactions to hide the payments could constitute the misdemeanor offense of falsifying a business record, with the intention of committing or concealing a second crime of not reporting what was, in effect, a campaign contribution. (New York election law defines a contribution as "any thing of value, made in connection with the nomination for election, or election, of any candidate.")
This is where things get sticky for Trump. Falsifying a business record in order to commit or conceal a second crime would bump the matter up from a misdemeanor to a felony, punishable by one to four years in prison. In fact, New York courts have found that the second crime need not even be proved: Mere intent to commit or conceal a crime can be sufficient to make records falsification a felony.
And don't forget the devastating statements made by Trump's own Department of Justice about the hush money in the sentencing memo prepared shortly before Cohen was sent to prison. "With respect to both payments, Cohen acted with the intent to influence the 2016 presidential election. Cohen coordinated his actions with one or more members of the campaign, including through meetings and phone calls, about the fact, nature, and timing of the payments," the memo said. "In particular, and as Cohen himself has now admitted, with respect to both payments, he acted in coordination with and at the direction of Individual-1."
Individual-1 is you-know-who.
So Trump is in serious legal jeopardy, not least because his adversary, Bragg, is a dogged and meticulous litigator who has proved he can build complex white-collar cases. Years ago, as an assistant U.S. Attorney under Preet Bharara, Bragg successfully prosecuted misconduct by elected officials, including former State Senator Malcolm Smith, who ended up in prison. Bragg also prosecuted a slew of white-collar criminals as the state's chief deputy attorney general, and he prides himself on not bringing frivolous cases.
"I've done cases involving multimillion-dollar money laundering by business people who were financing violent criminal enterprises," he said during a campaign debate in 2021. "The only misdemeanor case I've ever tried was two men blocking patients and staff going into Planned Parenthood. I've been very judicious with the use of prosecutorial power."
During his time in the state AG's office, one of the prosecutions Bragg worked on was the Trump University case, in which students complained they were defrauded out of thousands of dollars by a for-profit venture that was not an actual university. (Trump's company ultimately closed its doors and settled the case by paying $25 million — about 90 percent of the tuition that had been received — without admitting wrongdoing.)
More recently, as district attorney, Bragg won a criminal conviction for tax fraud against the Trump Organization, resulting in the payment of a $1.6 million fine and the jailing of its CFO, Allen Weisselberg. It's likely that Bragg's office acquired enough records, documents, testimony, and insight about Trump's business dealings to build out a new false-records case.
Commentators I know and respect, including Van Jones and Peggy Noonan, have lamented that the New York case is the wrong indictment at the wrong time.
"Charging [Trump] in the Stormy Daniels case is below us — not below him, but us. The subject matter is below us. The nature of the charges is below us," Noonan wrote. "Are we doing the wise thing? No. Hold your fire. Save the mug shot for Georgia, the handcuffs for Jan. 6. Those were real offenses against the country. Not Stormy Daniels, which was an offense against his wife."
"A charge like this — a porn-star payoff seven years ago, somehow tied to the election but not really — it doesn't seem like the right way to go," Jones said on CNN. "History is not going to judge Donald Trump based on Stormy Daniels. They're going to judge him based on the election, going to judge him based on the coup attempt."
I disagree. Putting aside the porn-star trivia, Trump's shady business practices are highly relevant to his history, his character, and his campaign for reelection to the White House. In addition to heading companies found guilty of criminal tax fraud going back 15 years, Trump was ordered by a court to dissolve his family foundation, pay nearly $2 million, and acknowledge illegally using charitable funds for political purposes.
"Mr. Trump and the Foundation have admitted key facts about their illegal political coordination with the Trump campaign, including that a purported Foundation fundraiser in January 2016 was in fact a campaign event," State Attorney General Letitia James noted in 2019. "That Foundation gave the Trump campaign complete control over the timing, amounts, and recipients of the $2.8 million raised through that event."
Trump himself, along with his businesses and his three eldest children, are currently the subject of a massive civil lawsuit by James, who is alleging years of business fraud and seeking $250 million as well as a permanent ban on any of the named Trumps doing business in New York State.
Trump has lost or settled so many damaging lawsuits that it's easy to forget that he used his businesses to cheat before and during the 2016 campaign. But that is why we have a judicial system that uses courts, prosecutors, juries, judges, and meticulous rules of evidence and procedure to discover truth and hold the powerful accountable.
Trump, an expert at distortion and distraction, is betting that the public will focus on threats, theatrics, public outrage, and personal insults rather than a formal investigation of his actions.
Don't fall for it. Bet on Bragg.