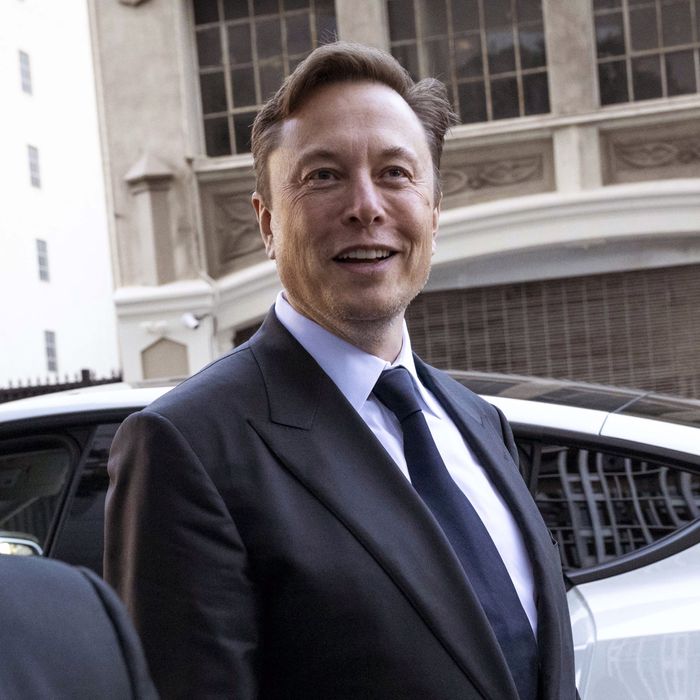 $44 billion well spent.
Photo: Marl`ena Sloss/Bloomberg via Getty Images
Here's something they don't teach you at fancy business schools: When you acquire a company, the smartest move is to alienate some of that company's most stalwart consumers to the point that they don't want to bother using its services anymore. Elon Musk's strategy at Twitter may be unorthodox, but it paid dividends on Wednesday morning, when NPR announced that it would be picking up its 52 Twitter accounts and going home and leaving the site, citing "actions that undermine our credibility by falsely implying that we are not editorially independent."
Earlier this month, as part of his continuing dogfight against traditional media outlets, Musk slapped a "state-sponsored media" label on NPR's Twitter account, putting it in the same category as propaganda-heavy, government-controlled outlets like Xinhua and Sputnik. NPR ceased tweeting in protest of the move and pressed its case to Twitter, after which Musk tweaked the label to "government-funded media." That did not mollify NPR, which said the label was still inaccurate, since it's a private company with editorial independence that receives only about one percent of its funding from the federal government. (Though the company gets significantly more through payments from member stations, who are funded by the government.)
Later on Wednesday, PBS, which had also gotten the "government-funded media" label, said it would refrain from tweeting in the future as well.
In a rare interview with a BBC journalist on Wednesday, Musk said he would change the label on that organization to "publicly funded"; perhaps he planned to do the same for NPR. But it doesn't really matter anymore. In its statement, NPR didn't specify whether it would return if Musk restored its label-free status, but the statement had an air of finality about it.
In a meeting later on Wednesday, NPR CEO John Lansing added that Twitter does not drive much traffic to the company anyway, and that it "no longer has the public service relevance that it once had."
Apparently seeking the last word on the subject, Musk tweeted his disapproval:
Since buying Twitter for $44 billion six months ago, Musk has laid off about three-quarters of the workforce, which has caused the site's functionality to suffer, and has made a series of drastic, exhausting, and self-defeating moves that have alienated advertisers and many users. Some of his most punitive and trollish actions have been reserved for journalists, for whom he seems to hold a special scorn. Among other things, he has barred journalists from the platform for dubious reasons and routinely disparaged mainstream media outlets along with his far-right cohort. Just last week, Musk blocked journalists from effectively promoting their work on Substack, which has launched a Twitter competitor. His plan to revoke blue verification badges from "legacy" Twitter accounts who don't pay for the subscription service Twitter Blue will disproportionately affect journalists, who tend to be much heavier users of the platform than average, and who Musk says — not unreasonably — were arbitrarily handed special privileges years ago. And earlier this month, he removed the verification check mark from the New York Times' central account in a fit of pique, after the company, along with many other major media outfits, said it would not pay for Twitter Blue. (Musk has called the Times' journalism "propaganda.") Two weeks later, the checkmark has not been restored, though the Times' many other accounts retain theirs.
Given the hostile atmosphere for media outlets on a platform that needs them considerably more than the other way around, there's a good chance NPR won't be the last to make a decision that would have been unthinkable a few years ago: Just get the hell out of there. A news-media exodus would be bad for Twitter's bottom line, but it might also sadden Musk on a personal level. Because what good is a punching bag if it's no longer there to be punched?