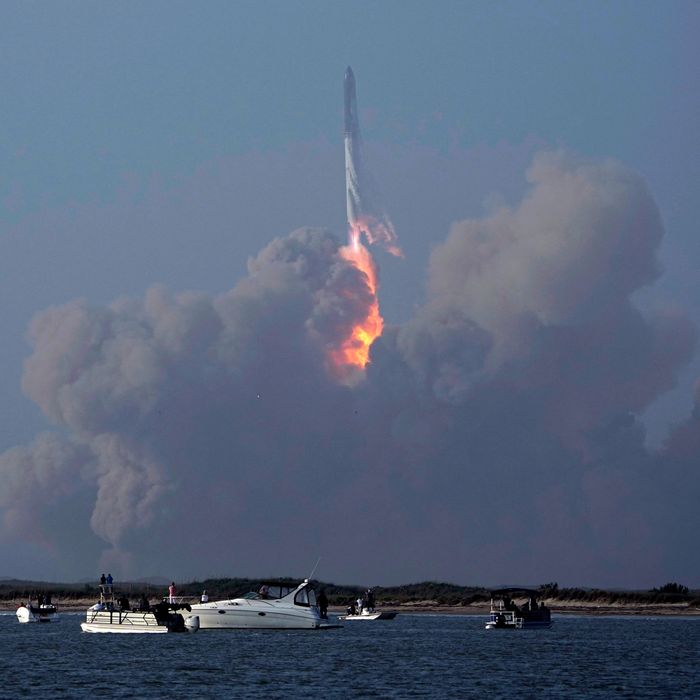 SpaceX founder Elon Musk once had high hopes for his Starship, the largest rocket ever built and a spacecraft he described for years as crucial to his mission to put a man on Mars. But before putting it to the test on Thursday morning, he told followers in a livestream on Twitter that he wanted to "set expectations low" for the 400-foot rocket. How low? "If we get far enough away from launch pad before something goes wrong, then I think I would consider that to be a success," he said. "Just don't blow up the pad."
By that metric, the rocket just barely passed. On Thursday morning, Starship exploded just minutes after lifting off the pad in SpaceX's launch site in south Texas. According to commentators on the company's livestream, the rocket did not successfully separate from its booster and several of its 39 engines malfunctioned.
SpaceX, like other Musk enterprises, downplayed the blow-up. In a statement on Twitter, the company wrote: "As if the flight test was not exciting enough, Starship experienced a rapid unscheduled disassembly before stage separation." While the explosion did mark a setback to Musk's vision of spacefaring, SpaceX remains ahead of the competition for private companies looking to break out of orbit, with its much-smaller Falcon 9 rockets successfully launching into space 25 times. According to the New York Times' Kenneth Chang, Starship "at least avoided a worst-case outcome of exploding on the launchpad, which would have required extensive repairs. Once engineers determine what went wrong, they can incorporate changes in future Starship tests." The company is comfortable failing at the expense of moving quickly — and has more rockets in waiting.
This was the first attempt to launch a fully assembled Starship after years in production. The launch attempt was slated for Monday, but was rescheduled following a pressurization issue. If it did not explode, Starship was expected to blast into near orbit, complete a partial lap of Earth, then splash down about 90 minutes later off the coast of Hawaii.
This post has been updated.