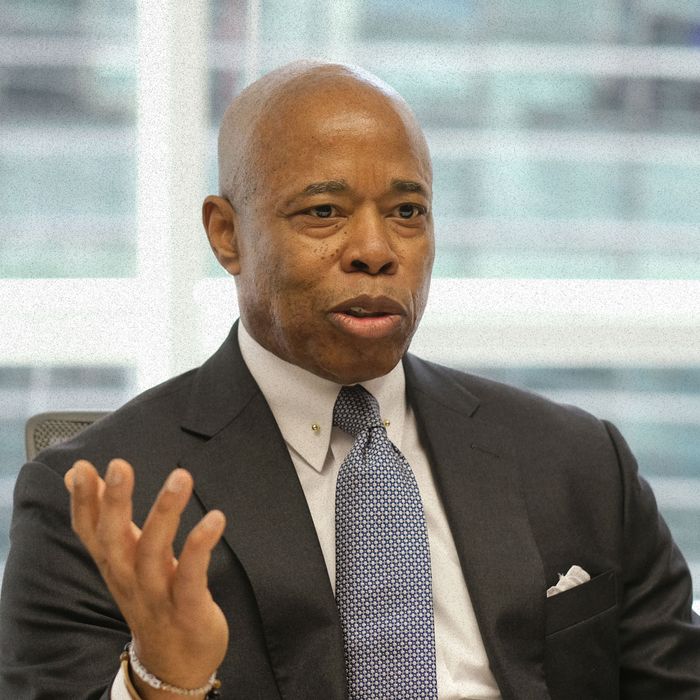 The mayor, situated in a proper workplace.
Photo: Bess Adler/Bloomberg via Getty Images
Mayor Eric Adams, to his credit, appears to have dropped his initial objections and caustic rhetoric and will now allow city employees to join the work-from-home revolution. Like many other employers, City Hall seems to be getting the message that we're in the midst of a broad transformation of the economy that can't be held back or reversed by executive order. Not that Adams didn't try.
"You can't run New York City from home," he said last year only a few days after being sworn in as mayor. "We must have everyone participate in our financial ecosystem." Adams even chided workers directly: "You can't stay at home in your pajamas all day," he said. "That's not who we are as a city."
And in case anybody didn't get the message, the mayor's chief of staff sent out a curt letter to all workers in June that read, in part, "All city employees should be advised that, absent a reasonable accommodation, you are required to report to work in person for every scheduled workday and hybrid schedules of any kind are not permitted."
But a year later, the reality of a tight labor market has set in. New York has an estimated 25,000 unfilled city jobs, about 8 percent of the municipal workforce, leading the administration to include groundbreaking work-from-home provisions in contract talks with the city's most powerful unions. After more than a year in office, Adams seems to have realized that it's the only way to compete for talent with the private sector, where flexible work rules are fast becoming the norm.
The recently settled contract with District Council 37 — the largest city union, which sets the pattern for other workers — includes an agreement to create a special committee that will define and implement rules and procedures for more of the union's 90,000 members. "There were a lot of rigid rules for the City of New York, and so we're proud of the fact this contract begins to recognize that we need to be more flexible in government," Henry Garrido, the union's executive director, told me the day the agreement was announced in February.
The Police Benevolent Association has followed suit in its recently completed contract, which includes an experimental program that will allow 400 cops to work 10- and 12-hour tours over fewer days per week. If successful, flex rules will be rolled out to more members of the 35,000-member department. "We wanted them to be able to have a quality of life to get home to their families," PBA president Patrick Lynch said. "It allows our members to decompress. There's mental-health issues when you are working five, six days a week, 12-hour days, and not to go home and decompress."
City workers are joining a broad economic and social transformation of global dimensions that is continuing to take shape in the wake of the COVID-19 pandemic. Historians and economists have noted that, over the centuries, the cataclysm of a pandemic tends to shift the balance of power in favor of workers who demand better pay and conditions from employers. When the bubonic plague of the 1300s wiped out 30 to 50 percent of the population of Europe — leaving tens of millions dead in a few years — it spelled the end of feudalism. Workers were desperately needed in cities and towns, and rural peasants fled the landed estates that had paid little more than subsistence wages. "Historians believe the Black Death made Europeans more adventurous," The Economist notes. "Piling on to a ship and setting sail for new lands seemed less risky when so many people were dying at home."
Post-pandemic economics are never smooth or easy. The cholera pandemic of the 1830s led to riots in Europe. In the U.S., the Spanish flu of 1918 coincided with a summer of race riots and labor unrest that saw 4 million workers go on strike in 1919 — followed by a devastating economic depression in 1920–21. We aren't seeing that degree of upheaval in the wake of the COVID-19 pandemic, although the Black Lives Matters protests in 2020 reached every corner of the nation and unionization efforts jumped by 57 percent last year.
In New York, private-sector workers are demanding better working conditions — and it was inevitable that city employees would follow. Bloomberg estimates that Manhattan workers are showing up in traditional offices 30 percent less than in the pre-pandemic era, mostly Tuesday through Thursday, and spending a staggering $12 billion less per year on meals, entertainment, dry cleaning, and other office-related purchases. The Manhattan office vacancy rate stands at 16 percent — a record high.
In the short term, this spells trouble for government revenues and the services they pay for — a legitimate reason for concern on Adams's part. "Researchers have modeled a 40 percent drop in office market value as office towers sit partially empty, which they estimate would cost $5 billion in lost tax revenue, or 5 percent of the city's annual budget," Bloomberg reports. "New York's future sales tax revenue could also diminish as half-empty office buildings drive sluggish spending. It could also take a hit to its income tax base if employees continue to relocate elsewhere."
There has been a rise in business activity in neighborhoods outside of the midtown and downtown business core — employees are shopping and dining closer to home — but overall economic activity is down. Many out-of-town business visitors, for instance, are making shorter, midweek trips (and spending less here), because offices tend to be empty or short-staffed on Mondays and Fridays.
While Adams insists that his thinking on working from home hasn't changed, the demands of a tight labor market appear to have sunk in and led to his pivot on the issue. "My personal beliefs cannot get in the way of running the city of this level of complexity," he told reporters in February. While describing himself as a "seven day a week in the office" person, he acknowledged, "that's not the reality of the universe we're living in right now."
New York's universe these days is one where some agencies have 20 percent vacancies, because people just aren't applying for those jobs, according to a study by the 5BORO Institute. The city has finally raised wages for lifeguards, maintenance workers, crossing guards, and others who are paid at or near the minimum wage, because positions were going unfilled, according to Garrido, who told me that people have been choosing to work in warehouses or at McDonald's instead of in city government. The phenomenon is even more marked at the higher end of the job scale, he says, "With IT workers, a lot of health-care workers, architects, and engineers that are more professional titles, the private sector is now allowing them to work from home, have a more flexible work schedule, staggered shifts — all the things that allow for flexible work."
Adams seems to have reluctantly stopped fighting against the work-from-home revolution, perhaps sensing that the battle is already over. That means no more brusque memos or public taunts of city workers to quit sitting around in their pajamas. As much as he probably disliked giving this ground, the mayor knows he can't keep his bold promise to #GetStuffDone if there aren't enough people around to do it.