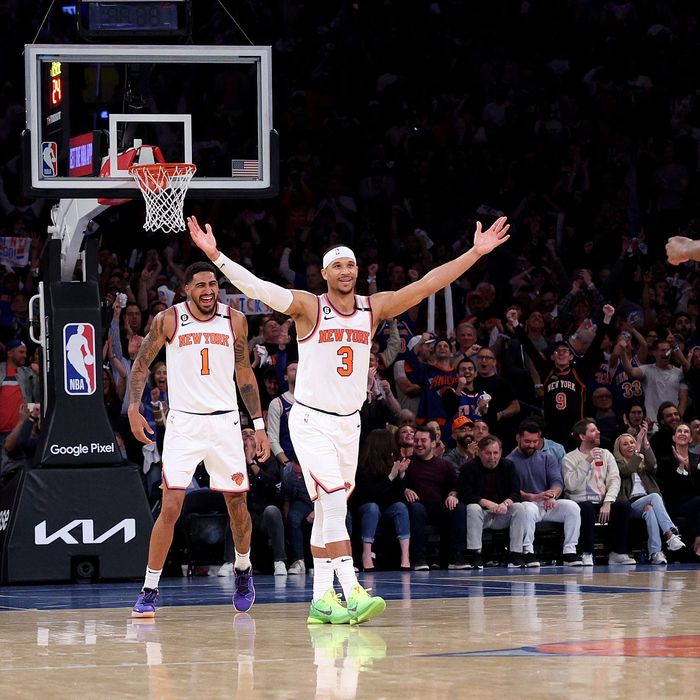 If you feel like marking the inexorable and bewitching passage of time, look no further than the New York Knicks' playoff history.
When the Knicks beat the Cleveland Cavaliers on Wednesday night to finish off a shockingly easy first-round win, many noted that it had been 3,646 days since their last triumph in the postseason with a first-round win over a very old Boston Celtics team on May 3, 2013. That was obviously quite a long time ago. In 2013, Donald Trump was judging beauty pageants in Moscow, Louis C.K. was winning Emmys, and we were all playing QuizUp.
I remember that Knicks win vividly because I wrote about it at the time. What I didn't quite recall was how similar that moment was to this one. "It has been 4,731 days since the New York Knicks won a playoff series," I wrote then. And look, I even used the same "Can you believe what it was like way back when?" structure in that piece:
May 21, 2000. The No. 1 movie in the country was Gladiator. "Oops! … I Did It Again" sold 500,000 copies on its first day of release. Boo.com filed for bankruptcy. Steve Allen was still alive. Someone born that day can now get legally married in New Hampshire. It was a long time ago. Tonight, the Knicks finally broke through.
If you're into numerology or sequencing — or if you've just watched the Knicks for the past 23 years — it will be 5,816 days until the next Knicks playoff victory. So mark your calendars for April 2039 on the off chance we're not all dead by then.
This is all to say: Whatever your thoughts on the current Knicks team or their future, it would be wise to try to soak the moment in, to appreciate what's unfolding in front of you. Because it might be quite a while before it happens anew.
Then again: It's entirely possible the next series win could come as soon as ten days from now. It has been that kind of postseason thanks to the Knicks' stellar play and a healthy dose of luck. Put it this way: If you were trying to engineer a scenario in which the Knicks have the best possible chance to make their first NBA Finals appearance since 1999 (8,708 days ago, by the way), this would be the exact scenario you'd construct.
Thursday night provided the road map. After the Knicks finished their relentless pummeling of the Cavaliers, the most stunning upset in an already stunning NBA playoffs season went down: The No. 8-seeded Miami Heat, who had to win a play-in game against Chicago just to make the postseason at all, upset the No. 1 Milwaukee Bucks (widely considered the NBA title favorite) in five games. That means the Knicks will miss the Bucks in favor of a team that had a worse record than the Nets, and it will face them with a home-court advantage. You'll definitely want to bypass Bryant Park and Penn Station on Sunday; it's going to be like this all day, and really for the next week:
The Heat have Jimmy Butler, who essentially beat the Bucks by himself with an already legendary series performance. But they're missing sharpshooter Tyler Herro and — this bears repeating — were a mediocre team all year. As disorienting as this is, the Knicks will enter a second-round playoff series in an unfamiliar position: as favorites. Favorites! The Knicks!
And the good fortune doesn't stop there. In the Eastern Conference, the Philadelphia 76ers are playing the Boston Celtics in a series that should be bruising, emotional, and electrifying. The Sixers are dealing with a knee injury to likely MVP Joel Embiid that might allow him to play but will hinder his performance, and the Celtics have looked wobbly for a few months now. They had their fair share of problems with the Hawks in the first round, more than the Knicks did against the (better than the Hawks) Cavaliers. Both teams are driven by stars, Embiid for the Sixers and Jayson Tatum for the Celtics. And if this postseason has taught us anything, it's that teams too reliant on one person are vulnerable. Injuries to Embiid, Ja Morant, Kawhi Leonard, Giannis Antetokounmpo, and De'Aaron Fox have driven that point home.
As previously established, the Knicks aren't built that way. They trounced the Cavs with zero contribution from their lone All-Star, Julius Randle, who might have aggravated his ankle injury in the game-five clincher. (He may or may not be available for the Heat series.) The Knicks' depth meant they didn't really need him; instead, Josh Hart, Obi Toppin, and others filled in and led the team to a less Randle focused but still effective game. RJ Barrett, Jalen Brunson, and (especially) Mitchell Robinson all excelled to the point that Randle was barely missed. Against the Heat, they may still need him, but the Knicks bench seemed to find itself in his absence. You never know which Knick will step in on a given night, and that unpredictability is a great weapon — and a deeply enjoyable one to watch. The Knicks' fundamental advantage is the simple fact that they have more good players than the other team does. Their best players may not be as dominant (or well known), but they wear you down. They grind you out.
This relentlessness is a particular advantage against the Heat, who were already thin before Herro's injury. And it would undoubtedly benefit them in a theoretical Eastern Conference matchup against Philly or Boston, if you're willing to dream that far. And you know, at this point, why not? The Knicks are 12 wins away — 12 little wins! — from an NBA title. They're already favored to get the next four. They're playing as well as any team in the NBA. Their fans will be so rabid this week that I'm worried the noise at MSG might knock some Northeast Corridor trains off their rails. Hopefully, it won't be 2039 before they're back in this place again, but while they're here, they may as well go ahead and keep on winning. They may as well go ahead and just win the whole thing.