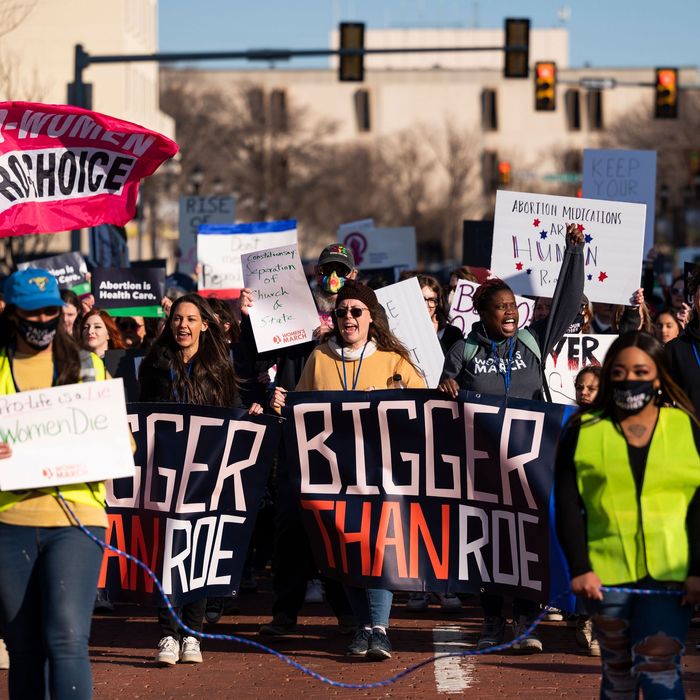 Photo: Justin Rex/AP/Shutterstock
In an unprecedented order, a Trump-nominated federal judge in Texas on Friday suspended the 23-year-old Food and Drug Administration approval of the abortion pill mifepristone, which is one of the two medications commonly used to safely terminate a pregnancy. Not long after, an Obama-nominated federal judge in Washington State, ruling on a separate case, ordered the FDA to preserve access to the drug. It's not yet clear how the contradictory rulings will fare in the court challenges to come, but with the final decision likely to rest in the hands of the conservative-majority Supreme Court, the orders raise uncertainty about the near- and long-term future of access to medication abortions in a post-Roe America.
In Texas, Judge Matthew Kacsmaryk blocked the FDA's approval of mifepristone for use in medical abortions, claiming the agency "acquiesced on its legitimate safety concerns — in violation of its statutory duty — based on plainly unsound reasoning and studies that did not support its conclusions." He also agreed with the anti-abortion plaintiffs' argument that an 1873 anti-vice law called the Comstock Act barred the mailing of mifepristone. He then ordered a stay of his own ruling, delaying its effective date for seven days, in order to give the government time to appeal — which the Justice Department immediately did, along with the manufacturer of mifepristone, Danco Laboratories LLC.
"The Court in this case has substituted its judgment for FDA, the expert agency that approves drugs," President Biden said in response, calling the lawsuit and ruling "another unprecedented step in taking away basic freedoms from women and putting their health at risk."
"If this ruling were to stand, then there will be virtually no prescription, approved by the FDA, that would be safe from these kinds of political, ideological attacks," Biden said.
Senator Ron Wyden and Congresswoman Alexandria Ocasio-Cortez, meanwhile, have called for Biden and the FDA to simply ignore the order. "The FDA, doctors, and pharmacies can and must go about their jobs like nothing has changed and keep mifepristone accessible to women across America," Wyden said Friday.
The American Medical Association condemned the ruling, as well, declaring in a statement that it "flies in the face of science and evidence and threatens to upend access to a safe and effective drug that has been used by millions of people for more than 20 years."
Shortly after Kacsmaryk's ruling in Washington, Judge Thomas O. Rice blocked the FDA from "any action to remove mifepristone from the market or otherwise cause the drug to become less available." His preliminary injunction came in response to a lawsuit brought by 17 Democratic state attorneys general against the FDA seeking to preserve access to the pill in their states.
In the very near term, access to the drug is unlikely to change, but access beyond that will depend on what happens next in the judicial system. As an attorney who focuses on FDA regulatory law, Scott Lassman, told Stat News:
The FDA is caught in the middle, because whatever they do, they're going to violate an order. So if you're in a completely untenable situation, the only thing left for them to do is appeal the decision. I don't think I've ever seen this happen before in terms of the FDA. I can't remember seeing anything close to this happening.
Vox senior correspondent Ian Millhiser, who follows the Supreme Court closely, thinks its conservative majority probably won't risk the consequences of backing Kacsmaryk in this case:
A court ruling against an FDA-approved drug is unprecedented. Abortion pills are already banned in numerous Republican-controlled states, but the decision could mean further limitations for Democratic-controlled states where the procedure is allowed and put additional pressure on clinics that will likely have to take on additional patients who might have been able to take the pill regimen instead. Since 2020, abortion pills account for more than half of all abortions in the United States, according to analysis from the Guttmacher Institute, a research organization that supports reproductive rights.
Mifepristone, which blocks the hormone progesterone, was first approved by the FDA in 2000, and a generic form of the drug received approval in 2019. For a medical abortion, mifepristone is typically used in conjunction with another drug, misoprostol. Kacsmaryk's ruling doesn't address the use of misoprostol, which can be taken on its own to induce abortion and is largely effective, something that will likely prompt confusion about what's legal. CBS News reported last month that providers were preparing to make the switch to a misoprostol regimen as the court's decision loomed.
Alliance Defending Freedom, a conservative legal group, filed the lawsuit in November, claiming that the FDA exceeded its authority in approving mifepristone for use in abortions and that abortion pills are dangerous. The group asked for an injunction to force the agency to pull the pills' approval for abortions. (More than 100 scientific studies have concluded that abortion pills are a safe and effective method to terminate a pregnancy.)
During a four-hour hearing behind closed doors in Amarillo on March 15, Kacsmaryk sought information about the approval process for mifepristone and whether such approval had ever been revoked for a drug. According to the Washington Post, he asked ADF's lawyer Erik Baptist if there was an "analogue where courts have intervened in such a way." Baptist said that he couldn't think of another example but that the court could order the drug's approval to be revoked "on its own accord."
During the pandemic, the FDA loosened rules concerning mifepristone to allow prescribing the pills through telehealth and mail delivery. Earlier this year, the FDA announced it would allow certified pharmacies to dispense abortion pills directly without patients having to pick up their prescription from their provider, as once required.
Critics have accused ADF of "forum shopping," essentially seeking out a friendly judge by suing in Amarillo, "a Texas city that didn't have an abortion clinic even before the state all but banned the procedure," as the Texas Tribune notes. Kacsmaryk has frequently ruled against the Biden administration in matters ranging from immigration to LGBTQ+ protections. He was nominated to the federal bench by Donald Trump in 2017 after serving as deputy general counsel for First Liberty Institute, a conservative Christian legal group. In his written opinion for Friday's ruling, Kacsmaryk adopted the language of anti-abortion activists — referring to medication abortions as "chemical" abortions, doctors who prescribe mifepristone as "abortionists," and fetuses as "unborn humans."
During his confirmation process, he was criticized by Democrats and Republican Susan Collins over some of his past writings about abortion. In one piece from 2015, he said the Supreme Court "found an unwritten 'fundamental right' to abortion" when it ruled in Roe v. Wade. In that same piece, Kacsmaryk said the sexual revolution "sought public affirmation of the lie that the human person is an autonomous blob of Silly Putty unconstrained by nature or biology, and that marriage, sexuality, gender identity, and even the unborn child must yield to the erotic desires of liberated adults."
This post has been updated.