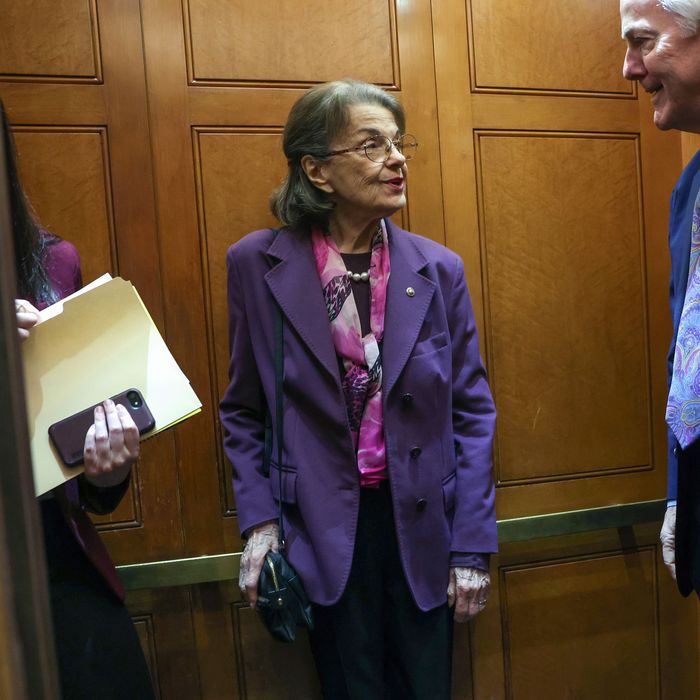 Will Dianne Feinstein return to Senate duty to save Biden's judicial nominees?
Photo: Kevin Dietsch/Getty Images
Senate Democrats are descending into a hellish situation thanks to the extended absence of 89-year-old Dianne Feinstein, who has been suffering from shingles and hasn't been in Washington since February. With a two-vote majority in the Senate, Democrats need the California senator present to efficiently manage the chamber. But the more urgent problem is that a dozen Biden judicial nominees are awaiting confirmation proceedings in the Judiciary Committee, and with Feinstein absent, Republicans can and will block them all.
Just before she came down with shingles, Feinstein had temporarily defused long-standing pressure from progressive Democrats to resign her seat by announcing that she would retire when her fifth full term ends in 2025. But growing angst over the judicial-confirmation logjam has brought back calls for Feinstein to either get back to Washington immediately or give up the seat. Democrats could lose control of the Senate or White House in 2024, so they need to get moving if they hope to counter the Trump administration's right-wing judicial appointments. Most presidential actions have a shelf life that barely extends beyond the term of office, but federal judgeships last a lifetime.
Unable, apparently, to report to work in Washington, Feinstein suggested a work-around to unblock the judicial-confirmation pipeline, letting Senate Majority Leader Chuck Schumer know she would not object to him temporarily replacing her on the Judiciary Committee. Unfortunately, that's not something Schumer can do by fiat. Because it means reshuffling committee assignments made at the beginning of this Congress through an organizing resolution, it requires unanimous consent to happen quickly. Arkansas senator Tom Cotton put the kibosh on that possibility over the weekend:
So now, replacing Feinstein would require 60 votes to overcome a certain GOP filibuster, which means (in Feinstein's absence) ten Republican defections. Republican senators, seeing an opportunity to score points with a party base enraptured by partisan conflict and obstruction, are lining up to say "No!"
Only a rescue effort by Mitch McConnell would be able to succeed in lining up enough Republican votes to let Schumer (and Feinstein) off the hook, and as Politico Playbook observes, that's very unlikely unless he succumbs to some sort of gerontocratic solidarity:
While McConnell is protective of his reputation as an institutionalist … he's also staked his legacy on remaking the federal courts, confirming a record number of conservative judges under President Donald Trump.




"My instinct is he would do everything he could to keep Democrats from stacking the federal judiciary," one confidant told Playbook. "It would be a little strange for him to grease the wheels to continue to churn out what heretofore has been a pretty high rate of confirmations" for Biden.
If this plays out, as appears likely, and if Feinstein isn't healthy enough to turn off the heat by returning to her post, talk of pressuring her to resign will reach a new crescendo. That will be agonizing for Democrats — not only because of the respect Feinstein earned in the (increasingly distant) past for her public service in San Francisco and in the Senate but because they are vulnerable to accusations of ageism and sexism, thanks to the uneven standards they seem to apply in different cases of health-related absences. One of the U.S.'s (and California's) most famous Democrats is already rehearsing that charge:
Complicating the picture even more are the tangled California politics underlying Feinstein's fate. When talk emerged of Feinstein resigning back in 2021, Governor Gavin Newsom announced that, if he was called on to fill her seat, he would appoint a Black woman (the last Black woman to serve in the Senate was California's own Kamala Harris). The most probable recipient of that honor would be Oakland representative Barbara Lee, one of three major Democratic candidates running to succeed Feinstein in 2024. It hasn't been lost on anyone that the most persistent voice calling on Feinstein to resign right now is Silicon Valley representative Ro Khanna, Lee's campaign co-chair. It's worth noting that Nancy Pelosi has endorsed Lee's rival Adam Schiff. Of course, Pelosi doesn't want Lee to be able to run as an incumbent in 2024.
Senate Democrats are likely united in praying for Feinstein's restored health to get them out of this quagmire and to free Biden's judicial nominees. They'd be happy to let California voters resolve the question of her successor without any indirect help from Washington.