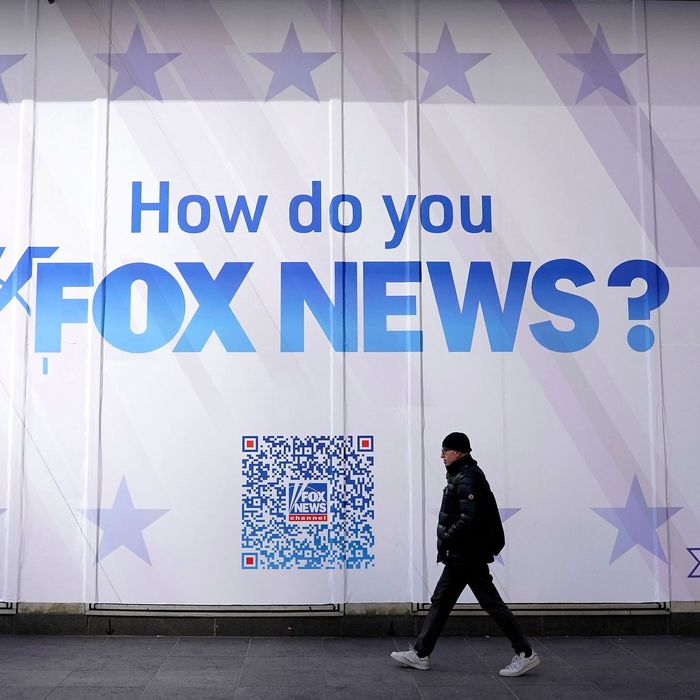 Photo: Timothy A. Clary/AFP via Getty Images
Fox News just took another hit as the network heads to trial against Dominion Voting Systems in one of the most consequential defamation suits in recent years. In Delaware Superior Court on Wednesday, Judge Eric Davis imposed a sanction on Fox News after he found that the network withheld evidence after the deadline for discovery from Dominion.
Days earlier, Dominion's lawyers informed Judge Davis that Fox's attorneys had not handed over some key evidence until just last week, even though the discovery process has been going on for months now. The trial is scheduled to begin on Monday with jury selection beginning tomorrow. Dominion claims Fox damaged its reputation and business by repeatedly airing bogus election-fraud allegations about its voting machines and software used in the 2020 election.
Evidence produced last week included emails between Fox News host Maria Bartiromo, a frequent on-air election-denier, and Donald Trump's former lawyer Sidney Powell sent days after the 2020 election. The emails included information from a source Powell relied on who believed she found evidence of voter fraud thanks to her ability to time-travel. Fox News claims it didn't learn about the conversations until very recently and handed them over to Dominion as soon as possible.
The sanction will give Dominion the opportunity to conduct new depositions or speak again with witnesses it has already interviewed. "Fox will do everything they can to make the person available, and it will be at a cost to Fox," Judge Davis said in his ruling. He was clearly upset with the Fox legal team, saying that it hadn't been "straightforward" with him and that he was concerned about "misrepresentations to the court."
Davis added that he was considering appointing a special master to investigate if Fox News' lawyers had delayed producing documents or had withheld information about Rupert Murdoch's actual involvement at Fox News. On Tuesday, a lawyer for Dominion informed Davis that Fox informed Dominion only within the past two days that Murdoch had a more significant role than previously understood. In a statement, a Fox News spokesperson told the New York Times that Murdoch "has been listed as executive chairman of Fox News in our S.E.C. filings since 2019 and this filing was referenced by Dominion's own attorney during his deposition."
"I need people to tell me the truth," Davis said on Wednesday. "And by the way, omission is a lie."
Fox News hasn't caught many breaks in the pretrial stage of the defamation suit. Earlier this week, Judge Davis ruled that Fox News couldn't argue that it aired false election allegations because the claims were newsworthy. "Just because someone is newsworthy doesn't mean you can defame someone," Davis said on Tuesday.