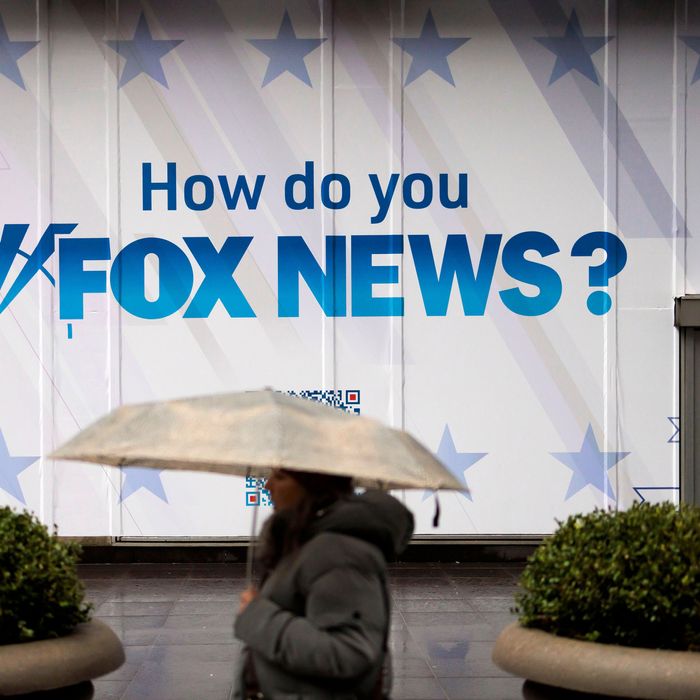 Photo: JUSTIN LANE/EPA-EFE/Shutterstock
Fox News settled the defamation case brought by Dominion Voting Systems on the opening day of a trial that promised to air some of the network's dirty laundry, including likely testimony from Rupert Murdoch. Fox News agreed to pay Dominion $787.5 million — just under half of the $1.6 billion that the company sought in damages — and admitted in a statement that "certain claims" it had aired about Dominion rigging the 2020 election were false. It will not have to make the same admission on any of its broadcasts.
Dominion quickly claimed victory, for itself and for the notion of truth.
Fox News had pushed to settle over the weekend, perhaps an indication of how it felt about its chances in court. The trial was even delayed by one day, apparently to give the sides time to hammer out an agreement. With no such bargain struck, a jury was selected on Tuesday, and opening arguments were scheduled for the afternoon. But before they got under way, there was an unexplained 90-minute-plus delay. CNN reported that a top Fox lawyer in the courtroom flashed a piece of paper to a Dominion lawyer. The two briefly stepped out before returning and speaking across their tables. Dominion's lawyers had generally seemed pleased throughout the day, another sign of the direction things were headed.
Dominion had alleged that Fox News personalities grievously damaged its business by falsely stating that it had helped rig the 2020 election for President Joe Biden — and that the network knew that its claims were untrue. Defamation cases are notoriously difficult to prove in U.S. courts, but Dominion was thought to have an unusually strong chance of victory. That was thanks in large part to voluminous texts and emails showing that everyone from Murdoch to star hosts such as Tucker Carlson knew the election wasn't rigged yet continued to air outlandish claims from Rudy Giuliani, Sidney Powell, and others following Election Day.