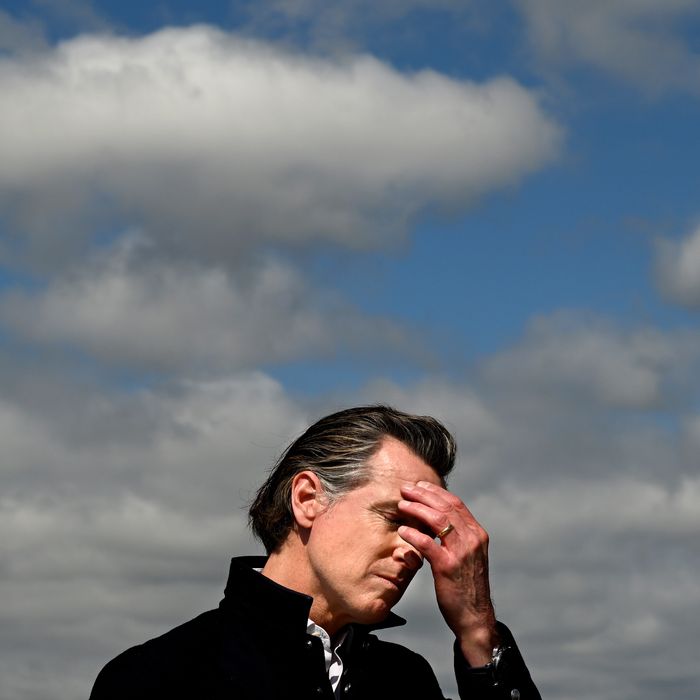 Photo: Wally Skalij/Los Angeles Times
The senatorial whispers picked up this spring once Democrats concluded that they were screwed: When, exactly, is Dianne Feinstein coming back? Is she going to return at all? Unable to pass their agenda with Republicans running the House, the party had pinned its hopes for productivity on the Senate's confirming liberal judges. But with Feinstein, who turns 90 in June, suffering from shingles and missing from the all-important Judiciary Committee for months, that dream was stalling out. And the silence from her camp was excruciating.
Rumors started to circulate about who had reached out to Feinstein to gauge her health or her willingness to step down. Even colleagues on the committee weren't hearing any real updates — just vague noise about staffers and family members who had tried and failed to persuade her to retire as she recovered in San Francisco. None of them wanted to disrespect her by venting their frustration publicly, and the party's leadership kept deflecting all questions.
So the search for answers began drifting west to a man who would prefer to talk about anything else — but who some Democrats nevertheless wish would get them some clarity about her return or even himself try to convince her to step aside. Gavin Newsom won't do either.
This is not how things were supposed to go for him. Newsom, the 55-year-old governor of California, has been his party's Next Big Thing on and off for two decades. Newsweek named him one of five young Democratic stars to watch all the way back in 2003 alongside Illinois state senator Barack Obama. As recently as a year ago, he looked like a possible presidential candidate — certainly a new leader for a Democratic Party in need of generational change. Now, however, he's hemmed in by Joe Biden's reelection campaign and stuck freelancing as a party leader who can't solve the one issue Washington Democrats find most pressing.
The conversation around Feinstein can feel a bit ghoulish, and Newsom's problem is made all the more vexing by his ties to everybody involved. The Newsoms and the Feinsteins go way back: In 1961, Governor Pat Brown appointed Feinstein to her first job in government (her father was his doctor), and she was thereafter understood to be part of Brown's political orbit, which included Newsom's grandfather. The families — as well as the Pelosis and the Gettys — have been intertwined ever since. Newsom's relationship with Feinstein is such a sensitive subject that it has made those who might otherwise lobby him hesitant to bring her up.
Then there's the fact that her declining health is hardly a secret, even if it's only now causing a political crisis. Reports about Feinstein's memory and cognitive health have circulated for years now, along with worries that she wasn't being treated with the deference her decades-long career warranted. Feinstein was elected to a full term, this thinking goes, and she has the right to retire when she sees fit. Still, the pressure on Newsom to say something has mounted with the whispers, which grew into a cacophony by the time Silicon Valley representative Ro Khanna became the first member of Congress to call for her resignation.
The politics of the moment aren't just thorny because Feinstein won't budge or because some, like Nancy Pelosi, are suggesting the calls for her resignation are sexist. Newsom pledged two years ago to fill her seat with a Black woman if Feinstein were to retire before her term expires, and the obvious choice would seem to be Barbara Lee, the longtime Oakland congresswoman. But Lee is already running in a tense race to replace Feinstein in 2024, so handing her the job would also mean giving her a leg up in that campaign. It's not clear Newsom wants to do that. He's been mum about whom he prefers among Lee, L.A.'s Adam Schiff, and Irvine's Katie Porter. Close allies of Newsom's have scattered across those campaigns. It's all touchy enough that the new conventional wisdom is that Newsom should just appoint a caretaker for Feinstein's seat if she leaves it rather than pick Lee.
Not all of the heat is on Newsom — some in D.C. can't believe Chuck Schumer let Feinstein keep her committee spot this long — but there is no getting around the reality that California's governor is the only one with the power to fill the job and is one of the few who may still have a direct line to Feinstein. "He's in a dilemma, but my opinion is he's got to help her step down because this is going to be a stain on her legacy," says Susie Tompkins Buell, an influential donor who has known both Newsom and Feinstein well for decades. "This is a critical moment. It's not just 'Time's up.' It's 'Your time is up, and we have to protect what we have left here.'"
For a moment last spring, Newsom's path ahead looked relatively clear. Frustrated by Biden's reaction to the impending fall of Roe, he grabbed the spotlight to demand, "Where the hell is my party?" A subsequent media tour insisting that liberals show some spine increased Newsom's profile among MSNBC watchers and caught the eye of some party types who had long written him off as too slick to be believed. He was saying things no other potential 2024 candidate would. Although Newsom had never admitted to presidential ambitions, he had little choice but to retreat as Biden's numbers rebounded. By last fall, he'd reassured both Jill Biden and then–White House chief of staff Ron Klain directly that he wanted to help the president get reelected, visiting Klain in person to make sure the message got through.
Still, Newsom remained baffled by Democrats' lack of aggression. He'd been simmering in this feeling since fighting off his own recall in 2021. After winning that race and then cruising to reelection over only nominal Republican opposition the next November, he found himself sitting on more than $15 million in campaign cash with nothing obvious to do with it.
His solution, announced last month, was to put $10 million into a new group aiming to unseat red-state leaders — a maneuver to help the national cause that may also burnish his own reputation for a national run in 2028 or beyond. The group's launch video identified "the problem in our country right now" as "authoritarian leaders," flashing shots of Ron DeSantis, Donald Trump, and others as Newsom's voice-over ticked through a parade of horrors such as book-banning and the targeting of doctors, teachers, librarians, trans kids, and migrants. Within days, he visited Arkansas to raise money for local Democrats, saw a Mississippi mayor at war with Republican lawmakers, and hit both Alabama and Florida, where he met with students at a college being taken over by DeSantis allies.
The reaction, at first, was muted, and not just because his announcement landed as news broke of Trump's indictment. "People like to take it as presumptuous: 'You're fucking Gavin Newsom — you're going to Florida?'" says one top California Democrat. "But he has a reason to do that. We need party leaders to do that." Still, it seemed to fit a pattern his critics like to highlight: big self-promoting promises with little actual policy upside. Just see his tweeted promise to stop doing business with Walgreens after the company said it wouldn't carry abortion pills in states where they were banned. The truth was far less dramatic — state ties with Walgreens weren't severed, and the company could rebid for the specific contract he had seemed to threaten anyway.
His bet is that even if he's not Democrats' protagonist now, the right people will appreciate his work and the right voters will notice — both around the country and at home, where he has announced plans to protect pharmacists and the mifepristone supply chain as the Supreme Court considers the abortion pill's fate. And at least until he's forced to address the Feinstein problem, he can duck away from the national political grime when he wants to. Shortly after completing his red-state tour, he was spotted, according to Politico, at a 600-acre members-only golf-and-beach club in the Bahamas.